Siheyuan - Old Beijing Courtyard
Beijing Siheyuan is a traditional building in China. "Si" means east, west, south and north, the four directions and "He" refers to that houses were distributed like a "口", which embodies the traditional values and ethics of Chinese families. It enjoys a long history of more than 800 years.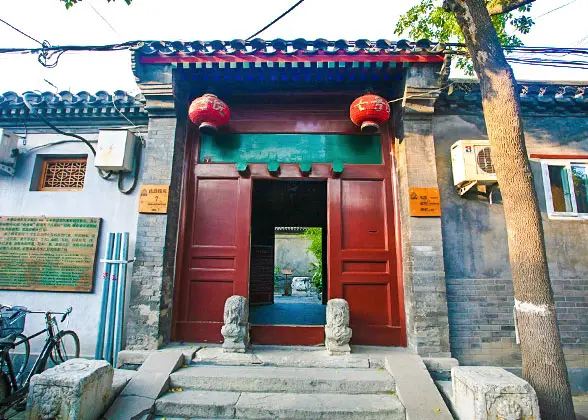 Gate of Siheyuan
Siheyuan is constructed in an enclosed style. That is, there are walls in four directions and the gate is closed in most cases except for going out. A regular courtyard in east-west Hutong generally faces south in Beijing, and its unique orientation is determined on the basis of Feng Shui Studies of China. The rules and regulations to make an Old Beijing Courtyard can be divided according to the size of it. There are three major sizes: large size, medium size and small size. A medium Siheyuan is a more common one, which is composed of the gate, the outer yard, the inner courtyard and the backyard. The design and construction of Siheyuan are quiet easy. The material is also very simple, instead of steel and concrete, it is made of tiles and wood. The overall tone is gray, giving people a simple and comfortable feeling. The structure with wood as its core is relatively light, which is a good resistance to earthquake.

The preserved Siheyuan of Beijing mainly scatter in the Hutongs around Shichahai. Other places in China like Shaanxi Province and Shanxi Province also have Siheyuan, which have something common in size, material and style with Old Beijing Courtyard. All these are essential architectural relics of China.

Gates Are the Reflection of Owners' Social Status
The gate is the main entrance and exit, which is designed in southeast of the entire courtyard. Social status can be best reflected in the gate. Generally speaking, the gate is divided into six levels according to the social status of the host: Wangfu gate; Guangliang Gate; Jinzhu Gate; Manzi Gate, Ruyi Gate and Qiangyuanshi Gate. Wangfu Gate was in the highest position, which was used by His Royal Highness. Guangliang Gate showed that it was the house of ancient officials. Jinzhu Gate was also for officials, but the level was inferior to Guangliang Gate. Manzi Gate was for ordinary people. Ruyi Gate was lower than Manzi Gate and Qiangyuanshi Gate, which was widely used among ordinary family. All the gates are printed red, a symbol of luck in China.

Outer Courtyard - For Guest Living
Outer courtyard is made up of the front gate, screen wall, south room and the corridors. When you step into the front gate, the exquisite screen wall with fine patterns and blessing words is right in front of you. Screen wall is an important decoration for Beijing residents for it can be a barrier to keep the inner courtyard in a private state. According to researches of folk experts, screen wall is an inevitable factor in Feng Shui architectures. Ancient people were superstitious and they believed that if there was no protection between the gate and the inner courtyard, ghosts wandering at midnight might break into your house. The south room can be used as a study, a guest room, an accountant's or a servant's room. Connecting with the festoon gate, main room and side rooms, corridors provides people convenience to walk on rainy days. Festoon gate is the only dividing line and passage between the inner yard and the outer yard. Generally, festoon gate is located on the axis of the Old Beijing Courtyard, which is decorated in a luxury style, making it stand out from the rest of the building.

Inner Courtyard - Highlights of Siheyuan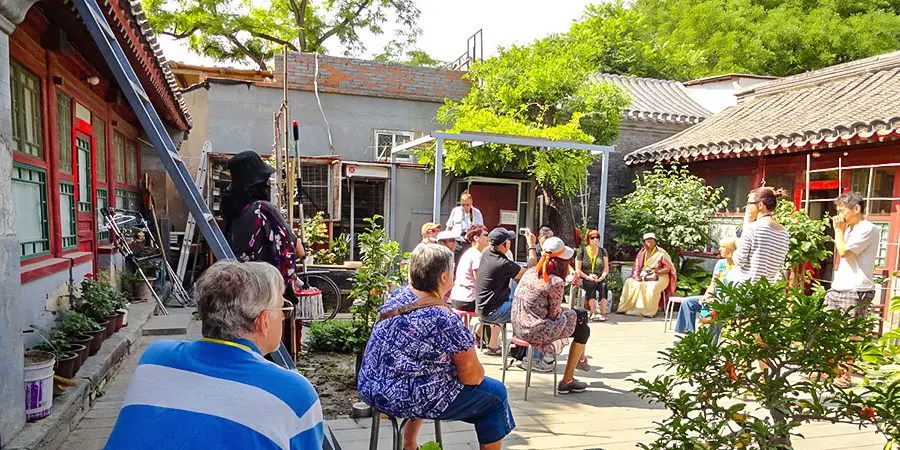 Inside a Beijing Courtyard
Inner courtyard is the core of Siheyuan that is consisted of the north room, the east side-room, the west side-room, the corner rooms and the yard in the central position. North room is the main room, which is large and bright and serves as the living room of the host. The west side-room is for daughters or sons of the host. The east side-room is for grandchildren and their nannies. Corner rooms, usually used as the warehouse or kitchen, lie between the main room and two side-rooms. Rest rooms for males and females are located in different corners of the courtyard; west corner of south room is for males while north corner of east side room is for females. You can plant trees and flowers, keep goldfish in tanks with beautiful patterns or set up a vineyard in the central courtyard.

Back Courtyard - For Family Members Living
All south-faced back rooms in Siheyuan together with north wall of the main room form another yard called backyard, which allows female family members or seniors to live in.

Preseting an aching beauty of decadence, most Siheyuan are in narrow Hutongs, hidden in the forest of armored concrete, waiting eagerly for you to explore its past. If you want to deeply understand Beijing's culture and history, these old courty yards cannot be missed.

See more:
8 Interesting Places in Beijing You May Not Know
- Last updated on May. 17, 2022 -
Questions & Answers on Siheyuan - Old Beijing Courtyard
Asked by Mrs.mona from EGYPT | Feb. 05, 2009 00:47

Reply
as my husband is viviting beijing for some buisness he has ONLY 2 days sightseeing !! can you give me some tips to help him visit the best in this very short period as we have no idea where to start with !! thanks from Cairo .
Answers (2)
Answered by Ms.Zhao from CHINA | Feb. 05, 2009 18:58

1

0

Reply
Mrs.mona, you can chat with the tour operators of this site to ask them arrange a tour for you.

https://www.travelchinaguide.com/package/
Answered by Mr.David Risley from ENGLAND | Feb. 20, 2009 08:36

1

0

Reply
I would highly reccommend Yong he Lamasary, my experience of China is that the main attractions are so big that they are quite exhausting to try to see in such a short time. Contain your time and enjoy this spectacle.