Former Residence of Soong Ching Ling
The Former Residence of Soong Ching Ling, located to the east of Houhai Park, covers an area of 20,108 square meters (24,049 square yards). It was first built over 300 years ago in the Qing Dynasty (1644 - 1911 AD) and used to be the residence of many nobilities. Most of the buildings keep the original pattern. In the early 1960s, it was converted into the residence of Soong Ching Ling in Beijing who was the vice chairman of the China at the time. She lived and worked here from 1963 to till when she died on May 29, 1981. To commemorate her, the residence is completely preserved.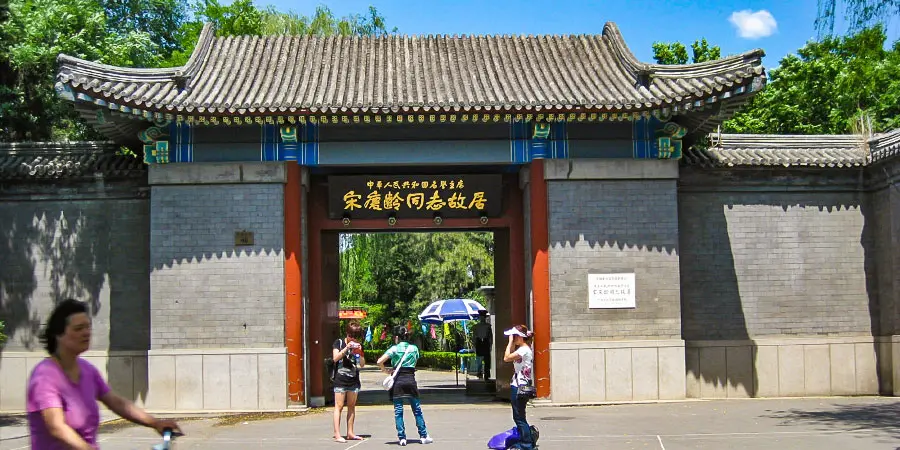 Former Residence of Soong Ching Ling
The courtyard of the Former Residence of Soong Ching Ling is surrounded by living water introduced from Houhai. Its length and width are each about 150 meters (160 yards). After entering the courtyard, tourists can visit by walking and it takes about an hour. Two large lakes in the residence are connected by a long corridor and a pavilion on it provides a great place for tourists to enjoy the lake landscape. There is a large area of grasslands in the residence planted with many plants worth viewing, such as a 100-year-old crabapple tree, a 500-year-old pagoda tree, west mountain pines, potted pomegranates and grapes; some of which were planted by Soong Ching Ling. April is a good time for tourists to come here to appreciate crabapple flowers.
Most of the buildings in the Former Residence of Soong Ching Ling are traditional Chinese architecture, including a second floor house built in the
Ming Dynasty
(1368 - 1644 AD) in the Outer Courtyard, a Fan Pavilion to its east side and a Rain House to the west side. In the Inner Courtyard, buildings on the east were built in Qing Dynasty, once used by Soong as Living Hall and dining Hall. Besides, a two-storey villa as the main building was built to be the main living room of Soong Ching Ling on the west of Inner Courtyard.
There are two special exhibitions in the Former Residence of Soong Ching Ling showing her original living environment and her life story. The main exhibition in the Inner Courtyard displays her original living environment including small living room, small dining room, bedroom, office, small kitchen and recreation room. Another exhibition hall in the west of the residence displays more than 300 artifacts and photos with text descriptions to introduce the story about her youth and married life with her husband Sun Yat-sen who was a famous revolutionary.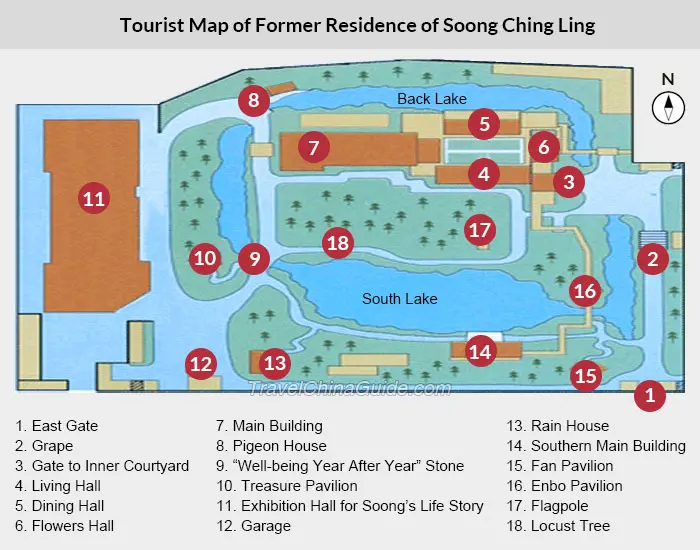 Tourist Map of Former Residence of Soong Ching Ling
How to Get to Former Residence of Soong Ching Ling
1. Take bus line 5 and get off at the Guozishi Station, then go southwest for about 650 meters (700 yards).
2. Take
subway line 2
and get off at the Jishuitan Station. Leave form Exit B and go southeast for about 1,400 meters (1,500 yards).
Opening Hours

Apr. to Oct.: 9:00-17:30; stop selling tickets at 17:00




Nov. to next Mar.: 9:00-16:30; stop selling tickets at 16:00

Ticket

CNY 20 for per person

English Tour Guide

CNY 120 for up to 30 visitors about one hour




Make a reservation three days in advance.




Reservation Call: 010-64015256

Other Nearby Attractions:
Shichahai
Prince Gong's Mansion
- Last updated on Sep. 25, 2018 -