Great Wall in Beijing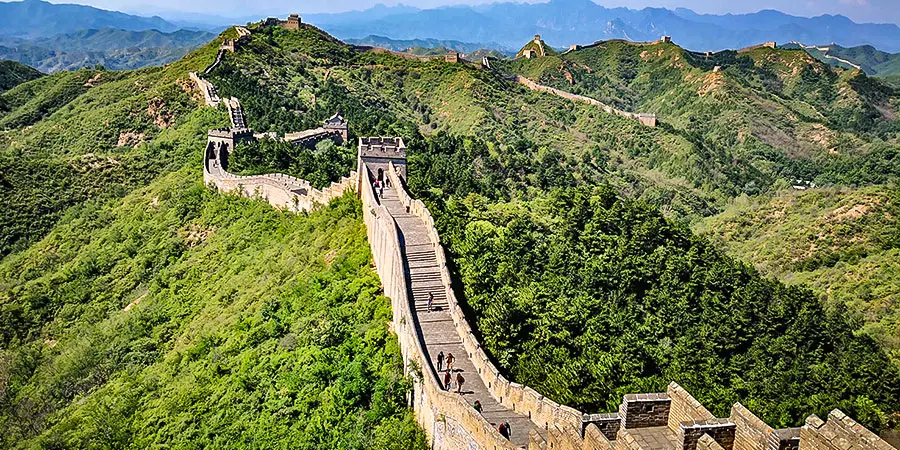 Our Tour Group on Badaling


Pictures

Map
Beijing is the best destination to admire the
Great Wall of China
. Most famous Great Wall sections are located in its suburban areas, including the well-preserved Badaling and Mutianyu, the renovated Juyonguan, Jinshanling and Simatai, and wild Jiankou and Gubeikou. They are all not far from downtown Beijing, 1-2 hours' driving away.
In Chinese history, Beijing was not only one of the ancient capitals, but also one of the most strategic cities in the north. To defend their territory, many rulers have actively ordered to build Great Wall here.
The Great Wall in Beijing totals 573 kilometers (356 miles). Those from
Ming Dynasty
(1368-1644), the last dynasty engaged in Great Wall construction, amount to 526 kilometers (327 miles). They are distributed in Pinggu, Miyun, Huairou, Yanqing, Changping, and Mentougou.
Most Visited Sections
These sections are equipped with sound tourism facilities, even suitable for kids and seniors. Among them, Badaling is the best-preserved, and famous for its deep-rooted culture, magnificent sights and complete military facilities. You may find many of its pictures in magazines and guide books and printed on stamps. However, during peak travel time like
National Day Holiday or
Chinese New Year
, Mutianyu may be a better destination as Badaling is always flocked with visitors. Juyongguan is one of three most famous passes along Great wall. There, one can also visit some ancient buildings like towers and temples.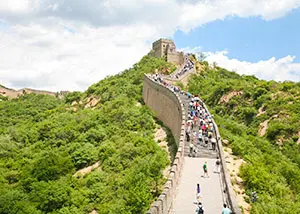 Badaling
Mutianyu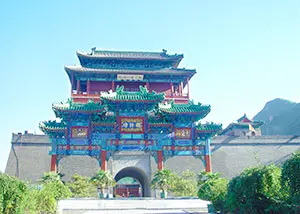 Juyongguan

Badaling vs. Mutianyu
: Help you to know which one is better.

Recommended tours including the sections:

Beijing Day Tours from

$59
: 10 options of 1 day trips to Badaling, Mutianyu, Juyongguan and other major attractions in Beijing.

Beijing VIP Small Group Tour from

$125
: 1 day no shopping tour to Forbidden City and Mutianyu Great Wall.

Beijing Highlights from

$289
: 4 days Small Group to visit the major attractions of Beijing, such as Forbidden City, Great Wall and Temple of Heaven.

More
Great Wall Tours
: 25 options for you to choose from.
Popular Sections with Fewer Tourists
These sections have also been developed into scenic spots and are popular among visitors, but are less crowded and one can visit at a leisurely pace. Jinshanling and Simatai have been equipped with cableways. But to visit Simatai, you'd better make a reservation on its official website. Shuiguan, literally meaning water gate, is built over a river to defend against enemies coming from waterways. Although the river has disappeared, one can still learn the magnificence of this special defensive construction. In addition to admire the Great Wall, Xiangshuihu is a site to learn some traditional Chinese health preserving knowledge.
Simatai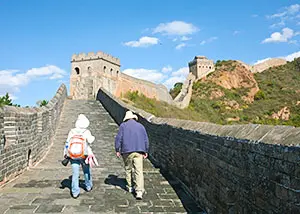 Jinshanling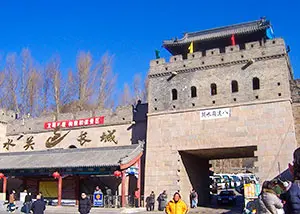 Water Pass (Shuiguan)

Recommended tours including the sections:


Jinshanling Hiking from $69


Simatai Hiking with Gubei Water Town from $89
Wild Sections
Wild Great Wall
refers to those that have not been reconstructed and thus retain their original appearances. Although they are broken and dilapidated, the vicissitudes of history are fully revealed. They are hot destinations among hiking lovers and adventurous travelers. Among them, Jiankou is the most dangerous but a great site for photography. Huanghuacheng, partially submerged underwater due to the construction of a reservoir, is the only section by water in Beijing. However, it is not officially allowed to hike the wild sections for safety issues and protection work. So when going there, please be careful and do not do any harm to the precious historical relics.
Jiankou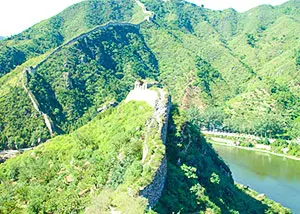 Huanghuacheng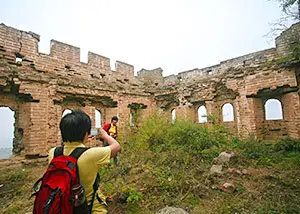 Gubeikou

Recommended tours including the sections:


Huanghuacheng Hiking from $59


Beijing Knot Hiking:Essence of Jiankou Great Wall from Beijing Knot to Jiankou Spot


Gubeikou Hiking: 7-8 hours of Hexi Village – Wohushan – Hexi Village - Panlongshan

How to Get to the Great Wall from Beijing
The most famous sections in Beijing, like Badaling, Mutianyu, Jinshanling, and Simatai, are located in the suburban areas, about 40 miles (64km) to 90 miles (145km) from the city center. You can get to the Great Wall from Beijing by public transport, private cars, or private tours.
Public transport is a nice choice for budget travellers. For example, you can take bus line 877 or S2 train to Badaling directly; bus 916 Express to Mutianyu with a transfer at Huairou. However, the bus stops are reported only in Chinese in most cases, which brings you some trouble in getting off at the right stations. Therefore, if you plan to go there by public transport, make full preparation and get familiar with the bus routes in advance.

See
How to Get to Badaling from Downtown

See
How to Get to Mutianyu from Downtown
For public transport to more sections, please see it on the specific pages.
Or, you can charter a private car and driver to the sites very easily. It makes your trip easier and saves a lot of time. Usually, it takes about 1 hour to reach Badaling and 1.5 hours to Mutianyu from downtown, and the car rental fee is around CNY 800-1,000 for a round-trip. But there is a problem in that the driver may not speak English; so set down the pick-up time and place beforehand.
Other than public transport and private cars, joining a private day tour is a perfect choice for first-time visitors and those who have limited time or worry about language barriers. It saves your time, makes your trip safer and easier, and helps you learn more about the wall with the help of the driver and tour guide.

Beijing Great Wall Day Trip from

$59
: 5 options of 1-day or half-day itineraries available, including Badaling, Mutianyu, Juyongguan, Sacred Way…

See
How to get to Great Wall from Shanghai?

See
How to get there from Hong Kong?
Beijing Great Wall Map
Please hover over the names on the following tourist map to learn more about the famous sections:
Damages Brought about by Nature and Human Activities
Compared with the sections in other regions, the Great Wall in Beijing is relatively well-preserved. However, its situation is not that good due to nature and human activities. Some bricks and stones are loose and fall down easily, and some even become piles of debris. The natural factors like erosion, rain, winds, and lightning strikes cause damages to the heritage day by day. The shrubs growing on the wall and in the watchtowers cause them to crack and collapse. What's more, the growing number of tourists crowd into the wild sections, which speeds up their disappearance. Though it is favored by film producers, the shooting work brings no good. On the contrary, they leave props here and there. Some people like to put graffiti on the Great Wall, and some even shove bricks and sell them for personal benefits.
A Call for Urgent Protection
To better protect this human treasure, government, tourists, and local residents should all work together. More laws and regulations should be carried out; tourists should be more careful and bind themselves during the visit; local residents should also stop making benefits from it and pay more attention to its protection in daily life.
- Last modified on Nov. 14, 2018 -
Questions & Answers on Great Wall in Beijing
Asked by Cindy from DENMARK | Nov. 14, 2018 05:52

Reply
Great Wall during february, any recommendations?
I am going to Beijing in February after the Chinese New Years with three friends. We arrive at around 5 pm and have four days from this point. We all want to see the Great Wall and two of them want to see when the Great Wall meets the sea. How can I plan this the best way when we also want to Mutianyu section, because it's the most child-friendly section, also easiest to hike because of the cold weather in February?
Answers (1)
Answered by Lily from CANADA | Nov. 14, 2018 17:26

0

0

Reply
Hi, I am confused about when the Great Wall meets the sea. As I know, there is no section of the Great Wall near the sea. February is pretty cold and it probably snows, so it may be a little slippery on the Great Wall and I think maybe the Badaling section is the most child-friendly section.
Asked by Lea from CANADA | Oct. 27, 2018 20:20

Reply
I'm travel solo and I want to go to the Great Wall from Beijing what's your recommendation thank you
I'm from Canada and I travel solo for the first time to Beijing to go to the Great Wall
Answers (1)
Answered by Jerry from USA | Oct. 28, 2018 20:34

0

0

Reply
Well, you need to plan your schedule in advance. First, which section of the Great Wall would you like to visit? Since you are the first-time traveler, the Badaling and Mutianyu are most recommended. Second, if you want to go there by public transportation, you need to know about the traffic information in advance, especially the bus itinerary and time. Surely a private day tour can be a good choice to save your time. Hope helpful.
Asked by LEF from USA | Sep. 05, 2018 18:07

Reply
Great Wall, near Beijing, on National Day holidays
I will be in Beijing October 4 & 5, during National Day festivities. I would love to see the magnificent Great Wall but would like to avoid as much crowds as possible. Which sections of The Great Wall are least crowded? I am a healthy, 57-year old man traveling alone. Which tour companies would you recommend for these sections? I will be staying at a major hotel near Forbidden City. Thank you.
Answers (1)
Answered by Kai from USA | Sep. 05, 2018 19:20

0

0

Reply
During the national holiday, it will be very very crowded. Mutianyu, Simatai Great Wall are recommended to you with less tourists and nice landscape. If you want to book a tour, you can send e-mails to travel

travelchinaguide.com that helped me visit Biejing, Xian, Shanghai last year. Hope to be helpful.