Mutianyu Great Wall Day Tour
Tiananmen Square - Forbidden City - Mutianyu Great Wall
Trip Highlights:
►
Witness impressive monuments, buildings, and patriotism in China's symbolic Tiananmen Square.
►
Explore the world's largest wooden royal palace and learn about the luxurious life of the once royal family.
►
Take a round-trip cable car ride to the magnificent Mutianyu Great Wall to see gorgeous views.
Itinerary:
Welcome to take our private Mutianyu Great Wall tour to see the most iconic attractions in Beijing! At the appointed time in the morning, your tour guide and driver will pick you up from your hotel.
The first stop today is
Tiananmen Square
, located in the heart of Beijing City. As one of the largest city squares in the world, it covers an area of 440,000 square meters (530,000 square yards), and can accommodate around one million people for grand rallies at a time. It not only boasts its super vast open space but also highlights a lot of imposing traditional buildings like the 600 years old Tiananmen Tower and Zhengyang Gate. Besides that, you will witness some important modern constructions, such as the giant Monument to People's Heroes and the Chairman Mao Memorial Hall. Your guide will explain more details and stories about the large square and surrounding buildings, and you will have about 30 minutes to wander around it to take photos.
Next, we will walk through the Tiananmen Tower to the majestic
Forbidden City
, which used to be the imperial palace for about 600 years during the Ming and Qing dynasties (1368-1911 AD). Covering over 250 acres, the Forbidden City has 70 palaces and more than 9,000 rooms, some of which remain their original states and some have become exhibition halls to store the precious historical relics. You will be guided to visit the main palaces of the world's largest wooden palace complex to appreciate the Chinese architectural gems and be aware of how luxury the royal life was.
►
Tidbit: Life for Ancient Officials after They Retired from Forbidden City
In ancient China, the most officials would go back to their hometown in retirement. After the emperor approved their resignation, they, especially those served in the central government, would leave the capital as soon as possible. For the high expense, it has always been hard to get a house in the capital, even in ancient times. When they were in service, the house was given by the government or rented by themselves; as they retired, the house would be taken back. Moreover, staying in the capital would invite suspicion of power plays from the emperor and cliques, and they might as well enjoy peaceful life in their old age.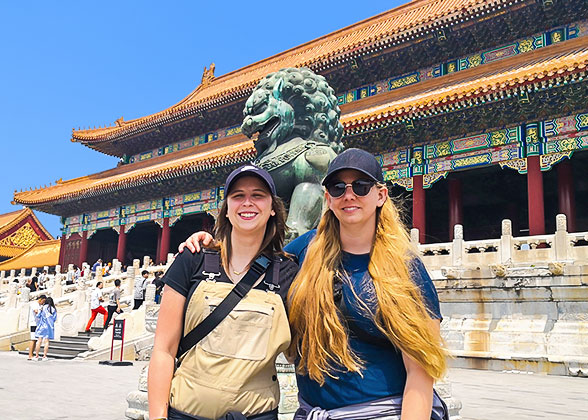 Visit the Majestic Forbidden City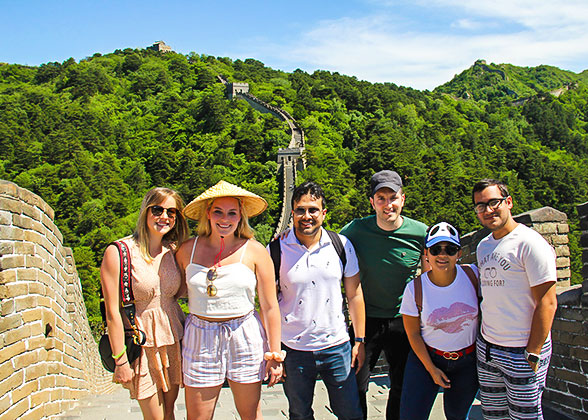 Our Guests at Mutianyu Great Wall
Then you can have lunch on your own and your guide will be glad to offer some recommendations. After lunch, we will continue our trip from Beijing by a 1.5 hours' comfortable ride to
Mutianyu Great Wall
. This is one of the most essential sections of the Great Wall of China, built during the Ming Dynasty (1368-1644 AD). We have arranged for you a round-trip cable car ride and you can easily get to the magnificent Great Wall. You may also choose a chairlift up and a toboggan down.
There are 23 watchtowers distributed along the 2,250-meter (7,382 ft.) long ramparts, one per 100 meters (328 ft.). This density is really rare among all the Great Wall sections. Upon the top, you could hike to the Zhengguan Terrace, an important strategic position composed of three watchtowers standing side by side. From here, you can overlook the whole Mutianyu and take in the awe-inspiring view of the Great Wall which traverses the lush mountains with many watchtowers densely distributed. Enough time will be left for you to appreciate the beautiful and stunning Great Wall scenery. Then you can choose the way you like to get down, a toboggan or cable car.
After the visit, we will escort you back to your hotel. Your Great Wall day tour comes to a happy end!
Tour Prices
| 1 traveler | 2-3 travelers | 4-5 travelers |
| --- | --- | --- |
| USD329 | USD179 | USD139 |
Prices are per person in US Dollars.

Price Includes
Private English-speaking guide
Private driver & air-conditioned vehicle
Entrance fees to tourist sites
Round-trip cable car at Mutianyu Great Wall
Price Excludes
Hotel accommodation with breakfasts
Lunches and dinners
Tips or gratuities for guide and driver
Itineraries you may also like: