Guilin can be regarded as 'Paradise on Earth' in view of its fascinating natural beauty. It is famous for its picturesque Karst landscape, which the Li River cruise highlights. A leisurely trip through the countryside of Yangshuo adds a different flavor. From cruising to hiking, our private Guilin tours offer clients the possibility to travel in a variety of ways.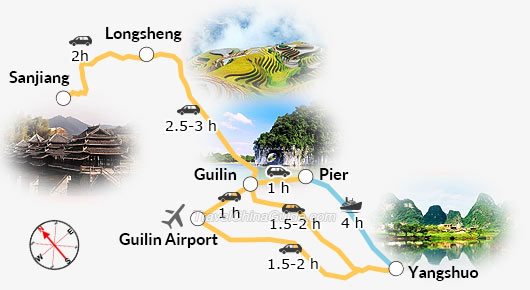 How to plan my Guilin trip?
3 Days
Li River Cruise & Guilin City
4-5 Days
+Yangshuo Countryside
+Rice Terraces in Longsheng
+Daxu Ancient Town
6 Days or more
+More time in Yangshuo
+Extension to Sanjiang
Best Private Guilin Tours
Customer Reviews

Questions & Answers
Posted on October 23, 2021

I engaged them to arrange Li River cruise during national day holiday. It is rather difficult for foreigners to book the cruise ticket during pandemic period. Ashley has been very helpful and helped us to deal with the cruise company and sorted out all relevant documents with them. The driver arrived at our hotel on the agreed time and collected the cruise ticket for us. Very well organised tour company. Will surely use them again in the future.

5.10
11. The Guilin 3 days tour was extremely wonderful.

Our tour guide Rose put everything in order on the whole trip. Many famous sightseeing spots were covered in our itinerary, including Fubo Hill, Li River cruise to Yangshuo, and Reed Flute Cave.

What impressed me most was the beautiful sights along the two sides of the Li River. When we took a cruise along the river, we felt refreshed. It was so amazing.

Posted on January 30, 2021

We were very satisfied with this Guilin tour! We got along well with each other in the package tour. Everything went smoothly and there was no forced shopping stop! Our guide Kevin was a fluent English speaker who was friendly. He clearly knew a great deal of knowledge and customs about the each place we visited! What's more, he was kind enough to help me look after my child. So thoughtful and dedicated!