Top Guilin Attractions
More Things to Do
Top 10 City Tours
Guilin can be regarded as 'Paradise on Earth' in view of its fascinating natural beauty. It is famous for its picturesque Karst landscape, which the Li River cruise highlights. A leisurely trip through the countryside of Yangshuo adds a different flavor. From cruising to hiking, our private Guilin tours offer clients the possibility to travel in a variety of ways.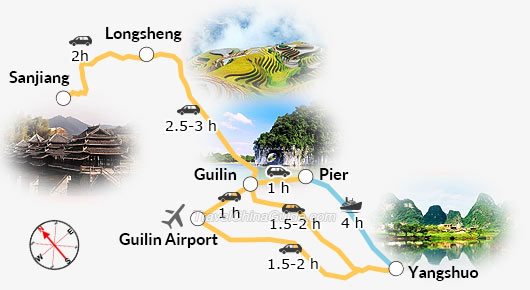 How to plan my Guilin trip?
3 Days
Li River Cruise & Guilin City
4-5 Days
+Yangshuo Countryside
+Rice Terraces in Longsheng
+Daxu Ancient Town
6 Days or more
+More time in Yangshuo
+Extension to Sanjiang
Best Guilin Private Tours
Yangshuo Private Tours
Longji Rice Terraces Private Hikings
Guilin Side Trips
Tailor Your Guilin Private Tour
Guilin Tour Planning
When is the best time to visit Guilin?
In general, Guilin is a good place for a vacation in all seasons as its year-round average temperature is 19 C (66 F).

Best time to visit the area: April to October. In this timeframe, the charming scenery of green hills and clear waters are most impressive for visitors.

Travel from November to March the next year: The tour prices are cheaper. At the same time, one can enjoy sightseeing without interference by massive crowds.

Time to avoid: Try to steer clear of the Chinese National Day Holiday from October 1st to 7th, when people are hustling and bustling everywhere.
Will my guide be with me on the cruise ship? What is the luggage arrangement?
Yes, in your private tour packages your guide will escort you on the Li River cruise journey. He/she will tell you interesting descriptive names and legendary stories of those major attractions along the river when on board. Let your imagination merge with the guide's explanation. You will find the mystical peaks become lifelike.

If you are scheduled to stay overnight in Yangshuo, your luggage will be delivered to Yangshuo by your driver who goes to Yangshuo overland.
What kind of boat will we take for the Li River Cruise tour?
There are both 3-star and 4-star boats available for the Li River Cruise tour. We usually recommend the 3-star boat since it is favored by the majority. But if you are interested in the 4-star boat, we are also ready to book it for you. Below are key features of the two kinds of boats.

The 3-star boat has a capacity of 98-110 people. All the seats are priced the same reasonably, and the ticket fee includes a simple lunch box with free tea. As you will spend most of the time sightseeing on the top deck of the boat, we believe the 3-star one is quite adequate for a short 4-hour journey.

The 4-star boat has a capacity of 75-80 people with a bit more spacious seats. The ticket price varies according to the seats, which is about USD30 to USD50 per person higher than that of the 3-star. A Chinese buffet lunch is served. Clients who demand for better facilities may consider this kind of boat.
Can I take a bamboo raft on the Li River?
Frankly speaking, we do not recommend the Li River bamboo rafting to our clients in Guilin itinerary for the following reasons.

First of all, the bamboo rafts are not operated under standardized management, so the service of the boatmen cannot be guaranteed. Secondly, the raft is not poled by the boatman in the traditional way, but driven by an outboard motor, which is a bit noisy. Thirdly, it is usually quite small, without a restroom, not to mention food, drinks or air-conditioning on board. Fourthly, when the weather is not good, the bamboo rafting is easily subject to cancellation at very short notice. Therefore, we suggest you take the river cruise instead of bamboo rafting for a smooth and safe trip.
Can I apply for the 72-hour visa-free or 144-hour visa-free transit for a Guilin tour?
Yes, you can apply for the 72-hour visa-free transit for a basic Guilin tour as long as you are qualified to the relevant prerequisites. You can
click here
to read more details.
Tour groups from 10 ASEAN countries can be granted a visa-free stay up to 144 hours. They should be received at Guilin Liangjiang Airport by local travel agencies. During the six days, all members cannot leave the city. In addition, tour groups using this visa exemption policy shall exit from Liangjiang Airport only.
When is the best time to visit the Dragon's Backbone Rice Terraces?
Generally speaking, May, June, September and October are the best months to visit the Dragon's Backbone Rice Terraces.

From May to June, you can see the terraced fields filled with water glistening like mirrors in the sunlight, and see traditional farmers busily transplanting rice seedlings.

When the autumn harvest season comes in end of September and the beginning of October, everywhere you look are terraces with golden rice undulating in the breeze. As it is too crowded during the National Holiday, the end of September is considered to be the best time to visit the rice terraces.

In other months of the year, the Dragon's Backbone Rice Terraces still offer spectacular scenery and unique ethnic customs.
Can I stay overnight in Longsheng to explore the Dragon's Backbone Rice Terraces in more depth? How are accommodations there?
Yes, you are able to stay overnight at Ping'an Zhuang Village in Longsheng. Since it is in the mountainous area, there are mainly guesthouses with basic necessities for travelers. We usually book the well-regarded Ping An Guesthouse for clients. For those looking for better accommodations, the only luxury boutique Li An Lodge can meet your requirements, but its room rate is a bit higher.