China Delights
SG02: 11 Days Small Group Tour of Beijing - Xi'an - Guilin - Yangshuo - Guilin - Shanghai
Tour Type:
Small Group of max 18, guaranteed departures
Guide & Driver:
English-speaking guide, experienced driver with an air-conditioned coach
Accommodation:
10 nights at good 5-star hotels
Highlights:
Must-see sights in China - Mutianyu Great Wall, Forbidden City, Terracotta Army.
Take a Li River cruise down to Yangshuo & admire the essence of Guilin landscape.
View the soaring city skyline and feel the pulse of modern Shanghai.
Enjoy a la carte meals, Peking Opera & Tang Dynasty Music and Dance Show.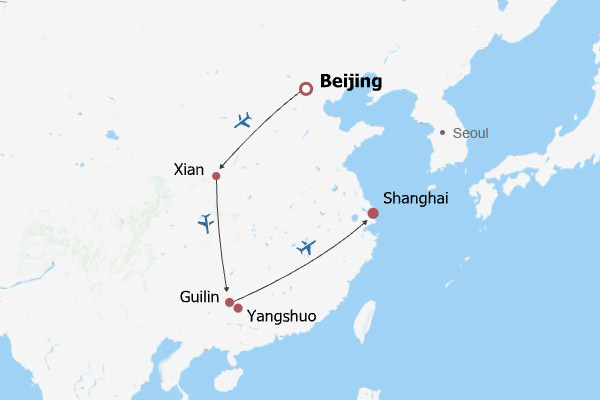 Welcome your arrival anytime at the airport and transfer to hotel.
Welcome to join our tour to discover the true essence of China! After reclaiming your luggage at Beijing airport, you will be met by your guide outside customs, who will be holding a sign with your name on it. You will then be escorted to your hotel. Now some free time for you to rest and recover from the plane ride.
Accommodation: The Great Wall Hotel Beijing





- the former Sheraton
Visit Tiananmen Square and Forbidden City including Treasure Gallery; enjoy an a la carte welcome lunch with authentic Peking Duck; continue to visit Yonghe Temple and Temple of Heaven; and watch the classic Peking Opera in the evening. (B+L)
At 08:30, a 30-minute tour briefing will be given in the hotel lobby and you will meet your traveling companions. Your guide will introduce the tour briefly and share some guidelines and tips for travelling in a group. You are welcome to ask any questions regarding the trip.
Your first stop today is
Tiananmen Square
, from where you will walk to the
Forbidden City
, one of the largest imperial palace complex in the world. Travelers are always impressed by its grand architecture featuring high red walls and golden roofs. Constructed during early Ming Dynasty (1368 to 1644 AD), this was the home of 24 emperors. There are many secrets about the place that contribute to its enigmatic vibes, like its capability of surviving 200 plus earthquakes intact through over 600 years of history. Follow your guide to take a look at roofs of the palaces, and you will find out a key to solve the mystery lies in those flexible joints used to connect small wooden strips to build the roofs. The main gist is to digest the whole kinetic energy and thus neutralize the impact of earthquakes. An example is the roof of Hall of Supreme Harmony, the emperors' throne hall, where you can find tens of thousands of those wooden strips.
The Remarkable Tiananmen Square
★
We offer a special visit to the Treasury Gallery
A main feature about the Forbidden City would be its trove of priceless antiques. Today, we will have a special tour in the Treasury Gallery at the northeastern corner, where you get to witness the most luxury side of the imperial life from those historical relics on display.
★
A la carte welcome lunch is served with Peking Duck
You will enjoy an a la carte welcome lunch (valued at CNY150.00 per person and included in our price) at a carefully-selected restaurant that is popular even among locals. You get to taste some authentic Chinese foods, including Peking Roast Duck, a world-famous Beijing specialty and the restaurant's signature dishes. The cook will carve the duck in front of you and teach you how to eat the slices. Hope you will enjoy!
Our Guests at the Imposing Forbidden City
In the afternoon, you will visit the
Yonghe Temple
, the Qing imperial lamasery that is still functioning for visitors to burn free incense to pray for luck, and then the
Temple of Heaven
, where the emperors of the Ming and Qing dynasties worshipped the Gods of Heaven.
Tonight, you will be treated in a prestigious opera venue to appreciating
Peking Opera
– a Chinese drama form and a UNESCO-recognized intangible cultural heritage that symbolizes traditional Chinese culture. Since the scripts are adapted mostly from historical novels, watching Peking Opera will get you a glimpse into various aspects of ancient China, which have a far-reaching impact on modern Chinese society. It is a highly condensed art form that incorporates singing, dancing, acrobatic-style acting, as well as rich visual languages. What might also intrigue you is that, we will arrive earlier to watch artists paint their faces and put on their elaborate clothes. After appreciating Peking Opera, we will drive you back to hotel.
Meals: Western buffet breakfast, A la carte welcome lunch
Visit Mutianyu Great Wall by round-trip cable car and toast for Great Wall challenge with red wine; drive by Olympic Bird's Nest; then take a rickshaw ride through Hutong alleys and visit a local family in a traditional courtyard house. (B)
You might want to have a big breakfast at the hotel and prepare some snacks to provide you with energy, as you will spend much time on the
Mutianyu Great Wall
. It is the most splendid and one of the best preserved sections of the Great Wall of China, and less crowded if you compare it with its alternative, the Badaling section. You can take a round-trip cable car ride up and down from the wall with assistance of your guide. After getting down, your guide will invite you to drink a toast to your adventure with red wine.
►
A warm reminder:
At the Great Wall area, there are many peddlers selling souvenirs, but we suggest you just ignore them if you have no interest in their goods, otherwise they may persist in talking to you.
Hiking on the Mutianyu Great Wall
In the afternoon, we will go back downtown and have a short stop before the
National Stadium
, or Bird's Nest, for you to take pictures as mementos of this grand sports venue and a landmark of Beijing.
Then we will take you to enjoy a classic
Hutong rickshaw tour
, which allows you to experience the traditional Hutong alleys of Beijing and its old culture. Through the narrow winding lanes of Hutongs, you get to have a glimpse into the locals' daily life. Then your tour here will culminate with a visit to a family in one of the courtyard houses lined on both sides of the alleys. Afterwards, we will drive you back to hotel.
Meals: Western buffet breakfast
Day 4
Beijing to Xi'an by Flight
Visit Panda Hall and Summer Palace; taste local flavors for lunch; fly to Xi'an and transfer to hotel. (B+L)
Before heading for the next city, you will get the opportunity to visit adorable gifts the nature bestowed up on us - giant pandas, in
Panda Hall, Beijing Zoo
. Then we will go to the
Summer Palace
, to take in the elegant landscape the largest imperial garden in China has to offer.
After having some local food for lunch, you will take a flight to the ancient city of Xi'an. Upon arrival, you will be driven to your hotel. Your guide will help you with the check-in procedure and introduce the hotel layout to you so that you will have a pleasant and enjoyable stay.
Meals: Western buffet breakfast, Lunch
Accommodation: Crowne Plaza Xi'an





Rickshaw Tour in Old Hutongs
Standard Room, Sheraton Xi'an Hotel
Visit Terracotta Army and the discoverer's home of the first terracotta warrior; have a unique experience to make your own mini clay warrior; continue to visit Giant Wild Goose Pagoda, and then enjoy dumpling dinner and Tang Dynasty Music and Dance Show in the evening. (B+D)
Today you will be driven to the suburb area to marvel at the spectacle of the
Terracotta Army
for the whole morning. Dubbed as the eighth wonder of the world, it is certainly one of the highlights of your 11 days China tour package. Follow your guide, and you will witness a great army made of terracotta or bronze, which was made to serve the afterlife of Emperor Qin Shi Huang (259 – 210 BC), the first emperor in China's history. About these terracotta figures, one thing that never fails to capture everyone's attention would be their enigmatic lifelike details. Take a close look at those warriors, and you will notice they all have single-edged eyelids. The exact meaning behind those monolids is yet to be figured out. Perhaps Qin people were simply monolids, or the eyelids were just crafted so for some aesthetic reason to make the whole army look more formidable - it's true that monolids look less cute than double eyelids sometimes.
Visiting the Terracotta Army
★
What makes us different:
►
Pay a visit to the discoverer of the first terracotta warrior
We will arrange a special family visit for you to the home of Mr. Yang Zhifa, the discoverer of the very first terracotta warrior. The hoe and the cart that he used to dig and carry the warrior are still well preserved and can be examined in his house. Have a short talk with him or his family, and get to know how this surprising discovery changed their life.
►
Make your own miniature warrior and take it home
Making a terracotta warrior figure was quite complicated and time-consuming in Qin Dynasty. You will come to a local workshop to hear the detailed procedure from a local traditional artisan. Then, you will have a unique experience of making your own mini warrior figure under his help. It takes around 40 minutes and, with the help of molds, would be not that difficult. Of course, you can take your cute masterpiece home to memorize this special moment.
The 2,200-year-old Terracotta Warriors
Continue your exploration to the
Giant Wild Goose Pagoda
, a renowned Buddhist temple built in the Tang Dynasty (618–907 AD) missioned to introduce Buddhism. During dinner time, you will be invited to a theater to enjoy a traditional
dumpling dinner
and a splendid
Tang Dynasty Music and Dance Show
.
The trip for today reaches its end. Now we will drive you back to your hotel.
Travel Tip: Guests visiting in Jan, Feb, Mar and Dec need to arrange dinner and evening activities on your own for today, since the theater is usually unavailable during these periods.
Meals: Western buffet breakfast, Dumpling dinner
Connect with local people at City Wall Park and learn to practice Tai Chi from a master, then visit City Wall; taste local flavors for lunch at Muslim Quarter; in the afternoon visit Great Mosque and Shaanxi History Museum. (B+L)
After breakfast, we will first head to the
City Wall Park
, a popular venue for local people to relax and take part in various activities. It is the best place to experience the daily life of the locals. We also arrange a Tai Chi exercise – a meditative type pf Chinese traditional martial arts that aims to nurture both body and mind - for you in the park. You will learn some basic moves with the master. After that, we will visit the ancient
City Wall
, where you can take a leisurely walk or rent a bike to ride on the wall. Please note the bike rental fee is at your expense.
Around noon, we will treat you to some local food at
Muslim Quarter
at a well-known restaurant. The quarter, or rather, a bazaar, is the liveliest snack street of its genre in China where you can pick up souvenirs and taste local cuisine. Here you will find various local snacks or flavors, like sweet steamed rice, green bean cake, persimmon cake, rice cake, etc. It is indeed a heaven for foodies.
Bike Riding on the Ancient City Wall
Then, let's go further deep into the bustling area, to visit the
Great Mosque
, a tranquil mosque complex featuring classical Chinese garden architecture. Afterwards, visit
Shaanxi History Museum
, known as the pearl of Xi'an and the treasury of China for storing and exhibiting historical relics unearthed from this land, where the capital of thirteen ancient dynasties of China is located.
After the visits, we will drive you back to hotel. Have some fun private time during your last day staying in Xi'an.
Meals: Western buffet breakfast, Local flavor lunch
Day 7
Xi'an to Guilin by Flight
Fly to Guilin & transfer to hotel; visit Reed Flute Cave and Elephant Trunk Hill. (B)
A morning flight will take you to Guilin where you will meet your local guide at Guilin airport. A driver will then take you to hotel. After the hotel check-in and a short rest, you will have a half day sightseeing trip in the
Reed Flute Cave
and around the
Elephant Trunk Hill
, cult destinations that draw the world's attention for their breathtaking beauty. As the sun sets, we will take you back to your hotel.
Meals: Western buffet breakfast
Accommodation: Sheraton Guilin Hotel





Day 8
Guilin - Yangshuo - Guilin
Take a Li River cruise from Guilin to Yangshuo; explore West Street and have a countryside tour; drive back to Guilin. (B+L)
Enduring memories are created as you cruise down the Li River to Yangshuo County. Views around
Li River
are the essence of landscape in this area, especially the section from downtown Guilin to Yangshuo, which is reputed as 'A Hundred Mile Gallery'. Immerse yourself in the picturesque scenery along the river, and in the tranquility leave all your cares behind. The cruise ship will arrive at Yangshuo in about 4.5 hours. Disembark and then have a tour around the famous
West Street
. After that, you will be driven to the countryside of Yangshuo to soak up the amazing rural scenery.
Fantastic View of the Li River
★
Special visit to a local family in the countryside
Your trip in the countryside of Yangshuo will be enriched by a visit to a local villager's home, where you will see many scenes that can only be experienced in some old Chinese movies. You get to visit a courtyard with moss covered floor, a kitchen in which people still burn wood to cook, and rooms with Chinese style antique furniture. This is the best chance for you to learn about real rural life of China. You will be welcomed to ask whatever questions you like by the family members.
After your tour for today, you will be driven back to Guilin.
Meals: Western buffet breakfast, Lunch
Day 9
Guilin to Shanghai by Flight
Fly to Shanghai & transfer to hotel; relax during the rest of the day. (B)
This morning we will transfer you to Guilin airport for your flight to Shanghai, the last stop of your China tour. Upon arrival, you will find your local guide waiting for you outside the baggage claim area of the airport to take you to the hotel. The remainder of the day is left free for you.
►
Activity Suggestion:
Your hotel in Shanghai, the Radisson Blu Hotel New World, is ideally located in the city center, just steps away from historic People's Square and world famous Nanjing Road. About 1200 meters (0.7 miles) long, this prosperous pedestrian street is lined with malls, stores, restaurants, and cafes, satisfying all your shopping needs and local food hunting. Especially at night, when neon lights are on, the view is amazing here with a taste of old Shanghai. So just walk out from your hotel, you will experience vibrant atmosphere of this international metropolis.
Meals: Western buffet breakfast
Accommodation: Radisson Blu Hotel Shanghai New World





Visit Shanghai Museum and Yu Garden; enjoy an a la carte farewell lunch; have a panoramic view of the city skyline, and then explore the Bund with a Huangpu River cruise tour. (B+L)
Today's trip will start from
Shanghai Museum
which specializes in ancient art works of China, especially bronze ware, ceramics, calligraphic works and paintings. Later, take a trip to the
Yu Garden
and its nearby bustling bazaar featuring ancient Chinese architecture. As a private garden that is over 400 years old, Yu Garden embodies the architecture and design of classical Chinese gardens.
Around noon, enjoy an
a la carte farewell lunch
of authentic Shanghai cuisine (valued at CNY150.00 per person and included in our price) at a well reputed restaurant.
Delicate Garden Landscaping in Yu Garden
After lunch, you will have a chance to get a stunning panoramic view of the city from Duoyun Bookstore on the 52nd floor of Shanghai Tower, the first tallest building in China and the second in the world. It only takes 36 seconds to get to the height, since the elevator here is considered the fastest one in the world. Your guide will help you get some drinks at the bookstore. From here, you can enjoy the city view of other significant buildings like Shanghai World Financial Center, Jinmao Tower and Oriental Pearl Tower, as well as views along the Huangpu River. Then you will be guided to
the Bund
and have a one-hour
cruise tour
along the Huangpu River. Enjoy some free time on the Bund. Finally, your guide and driver will escort you back to the hotel and say goodbye to you.
Meals: Western buffet breakfast, A la carte farewell lunch
Day 11
Departure from Shanghai
Please check out before 12:00, and head for the airport in our recommended ways; a pleasant journey home! (B)
Please check out from hotel before 12:00 pm and arrange your own transfer to the airport. Please verify which airport your flight will depart from before you leave, as there are two airports in Shanghai: Pudong International Airport (PVG) and Hongqiao Airport (SHA). Both destinations can be reached by the Metro Line 2 just outside your hotel. If you prefer to take a taxi, we kindly suggest you reserve one with the hotel bell desk beforehand to save time. Wish you a nice trip home!

Also if you wish to stay on in China, please contact your travel consultant about an extension tour, and we shall be pleased to arrange it for you.

Meals: Western buffet breakfast
B-- Breakfast
L-- Lunch
D-- Dinner
Prices are per person on twin sharing basis; departures are guaranteed even with two persons!
Christmas & 2024 Special:
12% off
- Book before Dec 31, 2023
Arrival Date
Departure Date
Double Occupancy
Single Room Supplement
Sep 22(Fri)
Oct 02(Mon)
USD2759
USD739
Oct 06(Fri)
Oct 16(Mon)
USD2759
USD739
Oct 13(Fri)
Oct 23(Mon)
USD2759
USD739
Oct 20(Fri)
Oct 30(Mon)
USD2759
USD739
Oct 27(Fri)
Nov 06(Mon)
USD2649
USD879
Nov 03(Fri)
Nov 13(Mon)
USD2509
USD729
Nov 10(Fri)
Nov 20(Mon)
USD2509
USD729
Dec 08(Fri)
Dec 18(Mon)

USD2409

USD2119

USD609
Dec 22(Fri)
Jan 01(Mon)

USD2409

USD2119

USD609
Remark: The prices in red reflect the current discount.
Prices are per person on twin sharing basis; departures are guaranteed even with two persons!
Christmas & 2024 Special:
12% off
- Book before Dec 31, 2023
Arrival Date
Departure Date
Double Occupancy
Single Room Supplement
Jan 05(Fri)
Jan 15(Mon)

USD2609

USD2295

USD659
Feb 23(Fri)
Mar 04(Mon)

USD2609

USD2295

USD659
Mar 11(Mon)
Mar 21(Thu)

USD2609

USD2295

USD659
Mar 25(Mon)
Apr 04(Thu)

USD2609

USD2295

USD659
Apr 08(Mon)
Apr 18(Thu)

USD2339

USD2058

USD709
Apr 19(Fri)
Apr 29(Mon)

USD2339

USD2058

USD709
May 10(Fri)
May 20(Mon)

USD2339

USD2058

USD709
May 24(Fri)
Jun 03(Mon)

USD2339

USD2058

USD709
Jun 10(Mon)
Jun 20(Thu)

USD2309

USD2031

USD689
Jun 21(Fri)
Jul 01(Mon)

USD2309

USD2031

USD689
Jul 05(Fri)
Jul 15(Mon)

USD2439

USD2146

USD759
Jul 19(Fri)
Jul 29(Mon)

USD2439

USD2146

USD759
Aug 02(Fri)
Aug 12(Mon)

USD2439

USD2146

USD759
Aug 16(Fri)
Aug 26(Mon)

USD2439

USD2146

USD759
Sep 06(Fri)
Sep 16(Mon)

USD2409

USD2119

USD729
Sep 16(Mon)
Sep 26(Thu)

USD2409

USD2119

USD729
Oct 07(Mon)
Oct 17(Thu)

USD2409

USD2119

USD729
Oct 18(Fri)
Oct 28(Mon)

USD2409

USD2119

USD729
Nov 01(Fri)
Nov 11(Mon)

USD2099

USD1847

USD669
Nov 15(Fri)
Nov 25(Mon)

USD2099

USD1847

USD669
Dec 08(Sun)
Dec 18(Wed)

USD2059

USD1811

USD659
Dec 22(Sun)
Jan 01(Wed)

USD2059

USD1811

USD659
Price Includes
Domestic airfares
Hotel accommodation with breakfasts
A la carte lunches as itinerary specifies
Professional English-speaking guides
Drivers & air-conditioned vehicles
Entrance fees to tourist sites
Tips or gratuities for hotel porters
Price Excludes
International airfares
Entry Visa fees
Personal expenses
Tips or gratuities for guides and drivers
Why Travel With Us
Itineraries you may also like: