Xi'an City Wall Park
Xi'an City Wall Park, built in 1982, borders the 13.7-kilometer-long (about 8.5-mile-long) Ming Dynasty City Wall. It was built for public benefit and consists of three parts: the ancient city wall, moat and forest belt. It is a unique characteristic of the city and has an inimitable style and features. It fulfills the functions of recreation, fitness development, sightseeing, environment and cultural heritage protection. The park was built with popular support. There is no doubt that the construction of the park has made the city more characteristic. Presently it is one of the most important places for local people to walk about casually or for pleasure.

The layout of the moat and forest in the park are harmonious with the city wall. The clear water, lush trees and the ancient wall resemble a very beautiful painting. Dotted pavilions, sculptures and steles add much delight to the landscape as well. The width of the City Wall Park ranges from 30 to 200 meters (about 33-219 yards), which can be broadly divided into three concentric loops. The first loop is from the outer wall to the moat bank, and contains trees, lawns and body-building devices. The second refers to the moat, while the third loop is from the moat to sidewalk of the Ring Road. Apart from the flower beds and other ornamental plants, there are also many squares of all sizes.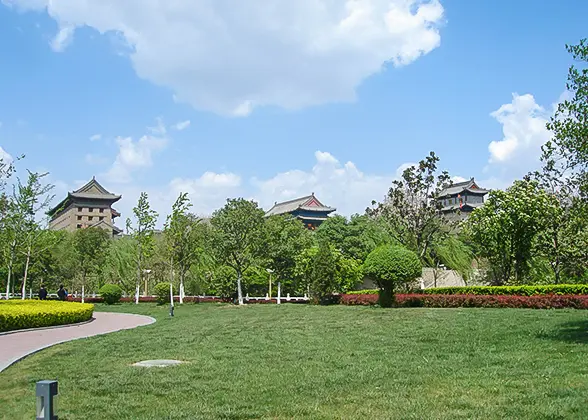 The City Wall of Xi'an is the most complete ancient wall that has survived in China. It also represents one of the largest ancient military defensive systems in the world. The park brings the old city wall to life. Parkways stretch to each city gate, allowing people to conveniently enter from a number of directions. Outside the moat, the City Wall Park is divided into south, west, north and east sections, with each containing several individual gardens with different features and themes.

In the south, there is Pine Garden, a place made up of pavilions, rivers, flowers and trees. It is the center where old people come to relax and take part in various activities. The West Garden in the west, covering an area of 10 hectares (25 acres), is a good mixture of the ancient buildings, green belt and recreational activities. Dream Lake Garden is the northern scenic area of the West Garden, and is recognized as a "gold necklace around the city wall". It is renowned for the clear pool, Dream Lake. It also boasts six brilliant vistas, including a viewing platform, the inundated, Shuzhen Square, Centeral Square and the recreational areas. Ancient hitching posts for horses, poles representing the 12 animals of the Chinese Zodiac and sculptures of folk customs are also delightful features of the park.
| | | |
| --- | --- | --- |
| Playing Chess | Playing Er'hu | Morning Exercises |
Four major parks, Changle (eternal joy) Park, Yongning (eternal peace) Park, Anding (harmony peace) Park, and Anyuan (forever harmony) Park, are located at the four city gates of Xi'an. They are divided into thirteen sections with many types of equipment attracting local people, especially for morning and night exercise. The middle-aged dance while older people play shadow-box under the trees. In addition, some local senior citizens gather together to loudly sing Qin Opera (the local traditional opera in Shaanxi Province) to the music of the er'hu (a kind of local traditional musical instrument). There are many pavilions inside where people can have a good rest . This is where to find the city's authentic joy and fun.
How to Get the City Wall Park
There are many buses going through the four main gates of the City Wall: East Gate (also Changle Gate), South Gate (also Yongning Gate), West Gate (also Anding Gate) and North Gate (also Anyuan Gate). Then you can enter the park from anyone of these gates.
East Gate: Take bus No. 8, 22, 27, 29, 33... and get off at Dongmen (East Gate) Station.
South Gate: Take bus No. 6, 11, 16, 23, 26... and get off at Nanmen (South Gate) Station.
West Gate: Take bus No. 4, 7, 15, 23, 31... and get off at Ximen (West Gate) Station.
North Gate: Take bus No. 6, 9, 26, 28, 33... and get off at Beimen (North Gate) Station.
If you take a metro,
Metro Line 2
can take you to Yongningmen (Yongning Gate) Station and Anyuanmen (Anyuan Gate) Station. Then you can walk to South Gate or North Gate.
From the
Bell Tower
, it is a 10 minutes' walk along the South Street to get to the South Gate.
Xi'an Bus / Metro Search
| | |
| --- | --- |
| Admission Fee | Free |
| Opening Hours | Whole day |
| Recommended Time for a Visit | One hour |

Videos of the Local Activities at Xi'an City Wall Park:
Shaanxi Opera Performance at Xi'an City Wall Park
Locals Doing Morning Exercises
Vegetable Market under Xi'an City Wall
- Last updated on Apr. 13, 2021 -
Questions & Answers on Xi'an City Wall Park
Asked by Ana Flavia from BRASIL | Oct. 16, 2016 15:04

Reply
Lantern Festival on 15 february 2017
Hello, i wish to know if will be festivities during Lantern Festival on February 15, 2017 on City Wall Park.
Or where can i enjoy the best of Xi'an Lantern Festival?
Answers (3)
Answered by Shasha from SINGAPORE | Oct. 16, 2016 21:53

0

0

Reply
Hi, to enjoy the best view of the festival, the City Wall and the South Gate (not the park) as well as the Tang Paradise are highly recommended. You will see lantern shows and lantern riddles.
Answered by Ana Flavia from BRASIL | Oct. 17, 2016 05:07

0

0

Reply
HI! Thanks for your reply!

I am wondering, will be culture attractions like Folk Dances? Do you know where can i see the festival schedule? Will be february 11 correct?

Thanks!
Answered by Shasha | Oct. 18, 2016 03:29

0

0

Reply
Yes, there will be some folk dances and performances. In general, the lantern show begins on Chinese New Year, and lasts for around one month. You can see it on Lantern Festival Day on February 11th, 2017. Have fun! :)