Xi'an Attractions - Things to Do
Brilliance of thousand years endows Xi'an with enchanting temperament. The continuous history of the ancient civilized capital has apparently resulted in its magnificent culture. Today's Xi'an is a world famous tourist city and an inexhaustible treasure house of cultural relics. Now heads of state from many countries and people from all walks of life come to the city to broaden their knowledge of Chinese civilization.
Top Attractions

Terra Cotta Army - At the mention of the great number of the local attractions, terracotta soldiers always come as the first. The great archeological excavation of Qin (221BC-206BC) Terra Cotta Warriors and Horses unfolded a strong army of altogether 8,000 life-size pottery soldiers, horses, chariots and weapons arranged in battle formations symbolically, guarding the tomb of Emperor Qin Shi Huang. The grand Mausoleum of the first emperor of Qin and the warriors and horses buried in loess for over 2,200 years amaze every visitor there. Now the Emperor Qin Shi Huang's Mausoleum Site Park was just built on the entire tomb site to offer more spots to enrich your Xi'an vacation.
| | |
| --- | --- |
| Terra Cotta Warriors | Watchtower of City Wall |

City Wall - Adorned with a moat and the circular City Wall Park, the wall surrounds the square inner city. It is the most complete city wall to survive in the country, as well being one of the largest ancient military defensive systems in the world, built first in the early Ming Dynasty (1368-1644) and renovated in recent years.



Giant Wild Goose Pagoda
Located in the Qujiang Tourist Area to the southeast of the city center, this solemn ancient pagoda inside the Da Ci'en Temple was originally built in 652 during the reign of Emperor Gaozong of the Tang Dynasty (618-907). It holds the old Buddhist relics and classics taken from India by the hierarch Xuanzang. The pagoda and its surrounding areas nowadays become a popular resort for both the locals and the tourists.



See more about Top 10 Things to Do in Xi'an
More Things to Do within City Proper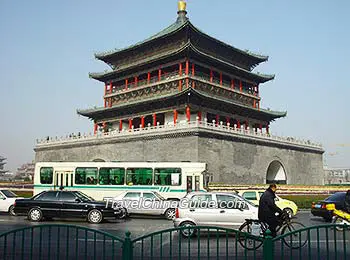 Bell Tower
The Bell Tower plays absolutely as the central landmark of the city, from which four most prosperous commercial streets stretch towards the east, west, south and north. As another must to every Ming city, the Drum Tower stands nearby in the west of the Bell Tower. Time has passed along with the bell at dawn and the Drum at dust sounding everyday. Now, they are outstanding examples of the ancient architecture. Entering the old gate of the Drum Tower, you are warmly welcomed by an old street with bluestone pavement and full of Muslim restaurants decorated in Ming and Qing dynasties' style, Beiyuanmen Muslim Market, which is the right place to taste local snacks. The Great Mosque here occupies a narrow lot which is only a block away from the Drum Tower, being the spiritual root of about sixty thousand Muslims, mainly Hui minority living and working here. To know city wall much earlier than Ming, Hanguang Gate Site Museum provides a prefect description of the ancient wall 1,400 year ago at the zenith of Xi'an history.

Shaanxi History Museum is one of the most distinguished history museum in China, located in a quiet corner but easy of access. Within few kilometers around it, there are Big Wild Goose Pagoda in the crucial Buddhist temple, Da Cien Temple, and the biggest Tang culture theme park, Tang Paradise.

Attractions along East Route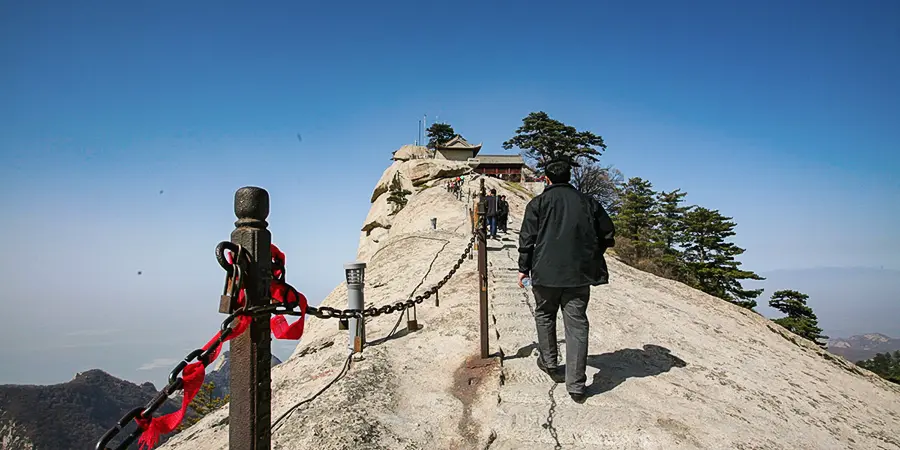 Mt. Huashan
Driving eastward for Lintong or taking City Bus U5 (306) from the east square of the railway station, first comes the Banpo Museum which built on the ancient human village relics of Neolithic Yangshao culture. Terracotta Army is the most attractive along the east scenery line. A few minutes' drive away, there is the Huaqing Hot Springs at the north foot of Mount Li, which is favored for its scenic beauty and palace complex, becoming well-known as the spa place for Concubine Yang of Tang (618-907) Emperor Xuanzong. If leaving Lintong by train or bus, Mt. Huashan, one of the five sacred mountains in China famed for precipitous crags, narrow and steep paths, can be reached within three hours. Many visitors choose to climb the mountain at night and wait for the sun rise on the top, which extends your vacation in Xi'an to be a memorable experience.

Attractions along West Route
| | | |
| --- | --- | --- |
| Han Yang Ling | Murals of Zhaoling Mausoleum | Famen Temple |
About nineteen miles northwest of Xi'an, Xianyang is the first stop on the west route. It was best known as the capital of Qin Dynasty with its suburbs scattered widely with mausoleums of emperors and royal families of several dynasties: Han Yang Ling Mausoleum, the joint grave of Liu Qi, a notable emperor in Western Han (206 BC-220AD) and Empress Wang; Qianling Mausoleum, the joint tomb of Emperor Gaozong and his empress Wu Zetian, the only woman ruler in Chinese history; Zhaoling Mausoleum, the tomb of the second emperor of Tang and the first Tang imperial tomb built into the mountain. These are all grand burial complexes worth visiting. Further in Baoji, Famen Temple is a noted Buddhist shrine for its collection of Sakyamuni's relics. For picturesque mountainous scenery, Taibai Mountain is worthwhile going.

Attractions along South Route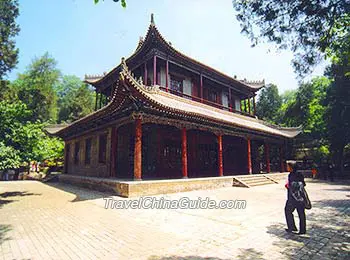 Xingjiao Temple
Xingjiao Temple in Chang'an District is not well acquainted and it will be easily remembered if mentioned as the place where famous Chinese Buddhist Monk Xuanzang reposed after death. Xiangji (Heaped Fragrance) Temple is also an important Buddhist shrine. The famous Tang poetry, Wang Wei, wrote in his poem: Not knowing the way to the Temple of Xiangji, as bell come through woods without human track under miles of mountain-cloud. The words unfold a vivid picture around the temple.

Western Zhou (11th century BC-771 BC) Chariot Burial Pit is a right place to understand ancient Chinese burial system. Fenghe River area was the capital ruins of Western Zhou and the burial pits on the west bank in present Chang'an District provide fair evidences to study the burial custom at that time.
Attractions along North Route
Exploring further to the northeast, a small historic cultural city Hancheng, known as the hometown of famous historian and litterateur of China, Sima Qian, is the home to Sima Qian Temple, Dang Village and the Confucius Temple. Moreover, a unique type of dwelling Farmers' Caves, exists mainly in northern part of Shaanxi Province, is also worth visiting while marching northward continuously. Yan'an has the most typical and distinctive cave residences.
Others

Recommended Tours with Low Price:

Xi'an Day Tour
: 1 day to Terracotta Army Museum, Small Wild Goose Pagoda, and City Wall.

2-Day Xi'an Private Tour
: 2 options to Terracotta Warriors, Shaanxi History Museum, Han Yang Ling Mausoleum...

6-Day Beijing & Xi'an Small Group
: to Great Wall, Forbidden City, Terracotta Army Museum...
More
Xi'an Tours
- Last updated on May. 06, 2023 by Catherine He -
Questions & Answers on Xi\an Attractions
Asked by Adam from UNITED STATES | Oct. 13, 2019 21:54

Reply
Do I need to show my passport to pick up my ticket?
I would like to book a ticket to see the terra cotta warriors in Xi'an. When I book it asks for my passport information but I lost my passport and I have a report from the Chinese Exit and Entry Bureau that says I lost my passport, but this report still lets me travel within China. My question is if I book the ticket through you can I still see the terra cotta army if I take this report plus a photo of my original passport? Or will they only let me into the museum with my original passport? Thanks
Answers (1)
Answered by Sara from THAILAND | Oct. 16, 2019 17:42

0

0

Reply
Hi, dude, you can book the ticket through this website. Send e-mail to booking

travelchinaguide.com and they could give you some kind of code so you can pick up your ticket to visit this attraction.
Asked by Ctmona from MALAYSIA | Sep. 19, 2019 06:29

Reply
How to get bell tower from alley youth hostel?
Might take bus or walk only?
Answers (1)
Answered by Alfred from AUSTRALIA | Sep. 22, 2019 20:27

0

0

Reply
The distance is around 1.5km, so you can walk to it.
Asked by Wahyu from INDONESIA | May. 09, 2018 21:18

Reply
Bus from Xi'an Railway Station to Mt. Huashan
Hi! You mentioned that Tourism Bus Line 1 from the east square of Main Railway Station to Mt. Huashan is out of service at present.

Is there any alternatives that I can take if I still want to take the bus to go to Mt. Huashan? Or the high-speed train and metro+bus from Fangzhicheng are the only options?

Thanks!
Answers (1)
Answered by Waldron from MEXICO | May. 14, 2018 01:35

0

0

Reply
I found that Tourism Bus Line 1 is still in service. So if you cannot find the bus, you can take high speed train. Currently, forty-five pairs of high speed trains are available, which depart from about 6:30 to 20:00 and the duration is about thirty minutes to one hour. The ticket fare for second class seat is CNY54.5. After getting out of Huashan Station, you can take free green minibus Huayin Line 1 or 2 directly to the scenic area.
Asked by FS Fam from MALAYSIA | Mar. 07, 2018 02:33

Reply
I will be in Xi'an on the 6th to 13th of April. I wish to visit xian and chengdu Luodai Ancient town.
Can any help me to plan my itinerary. TQ.
Answers (1)
Answered by Henry from USA | Mar. 08, 2018 01:25

0

0

Reply
Xi'an: Apr. 6 - 9. The must-sees include Terracotta Warriors, Huaqing Palace, City Wall, Big Wild Goose Pagoda, Tang Paradise ……

Luoyang: Apr. 9 -11: Longmen Grottoes, Peony Park, Shaolin Temple, White Horse Temple……

Chengdu: rest days. Jinli Street, Wuhou Temple, Panda Base, Luodai Ancient City, which can be reached by direct bus and it can be taken at Xinnanmen Bus Station.