Xian Weather


Xian weather is mild with four distinct seasons - a warm but variable spring, a torrid and wet summer, a cool and rainy autumn and a dry and cold winter.

The annual average temperature is 13.5

C (56.3

F). The city has a moderate rainfall rate caused by the frequent summer storms and a succession of overcast and rainy days in autumn.

Xian's climate from March to May is usually warm and pleasant and is the best time of the year to pay a visit. Early autumn running through September and October is also a good time for a visit.
7-Day Xian Weather Forecast
-

Introduction to Xian Climate
Xian is located in the southern part of the Guan Zhong Plain in Shaanxi province. It has a continental monsoon climate with four distinct seasons. It is hot and wet in summer, dry and occasionally snowy in winter and prone to extended spells of rain in spring and autumn.


Spring
Temperatures in spring is subject to fluctuation. The average temperature in March is 8

C (46

F), rising to 14

C (57

F) in April and 19

C (66

F) in May. Sweaters or a thick coat is recommended in early spring, and long-sleeved shirts or T-shirts with light jackets will do in middle spring. By late spring, you can break out your summer clothes. Gentle breezes and warm sunshine make it a good time of year for outdoor activities like climbing Lishan Mountain or enjoying cherry blossoms at Qinglong Temple.


Summer
Summer in the area is both hot and humid. Xian is one of the major 'stove' cities in China with the hottest month of the year. The heat is oppressive but is tempered somewhat by an average of eight to eleven rainy days each month. Indoor attractions like the Museum of Qin Terracotta Warriors and Horses or the Shaanxi History Museum are good choices at this time.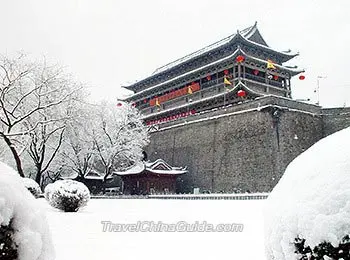 South Gate of Xian City Wall in Snow

Autumn
The area experiences a fair amount of precipitation during the months of September and October. The weather can also be overcast and a bit cool. Long-sleeved shirts or a sweater and light coat are appropriate. The City Wall Marathon, a fixture since 1993, is held annually in early November.


Winter
Winter weather here runs from November to February when it is dry and cold with a little snow. The coldest month is January with an average temperature of 0 C (32 F). Remember to bring warm clothing and drink enough water to prevent dehydration. A major winter highlight is the annual Lantern Festival usually held on Xian City Wall in middle January or February.