Xian Transportation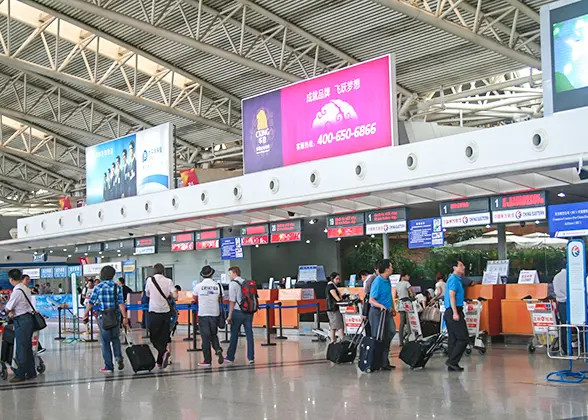 Xianyang International Airport
In ancient times, as the beginning of the Silk Road, Xian was one of the transport junctions in China. Now, it is a necessary way from central, north and east China to northwest China and even the countries in western Asia. A three-dimensional modern transportation network has been formed here, mainly consisting of aviation, railways and highways.
Getting to the City
Located in the center of China's land territory, Xian is easily accessible with various transport means. Passengers can get here not only from cities inside China like Beijing, Shanghai, Chengdu and Shenzhen but also cities outside the country such as Singapore, Nagoya and Seoul.

Air
Located 47 kilometers (about 29 miles) to the northwest of the city center,
Xian Xianyang International Airport
is one of the top ten airports and one of the eight hub-airports in China. It cooperates with 41 airlines, operating over 244 air lines to about 119 cities / regions at home and abroad. Starting here, passengers can fly to major cities in midwestern China within one hour like Chengdu, Chongqing, Wuhan, Zhengzhou, Lanzhou, Xining and Yinchuan; to 70% of China's territory within 2 hours; and all of China's capital cities and major tourism cities within 3 hours. There are 15 shuttle bus lines between the airport and downtown Xian and 2 shuttle bus lines between the airport and Xianyang city. The facilities and services here like left luggage, restaurants, smoking room and others make one's departure and arrival easy and pleasant.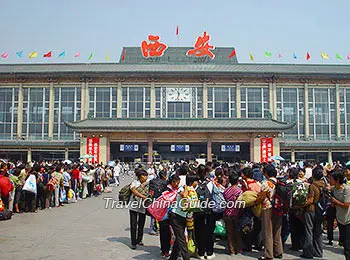 Railway Station

Train
There are two passenger railway stations in the city:
Xian Railway Station
and
North Railway Station
. The Xian Railway Station is the largest rail hub in western China and a vital station along the Eurasian Continental Bridge. It mainly services regular trains to / from most major cities in China like Beijing, Shanghai, Chongqing, Chengdu, and Guangzhou, etc. The trains to / from Lhasa of Tibet also stop here. The North Railway Station was put into operation in January, 2011. The
Beijing-Xian
,
Datong-Pingyao-Xian
and
Zhengzhou-Luoyang-Xian
high speed trains are available here. Besides, the bullet trains to/from Wuhan, Shanghai, and Guangzhou are operated here.

Train Schedule
,
Xian-Beijing Train vs. Flight

Long-Distance Bus
A '﹡' shaped highway system has been formed in Xian, where 9 national freeways meet and 6 national highways pass by. At present, the city has a total highway of over 2,800 kilometers (about 1,740 miles) and is serviced by seven large long-distance bus stations and several smaller ones, operating buses to many major cities in China and nearby cities or districts / counties under the city's administration.
Getting Around the City
The urban transportation of Xian has been developed rapidly in recent years. The second ring road, third ring road and freeway-ring around the city have all been completed and put into service. The city buses and suburban buses can bring you to every corner of the city. Also, to meet the development of the tourism industry, tourist special buses and sightseeing buses are now operating. Although traffic congestion happens now and then, it is much better than that of Beijing and Shanghai. The local government also does a lot to relieve the traffic pressure, including widening roads, building pedestrian overpasses and running inter-zone buses, etc.
| | |
| --- | --- |
| City Bus | Public Bus |

Metro
With the operation of
metro line 2
on September 16th, 2011, Xian became the first city in western China to have rail transport. The north-south line 2 currently runs between Beikezhan (North Railway Station) and Huizhanzhongxin (Conference & Exhibition Center) with major stops at the famous Bell Tower in the city center, Xiaozhai commercial area, etc. The
line 1
was opened in September 2013 runs from Houweizhai in the west to Fangzhicheng in the east. Linking Yuhuazhai and Baoshuiqu,
line 3
was put into service on Nov. 8, 2016 via scenic spots like Big Wild Goose Pagoda and Qinglong Temple. There are several lines under construction, with the phase two of line 1 and line 4 to open in 2018-2019. By the year of 2021, 7 metro lines will be built with a traffic mileage of 150 miles (243 kilometers). At that time, the underground traffic net in the main urban area will be basically formed, greatly improving the traffic situation.

Taxi
Currently, there are more than 12,000 taxis running in the city. They are mostly green. You can easily flag down a taxi along any street, except during the rush hours: 07:30 – 08:30 and 17:30 – 19:00. The taxi charges CNY8.5 for the first 3 kilometers (1.9 miles) and CNY2 for each additional kilometer (0.6 mile). When the trip is more than 12 kilometers (7.5 miles), the price of each kilometer rises 50% for the empty return.
Metro

Taxi

Bicycle
Public bicycle rental service brings a great convenience to the locals and travelers to the city. The bicycles can be easily rented at dedicated sites in almost all districts in the city, including Beilin, Yanta, Gaoxin, Xincheng and Weiyang. The rental service is available from 06:30 to 21:00. After 21:00, only returns are accepted and the rental will be denied. Apart from touring the city by public bike, you can have a great cycling experience on the City Wall, where bikes can be easily rented at a reasonable price.

Transportation Smart Card
Named Chang An Tong in Chinese, the card saves passenger money and time on many public transport forms. It can be used on most city buses at 50% discount, subway at 30% discount and also taxis. The card can be purchased or rented at one of the city bus companies, the Customer Service Center of any subway stations, and branches of the Xian City Commercial Bank and the China Construction Bank.
-