Xi'an Bicycle Rental
In Xi'an, the public bike rental system is well developed. Apart from that, there are many dockless sharing bikes densely distributed in the city. In the downtown area, the streets and roads are flat for bicycle riding, but it is still advised to be careful of the fast city buses, taxis and private cars. In any case, do keep riding on the right!
Top Three Cycling Routes in Xi'an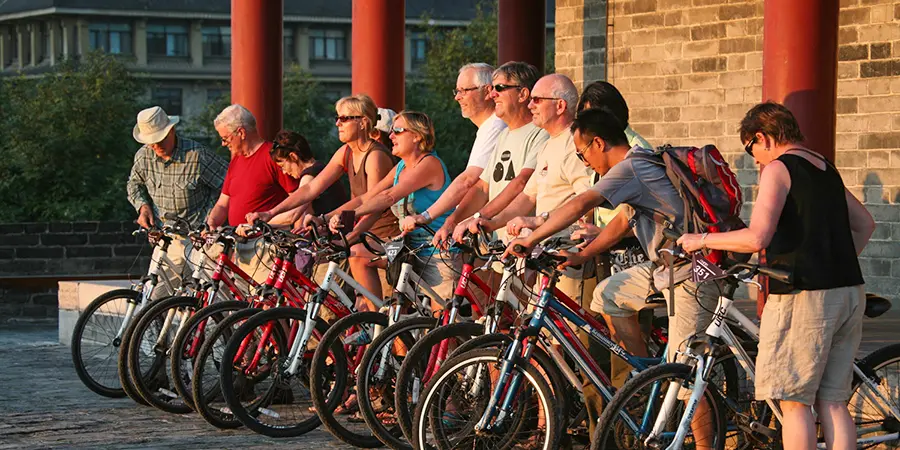 Cycling on Xi'an City Wall
1. Cycling on City Wall: South Gate – West Gate – North Gate – East Gate – South Gate
Riding bikes on the City Wall is a lot of fun and quite popular among tourists. In this way, you can have a general sightseeing of the ancient city from a different perspective. It is not allowed to take your own bicycle onto the wall, but there are rental points, which are located around the east, west, south and north gates of the City Wall.

Distance: 16.5 kilometers (10 miles)
Cycling Time: about 2 hours
Rental fee for 2 hours: CNY 45 for a single bicycle; CNY 90 for a tandem bicycle.
Note: Ticket for the City Wall is an extra charge.

2. South Square of Giant Wild Goose Pagoda - Tang Paradise - Qujiang Pool Park
This route in Qujiang of Xi'an has not only beautiful environment but also abundant cultural relics, and the road condition is good. During the cycling, you can learn the long history and rich culture of the ancient capital. The flowers and plants on both sides of the road compete with each other in beauty and make you feel relaxed.

Distance: 3.5 kilometers (2 miles)
Cycling time: around 20 - 30 minutes
Available bike: dockless sharing bikes, public bicycles

3. Xi'an International Horticultural Expo Garden - Baqiao Ecological Wetland Park - Chanba National Wetland Park
The route is the wetland cycling route, along which you can enjoy the wonderful ecological environment in the suburbs of Xi'an and breathe some fresh air.

Distance: 16 kilometers (10 miles)
Cycling time: 2 hours
Available bike: dockless sharing bikes, public bicycle

How to rent a public bicycle in Xi'an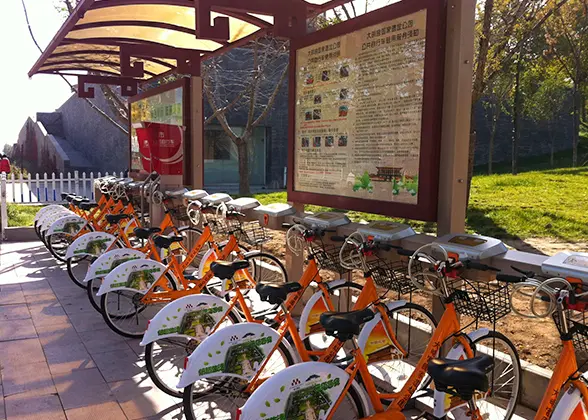 Public Bicyle in Xi'an
Any person between 16 and 70 years old (70 excluded) can rent a bike.

1. Download the online app of Xi'an public bike onto your cellphone.
2. Make the recharge and deposit of CNY300 on the phone.
3. Find a bike docking station, which is usually near metro stations, bus stops or crossroads, and then scan the QR code to unlock the bike.
4. Enjoy cycling.
5. Scan the code to return the bike at designated docking stations.
You can also do these at Public Bike Service Centers:
1. Buy a
Public Transportation Card
and activate the bicycle rental function. Your passport and a deposit of CNY300 will be required.
2. Swipe the card to rent a bike.
3. Enjoy your cycling.
4. Return the bike to any docking station and swipe the card.
Below are a few Public Bike Service Centers:
Bank of Xi'an: No.1, East Huanta Road, North Square of Giant Wild Goose Pagoda
Bank of Xi'an: No.139, North Street
Bicycle Customer Service Center: Fengcheng 2nd Road and Weiyang Road Cross, 200m (220 yards) to the east of the road cross
On the right side of the Exit C of Huizhanzhongxin Metro Station
Rental Fee
Free for the first hour;
CNY1 between 1 and 2 hours;
CNY2 between 2 and 3 hours;
CNY3 for each extra hour after 3 hours;
At most CNY30 per day.
Service Hours
06:30 to 23:30; only return is accepted after 23:30.
The most popular online bike sharing app is Mobike. Download the Mobike App. Scan QR code to unlock when you see Mobike, and then ride the bicycle. After using the bicycle, park it properly and lock it. The rental fare is CNY 1 for every 30 minutes.
- Last modified on Feb. 03, 2019 -