Xi'an Train
Being regarded as the "Gateway to the West", Xi'an plays a significant role in the Chinese railway system.

It is a city where six of China's main railway lines intersect, thus the city is linked with all of China's provincial capital cities and four municipalities, for instance, Beijing, Shanghai, Guangzhou, Haikou, Tibet, etc. Apart from the capital cities, visitors can easily find trains for many tourism cities such as Guilin, Dunhuang, Luoyang, Suzhou, Qingdao, Huashan, etc.

Several high speed rails such as Xuzhou-Lanzhou High Speed Rail, Datong-Xi'an High Speed Rail, etc pass the city make to reach Beijing, Shanghai and even Shenzhen within 10 hours.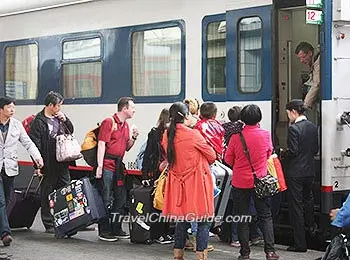 Travel Time to major cities from Xi'an (approximation)
| Destination | Normal Trains | Bullet Trains |
| --- | --- | --- |
| Beijing | 11.5-16h | 4.5-6h |
| Shanghai | 11.5-24.5h | 6-7.5h |
| Guangzhou | 22.5-29h | 8-9h |
| Shenzhen | 29.5-34h | 9.5h |
| Taiyuan | 8.5-12h | 3-4h |
| Zhengzhou | 6-10h | 2-4h |
| Guilin | 26.5h | 9.5h |
| Lanzhou | 7-12h | 3h |

More
Xi'an Train Schedule
Tips: Taking the traveling time into consideration, the bullet types are always the best choice. However, when you buy tickets between Xi'an and Beijing or Shanghai, some overnight sleeper ones are favorable for they save time and also the expense on hotels, for example, Beijing - Xi'an, Z19/Z20, T41/T42, T231/T232 and Xi'an – Shanghai, Z94/Z92, Z166/Z164. It is reminded to book these popular tickets as early as possible; otherwise, it is hard to get the most suitable sleeper tickets.



Major Rail Lines from Xi'an to:
Railway Stations
Among the five railway stations in the city, three are used for passengers' transportation while the East and the West are for freight only.
overnight sleeper trains to Beijing
as well as the
overnight sleepers to Shanghai
are also operated here. As the station sits close to the Xi'an Bus Station, passengers can transfer to long-distance bus stations here. Besides, outside the station, local public buses and tourism buses are available.
| | |
| --- | --- |
| Xi'an Railway Station | Waiting Hall inside Station |
It only operates over 100 pairs of bullet trains daily, including those to/from Beijing, Datong, Pingyao, Luoyang, Zhengzhou, Shanghai, Guangzhou, Shenzhen, and Yan'an, etc. Subway Line 2 is considered as the best method to the station from the city proper.

Transportation between Railway Station and North Station
1. Bus Line 266 runs between the two stations. Passengers can find the bus stop at Railway Station West (walk west from the Exit for about 270 yards (250m)). It takes about 1 hour and costs CNY1 to get to the north station. The bus runs every 10 to 20 minutes from 06:00 to 23:30 daily. Please prepare RMB 1 note and take care of your belongings on the bus.
2. Passengers can take subway line 2 from the north station to Beidajie (North Avenue) station, change to line 1 and get off at Wulukou. Leave from Exit D and walk north along the road for about 550 yards (500m), you will see the Railway Station. It takes about 30 minutes and costs CNY3 per person. Line 1 runs between 06:10 and 23:17; line 2 runs between 06:10 and 23:15.
3. Taxies are also available. Passengers can find taxi stands near the exit of Railway Station. It takes about 30 minutes and costs CNY 50 to reach the north station.
| | |
| --- | --- |
| North Railway Station | Waiting Hall of North Station |
Ticket purchasing and collecting (if booking online) are available at these three stations. Besides, tickets can also be bought at around 120 ticket offices in the city. Some major ticket offices in city proper area are listed below:
| Ticket Office | Chinese Version | Address | Working Hours |
| --- | --- | --- | --- |
| Long Hai | 陇海 | No.1, West 5th Road (500 meters south to the railway station) | 08:00 ~ 00:00 |
| Dong Li Da Sha (Dongli Mansion) | 东立大厦 | No.187, North Huancheng Road | 08:00 ~ 00:00 |
| Drum Tower West Square | 鼓楼西广场 | No. 55, West Street | 08:30 ~ 19:30 |
| Industrial and Commercial Bank of China Xiaozhai Branch | 中国工商银行小寨支行 | No. 96, Middle Chang'an Road | 09:00 ~ 16:30 |
| Industrial and Commercial Bank of China Cuihua Road Branch | 中国工商银行翠华路分理处 | No. 371, Cuihua Road | 09:15 ~ 16:30 |
| South Bus Station | 城南客运站 | Zhuque Avenue, South Street | 08:30 ~ 19:30 |
| North Bus Station | 城北客运站 | No. 9, West Section, North Second Ring | 08:30 ~ 19:00 |
| Guang Dian Zhong Xin (Shaanxi Radio Film and TV Center) | 广电中心 | No.336, South Chang'an Road | 08:00 ~ 17:00 |
| High Technology Industrial Development Zone | 西高新 | No. 18, First Gaoxin Road | 09:00 ~ 17:30 |

Further Reading:
How to Collect a Ticket
,
Xi'an-Beijing Train vs. Flight

Railway Station Transfer Service

Recommended Train Travel:
One Day Express Train to Luoyang: 1 day tour to Luoyang to visit Shaolin Temple and Longmen Caves
Ancient Capitals Xi'an & Luoyang: 5-day tour to Luoyang popular attractions
- Last modified on Oct. 11, 2019 -