One-Day Private Tour to Luoyang from Xi'an
Xi'an - Longmen Grottoes - Shaolin Temple - Xi'an
Trip Highlights:
►
Visit famous Longmen Grottoes to see exquisite Buddhist caves and statues.
►
Discover Shaolin Temple, the birthplace of Shaolin Kung Fu and Chinese Zen Buddhism.
►
Enjoy the excellent Shaolin Kung Fu Show.
Itinerary:
Today's one-day Luoyang tour from Xi'an starts with a high speed train journey. In the morning, you will take a bullet train from Xi'an North Railway Station to Luoyang for about 1.5 hours. Please arrive at Xi'an North Station at least 30 minutes before the train departs. The train ticket will be booked for you in advance and just show your passport for boarding. Upon arrival, your local professional guide and driver will pick you up at Luoyang Longmen Railway Station.
After a warm greeting, we will drive to visit the
Longmen Grottoes
, which is one of the four great grottoes of China. With more than 100,000 Buddhist statues and over 2,000 caves of different sizes, Longmen Grottoes was listed as a UNESCO World Heritage Site in 2000, representing the finest examples of Chinese Buddhist art. They were first constructed in 493 during the Northern Wei Dynasty, flourished in the Tang Dynasty (618 - 907) and kept building in the following hundreds of years.
In Longmen Grottoes, thousands of caves sculptured into the steep cliffs on the West Hill stretching about 1 km (0.6 mi) are the main sights. Highlights include Fengxiansi Cave featuring the 17-meter-high (56 ft.) Vairocana Buddha, Binyang Cave containing large Buddha figures, and Wanfo Cave with 15,000 little Buddha statues. Our professional guide will lead you to carefully explore the stories behind those vivid giant or small rock statues. You can also observe obvious changes in statue artistic style with the changing of the dynasties. Besides the beautiful rock sculptures, ancient stupas, and Chinese inscriptions on steles are worth seeing.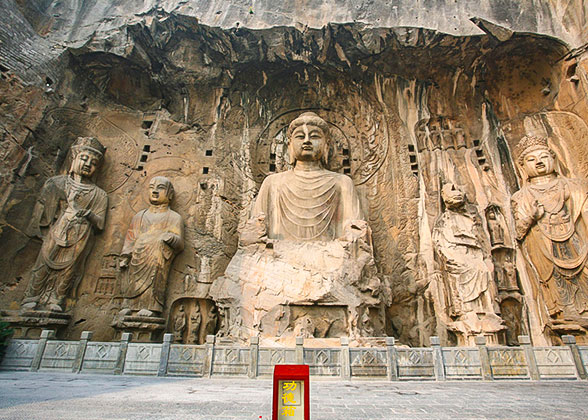 Longmen Grottoes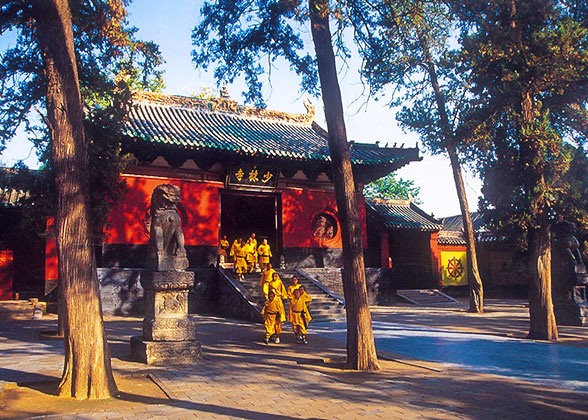 Monks in Shaolin Temple
In the afternoon, we will continue to explore another UNESCO World Heritage Site, the
Shaolin Temple
, which is the birthplace of Chinese Zen Buddhism and Shaolin Kung Fu.
With a history of more than 1,500 years, Shaolin Temple boasts some traditional architecture, exquisite holy Buddhist statues, and beautiful mural paintings about Buddha legends. Besides that, the Pagoda Forest, a graveyard for eminent monks, is an important part of the temple, which contains hundreds of pagodas from the Yuan Dynasty (1271 - 1368).
It's said that the monks responsible for cooking in the temple were also proficient at Kung Fu. Escorted with your guide, you will see a large pot on the ground in front of the depositary of Buddhist texts. It's an old relic that was used for cooking in ancient time. As the pot was so big, weighing more than 1,300 jin (1,433 lb), that the monks would hang themselves in the tree upside down and cook for all the people in the temple. Even so, the pot was not the biggest one, which was 3-4 times than this one when the temple attracted the most monks and believers. As the folktale says, you can set your imagination free about the cooking scene in Shaolin Temple. It's definitely an exciting picture!
In Shaolin Temple, another highlight is watching the brilliant
Shaolin Kung Fu Show
, which is performed for 4 matches every day. According to your visit time, you will be guided to watch the most recent one and the show generally lasts for about 30 minutes. You will have a chance to indulge in the impressive Kung Fu Show by experienced Shaolin monks and will be amazed at the fascinating Chinese martial arts. If you still feel not enough, a large group of students who are about 5 to 18 years old in nearby Kung Fu schools practicing their patterns in the yard are also interesting to watch.
After sightseeing, your guide will see you off at the Luoyang Longmen Railway Station and you will take the high speed train back to Xi'an. If you have any plans to other destinations, please contact your travel consultant. The itinerary is flexible and can be customized to suit your needs.
Tour Prices
| 1 traveler | 2-3 travelers | 4-5 travelers |
| --- | --- | --- |
| USD419 | USD309 | USD229 |
Prices are per person in US Dollars.

Price Includes
Train fares of Xi'an/Luoyang/Xi'an
Private English-speaking guide
Private driver & air-conditioned vehicle
Entrance fees to tourist sites
Price Excludes
Meals
Tips or gratuities for guide and driver
Why Travel With Us
Itineraries you may also like: