Top Xian Attractions
More Things to Do
Top 10 City Tours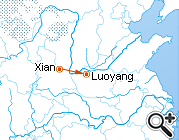 XA06: One-Day Private Tour to Luoyang from Xian
From
$204
per person
Free Inquiry


Shaolin Temple, Luoyang
In the morning, start your train tour by taking the high-speed train G2002 (08:10/09:49) from Xian North Railway Station to Luoyang by yourself. Upon your arrival in Luoyang, our local professional guide will meet you at the railway station.

A private car will drive you to visit the Longmen Grottoes, which is a treasure house of ancient stone-carving art. Then, you will explore the Shaolin Temple, the birthplace of Chinese Zen Buddhism and Shaolin Martial Arts. After this sightseeing, our guide will see you off at Luoyang Longmen Railway Station. You will take the high-speed train G4291 (19:18/20:36) back to Xian. Please get to your hotel by yourself upon arrival in Xian.

Meals: No meals, advice freely available

Longmen Grottoes
There are more than 100,000 stone statues here, varying from 2-centimeter to 17.14-meter high, and extending for about 1,094 yards along both banks of Yi River. Fengxian Temple, the largest grotto among Longmen Grottoes, exhibits nine major Buddhas of various facial appearances and temperaments. Wanfo Cave is a typical chronological cave consisting of two rooms, square flat roofs and walls decorated by lifelike relief. Guyang Cave, the earliest cave in Longmen Grottoes, has sculptures of diverse shapes and patterns. Binyang Cave's floor is engraved with lotus patterns and rooftop is decorated by relief of flourishing lotus flower. Lotus Cave is a chiseled grotto on the base of natural limestone. Besides the grottoes, lots of historical materials concerning art, music, religion, calligraphy, medicine, costume and architecture are kept here.

Shaolin Temple
Here, your private Kung Fu tour comes to a climax when you see the Kung Fu show performed by Shaolin monks. Besides, Shaolin Temple boasts some traditional valued architecture like the Hall of Heavenly Kings, the Mahavira Hall, the Pagoda Forest, the Dharma Cave and the Shaolin Temple Martial Art Training Center. Among them, the Pagoda Forest is the largest group of ancient pagodas existing in China. In the year of 2010, Shaolin Temple has been included in the UNESCO's World Heritage list.
Friendly Tips:
We suggest that you get up early and arrive at Xian North Railway Station about one hour before the trian departure time.
Prices (US$ Per Person)
1 person

$372

2 persons

$270

3 persons

$230

4 persons

$204

5 persons

$192

6 persons

$188

7 persons

$177

8 persons

$171

9 persons

$167

10+

$164

Price Includes
Train fares of Xian/Luoyang/Xian
Private English-speaking guide
Private driver & air-conditioned vehicle
Entrance fees to tourist sites
Price Excludes
Hotel accommodation with breakfasts
Lunches and dinners
Entry visa fees
Tips or gratuities for guide and driver
Itineraries you may also like:
The above routes do not meet your requirements? Please click
Tailor My Trip