One-Day Private Tour to Luoyang from Xi'an
Xi'an - Longmen Grottoes - Shaolin Temple - Xi'an
In the morning, please find your own way to Xi'an North Railway Station to take the high-speed train to Luoyang. You're suggested to arrive at the station one hour before the train leaves. Your travel consultant will book the train tickets for you and arrange tickets delivery to your hotel in advance. Upon your arrival in Luoyang, your local professional guide and driver will pick you up from the railway station.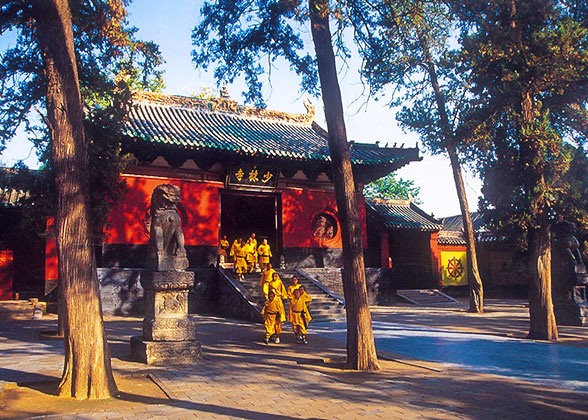 Monks in Shaolin Temple
After a warm greeting, we will drive to visit the Longmen Grottoes, which is a treasure house of the ancient stone-carving art. Then, we will continue to explore the Shaolin Temple, the birthplace of the Chinese Zen Buddhism and Shaolin Martial Arts. After sightseeing, your guide will see you off at the Luoyang Longmen Railway Station. You will take the high-speed train back to Xi'an. Please get to the hotel by yourself once you arrive in Xi'an.
Longmen Grottoes
There are more than 100,000 stone statues here, varying from 2-centimeter to 17.14-meter high, and extending for about 1,094 yards along both banks of Yi River. Fengxian Temple, the largest grotto among the Longmen Grottoes, exhibits nine major Buddhas with various facial appearances and temperaments. Wanfo Cave, with 15,000 little Buddhas, is a typical chronological cave consisting of two rooms, square flat roofs and walls decorated by lifelike relief. Guyang Cave, the earliest cave in the Longmen Grottoes, has sculptures of diverse shapes and patterns. Binyang Cave's floor is engraved with lotus patterns and its rooftop is decorated by relief of flourishing lotus flower. Lotus Cave is a chiseled grotto on the base of natural limestone. Besides the grottoes, lots of historical materials concerning art, music, religion, calligraphy, medicine, costume and architecture can also be found here.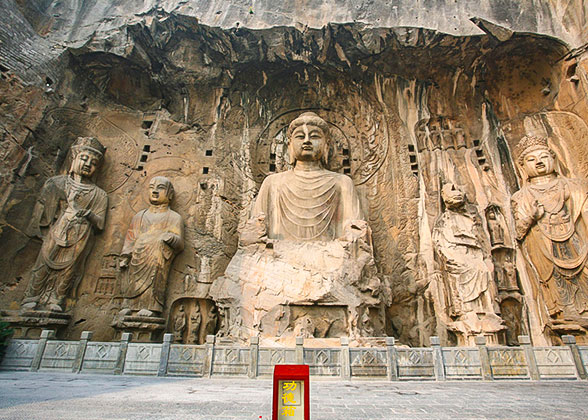 Longmen Grottoes
Shaolin Temple
Shaolin Temple boasts some traditional valued architecture like the Hall of Heavenly Kings, the Mahavira Hall, the Pagoda Forest, the Dharma Cave and the Shaolin Temple Martial Art Training Center. Among them, the Pagoda Forest is the largest group of ancient pagodas existing in China. In the year of 2010, Shaolin Temple has been included in the UNESCO's World Heritage list. Besides, you will also watch a Kung Fu show performed by the Shaolin monks here, which will be the climax of your private Kung Fu tour.
Prices (US$ Per Person)
1 person

$447

2 persons

$324

3 persons

$275

4 persons

$244

5 persons

$231

6 persons

$225

7 persons

$212

8 persons

$205

9 persons

$200

10+

$196

Price Includes
Train fares of Xi'an/Luoyang/Xi'an
Private English-speaking guide
Private driver & air-conditioned vehicle
Entrance fees to tourist sites
Price Excludes
Meals
Tips or gratuities for guide and driver
Why Travel With Us
Itineraries you may also like:
Questions & Answers
Asked by Jack from UNITED KINGDOM | Aug. 08, 2019 15:59

Reply
Need to book plank walk tickets of Huashan Mountain in advance?
I've heard that you need to buy tickets for the plank walk two days before you plan to do it. Is this true? If yes, then how can you book tickets?
Answers (1)
Answered by Aubrey from UKRAINE | Aug. 12, 2019 18:56

0

0

Reply
No, you don't need to book the tickets in advance. Just purchase it when you arriving it.
Asked by Grace Sim from SINGAPORE | Jul. 18, 2019 08:14

Reply
is there bus from Terracotta site back to Xi'an North station if i leave my luggage there?
Answers (1)
Answered by Jeremy from USA | Jul. 18, 2019 23:20

0

0

Reply
You can take a free shuttle bus according to your high-speed train ticket from the Terracotta Worries to the north station. Or you need to go back to the main railway station by Tourist Bus Line 5 first and then take the metro line 4 to Xing zheng zhong xin and transfer to Metro Line 2 to the North Station.
Asked by Ibrahim Ahmed Khan from BANGLADESH | Jun. 22, 2019 09:25

Reply
Day trip from Zhengzhou to Shaolin temple, Songshan Mountain and Longmen Grottoes
Hi,

I live near Zhengzhou railway station. I want to visit shaolin temple, Songshan Mountain And Longman Grottoes in a day. How to cover these places by public transport/ tourism bus for long distance with taxi for small distance and return Zhengzhou in a day so that I can visit these places with minimum transportation cost.
Answers (1)
Answered by Nelly from USA | Jun. 23, 2019 23:11

0

0

Reply
I'm afraid you cannot cover all the attractions in one day. You need to spend at least 2 days.

There are several buses departing from Zhengzhou Central Bus Station to Shaolin Temple and they depart at 7:00, 8:00, 8:50, 9:40. 10:10, 11:00. It takes about 1.5 hours and costs CNY28 per person.

Take Bus Line 8 from Shaolin Temple to Songshan Mountain and it takes about 1 hour.

After that. Take bus from Shaolin Temple to Luoyang and it costs around CNY 20. Then take Bus Line 62/K62 to the Longmen Grottoes, which takes CNY1.

From Luoyang to Zhengzhou, you can take bus from Luoyang Bus Station and the bus departs from 7:00 to 19:00 hourly. It takes about 2.5h and costs CNY35.
Asked by Sid Seet from AUSTRALIA | Jun. 08, 2019 19:04

Reply
What shuttle bus to take from Xi'an airport to Aurum International hotel Nan Xin Street Xincheng?
Answers (1)
Answered by Andy from AUSTRALIA | Jun. 09, 2019 19:55

0

0

Reply
Take the Bell Tower Shuttle Bus Line to the Bell Tower Hotel and then take a taxi to your hotel. The bus fare is CNY25 and the cab fare is around CNY10. The bus operates from 7:00 to 21:40 every 20 mins.
Asked by Tjaart from SOUTH AFRICA | Mar. 16, 2019 00:56

Reply
From the airport to downtown
Is there a metro or bus to take from the airport to downtown Xi'an and how long does it take?
Answers (1)
Answered by Charles | Mar. 17, 2019 18:17

0

0

Reply
There is no metro from the airport to Xi'an downtown, but you can take the airport shuttle bus to the Bell Tower Hotel in the city center. It runs from 7 am to 9:40 pm with around 80 minutes riding for each shift and departs every 20 minutes.