Top Xian Attractions
More Things to Do
Top 10 City Tours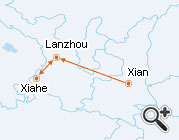 S-XA08: 7 Days Private Silk Road Tour to Xi'an, Lanzhou & Xiahe
From
$1079
per person
Free Inquiry


Sincere greetings & airport-hotel transfer, City Wall.
According to your flight schedule, your guide will wait for you outside the baggage claim area of Xi'an Airport on time and then transfer you to check into the hotel.
After a short break, your private tour will start with a visit to
Xi'an City Wall
. When standing on it, you will see a harmonious scene of the ancient city inside and the modern developing city outside. Cycling around on the wall is quite a pleasant experience. If you want to try, your guide will help you with the bike rental.
Accommodation: Somerset Xindicheng Xi'an




Terracotta Soldiers Museum, Great Mosque, Big Wild Goose Pagoda. (B)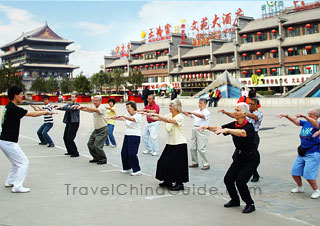 Learning Chinese Tai Chi
The highlight of today's excursion is the amazing
Terracotta Warriors and Horses Museum
, which is a military underground museum. Here, you could appreciate the terra cotta generals, warriors, cavalrymen with their saddled war horses and kneeling archers forming an impregnable fortress to protect the mausoleum of the Emperor Qin Shi Huang. Moreover, you could also have a direct impression of the excavation work on the site. Accompanied by your guide, you will have around 2.5 hours here to tour around the museum.
In the afternoon, you will be guided to the well-preserved
Great Mosque
, which was built in combination of Islam and traditional Chinese architectural styles. Your next stop will be the
Big Wild Goose Pagoda
, a square pyramid built 1,300 years ago to house the Buddhist materials taken back from India. It has also been one of the ancient landmarks of Xi'an City.
Meals: Western buffet breakfast
Day 3
Xi'an to Lanzhou by High Speed Train
Shaanxi History Museum, A local family visit and home-cooked lunch. A high-speed train to Lanzhou. Railway station-hotel transfer. (B+L)
Our clients on the ancient City Wall, Xian
This morning, you will explore the
Shaanxi History Museum
, a complex construction in traditional Chinese style. This is a comprehensive museum with more than 370,000 historical collections of different times and kinds to display the long history and advanced civilization of ancient China. Then you will have a local
family visit
and enjoy authentic family dishes in the home you visit. Moreover, if you are interested in cooking Chinese food, you can also choose one or two dishes from our
Chinese food cooking class
and the hostess will be glad to teach you for free.
After that, you will take a high speed train to Lanzhou. In about 3 hours, your Lanzhou guide and driver will wait for you at Lanzhou Railway Station and then transfer you to the hotel.
Meals: Western buffet breakfast, Home-cooked lunch
Accommodation:
Legend Hotel




Drive to Xiahe, Sangke Prairie, a Tibetan family. (B)
Praying Tibetans at the Labrang Monastery
Today you will set off on a journey to Xiahe to explore the
Sangke Prairie
, where Tibetan herders inhabit for generations. The prairie, large in area and slight in slope, is very suitable for horseback riding, hence the name Sangke, which means "land for riding horses" in Tibetan. Encircled by mountains and cut through by a river in the middle, this grassland looks like a thick green carpet with a white pure Hada. After the visit, you will taste the mysterious and simple Tibetan flavor and learn the local folk customs by visiting a Tibetan family. When the trip ends, you will be transferred back to the hotel to have a good rest.
Meals: Western buffet breakfast
Accommodation: Labrang Civil Aviation Hotel




Labrang Monastery, Drive back to Lanzhou. (B)
Bingling Thousand Buddha Caves, Lanzhou
Today, we will drive back to Lanzhou. On the way, you will pay a visit to the
Labrang Monastery
. It is a vital shrine of Geluk (Yellow Hat) School of Tibetan Buddhism with 300 years of history, as well as the most important Tibetan Buddhist center out of Tibet. The monastery is also an essential place for Buddhism activities and ceremonies, which reserves the best teaching system of Tibetan Buddhism. You will also have the chance to watch the morning pray in the monastery. Late in the afternoon, we will arrive in Lanzhou. Your guide will help you check into the hotel again for a two-night stay.
Meals: Chinese breakfast
Accommodation: Legend Hotel




Bingling Thousand Buddha Caves. (B)
The retired people's life in Lanzhou
Today you will spend the whole day to visit the
Bingling Thousand Buddha Caves
, which were engraved in the west cliff along the Yellow River. Bingling is transliterated from a Tibetan word meaning 'ten thousand Buddhas', for the site boasts various kinds of Buddha statues. Since 420AD in the Western Jin Dynasty, the entire engraving project of the grottoes has lasted for more than 1,000 years. At present, the Bingling Thousand Buddha Caves preserves 196 caves, 694 stone statues, 82 clay sculptures and a large area of murals, which make it a site of great artistic value. You will visit it by boat under the company of your guide. Afterwards, you will be transferred back to the hotel.
Meals: Western buffet breakfast
Waterwheel Garden. Hotel-airport transfer & see you off. Wish you a pleasant trip! (B)
Today, you will have a visit to the
Waterwheel Garden
, a theme garden which displays the waterwheel culture and farming civilization of ancient China. The waterwheel is a common irrigation tool in Lanzhou area along the Yellow River, which can be dated back to the Ming Dynasty (1368-1644). Then your private tour will come to the end. Your guide and driver will transfer you to Lanzhou Airport for your departure flight. Wish you a pleasant onward trip!
Meals: Western buffet breakfast
B-- Breakfast
L-- Lunch
D-- Dinner
Price Includes
Hotel accommodation with breakfasts
Train fare of Xian/Lanzhou
Private English-speaking guide
Private driver & air-conditioned vehicle
Entrance fees to tourist sites
A la carte lunch at a local family
Price Excludes
International airfares
Lunches and dinners not specified
Entry visa fees
Tips or gratuities for guide and driver
Itineraries you may also like: