Departure: Daily except Tuesdays
We Promise
Free Cancellation 24 Hours before
No Shopping Arrangement
The Lowest Price Guarantee
The Most Classic Itinerary
Expert Guide and Driver
Professional Customer Service
Xian Terracotta Warriors Bus Tour
(No Shopping)
One Day Group Tour to Terracotta Warriors - Small Wild Goose Pagoda & Xian Museum - City Wall - Bell & Drum Tower Square - Muslim Bazaar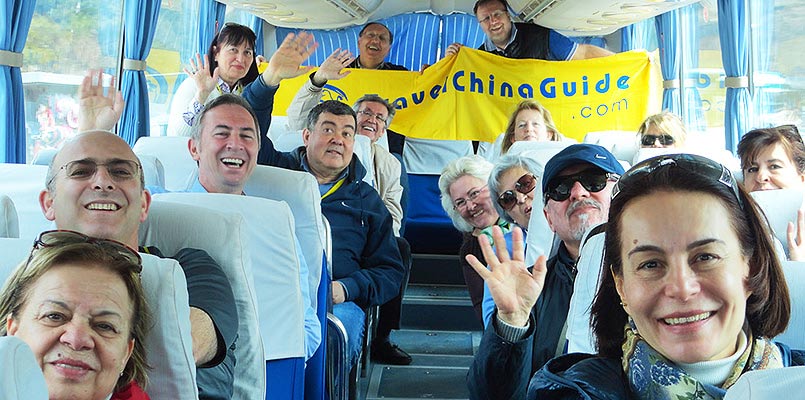 7:30-8:30 Hotel Pick-up
We will pick you up from your downtown hotel you book yourself, and then head to the designated place in Xian to meet other group members. We will call you the night before to confirm the pick-up time.
8:30-12:30 Terracotta Warriors and Horses
We will set off to the Museum of Qin Terracotta Warriors and Horses. The bus ride is about one and a half hours. In the museum, there are three excavated pits and the Bronze Chariots and Horses Exhibition Hall. The large quantity of life-size and vivid terracotta statuaries made 2,200 years ago will definitely amaze you. You will spend two hours or more to explore this historically significant site.
12:30-13:10 Free Time for Lunch
We arrange visits to as many attractions as possible, which means there is no time for a formal lunch. We suggest you have a quick lunch on your own near the museum. Our guide will assist you at all times.
13:10-16:00 Small Wild Goose Pagoda & Xian Museum
We will get back to downtown Xian in 1.5 hours and continue with a visit to the Small Wild Goose Pagoda in Jianfu Temple. Although it has endured more than 1300 years of vicissitudes, the pagoda looks still elegant and exquisite retaining its original features. Then we come to visit Xian Museum in the southwest of the temple. The museum has excellent facilities for the display of some 130,000 precious cultural relics ensuring their full appreciation.
16:00-17:20 City Wall
After about 20 minutes' drive, we come to the ancient City Wall. Guarding Xian City for generations, the City Wall is one of the best places to have a cycling experience. The bike rental fee is at your own expense.
17:20-18:20 Bell and Drum Tower Square & Muslim Bazaar
Finally we will escort you to the Bell and Drum Tower Square, the most thriving area of the city. The Bell Tower houses a huge bell which in ancient times was used to strike the time every morning. The Drum Tower is located northwest of the Bell Tower. Both were built during the Ming Dynasty (1368 - 1644) and have become the landmark buildings in Xian, Morning Bell and Dark Drum. You will appreciate the exteriors of these two towers at the square and take nice photos. Across the square, our guide will take you to the famous Muslim bazaar, where you could find different kinds of local food, boutique shops and souvenirs or small gifts for family or friends.
18:20 Hotel Drop-off & Farewell
Your one day Xian bus tour will come to the end. We will transfer you back to your hotel. Thank you for traveling with us.
Price (US$ Per Person)

Departure: Daily except Tuesdays

Adult(>11 years old)

$69

$59
Child(3-11 years old)

$59

$49

Price Includes
Pick-up & drop-off from downtown hotel
Entrance fees as indicated above
Experienced English speaking guide
Seasoned driver
Air conditioned vehicle
Two bottled water per person
Price Excludes
Bicycle hire
Meals
Gratuities
Booking Policy
Infant Price: for an infant of 0-2 years old, the one day bus tour to Xian is free of charge.
Confirmation: Upon receiving your booking request, confirmation will be sent within 24 hours. We guarantee departures even with 2 persons.
Payment: Full payment is required at least two days prior to the tour. We accept payment by PayPal, Credit Card, Wechat and Bank Transfer.
Cancellation:

Free cancellation 24 hours in advance of the day trip;

cancel within 24 hours, 100% cancellation fee. Once the tour begins, any unused portion is non-refundable.
Pick-up Service: Xian is relatively a big city. To ensure you a smooth tour as scheduled, we offer morning pick-up service mainly for clients whose hotels are located in downtown area. So we suggest you choose downtown hotels if possible. If your hotel is far from downtown, we will contact you for detailed arrangement once we receive your booking.
Schedule: The time schedule of the itinerary is for reference. It may be adjusted according to the daily traffic and real situations.