One Day Private Tour to Terracotta Warriors
Terracotta Warriors - Small Wild Goose Pagoda - City Wall - Muslim Quarter
Trip Highlights:
►
Marvel enthrallingly at 2200-year-old Terracotta Warriors and Horses.
►
Walk along or cycle around the ancient City Wall and get stirring views.
►
Explore the world heritage site, Small Wild Goose Pagoda.
Hereunder please find our proposed itinerary. Our travel experts will be happy to customize a tour for you to meet your interests and needs.
Itinerary:
Today, you will have an unforgettable travel experience in this ancient capital of 16 dynasties, Xi'an. At the appointed time in the morning, your guide and driver will pick you up from your hotel and then transfer you to the
Terracotta Army Museum
by a comfortable drive for about 1 hour. Your guide will give a brief introduction of the site along the way. When arriving, you will be accompanied to appreciate this amazing wonder of the world, including the three pits and the Bronze Chariots and Horses Exhibition Hall. Since it is a private tour, the visiting time is up to you.

The Terracotta Warriors have unique faces and gestures, likely following the replicas of real army. Generally, they are divided into two categories, the general figures and soldier figures. The diverse uniforms and different hair styles show their status. Both general and junior general figures wear armors and elbow guards, while the soldiers only wear coat. Besides, the most distinctive difference between the general, the junior general, and the soldier is their headwear. The general figures wear the He crown, whose front part looks like a square plate and the latter part is twisty as the tail of pheasant. The junior general figures wear the double-ban crown which is trapezoidal with a seam in the middle. The soldier figures wear no crown. While some of them wrap their hair with a piece of cloth. When you are there, try to distinguish generals and soldiers by yourself.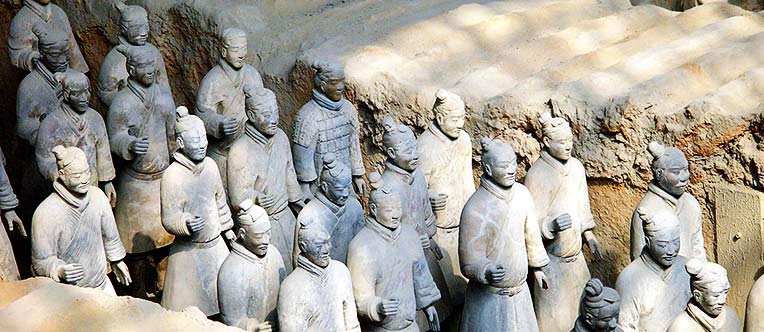 What an amazing experience to see the terracotta soldiers over 2200 years ago!
After the morning tour, you will have some free time to enjoy lunch, which will be at your own expense. Since there are no decent restaurants around the scenic spot, you're suggested to have a big breakfast at the hotel in the morning and have a simple meal for lunch. Some fast food restaurants are available nearby and your guide is glad to offer assistance.



Known as the capital of pasta, Xi'an is a gourmet city full of various kinds of cooked wheaten food, among which, the most popular one is Rou Jia Mo, Chinese hamburger. Literally, it means "meat in a bun". Rou means pork, Mo means bun and Jia means placing the pork between the bun. In China, when we say Mo separately, we mean the steamed buns (Man Tou). However, for Rou Jia Mo, Mo is baked in a wok or pan and it is actually Bai Ji Bing, something like bun or bread. The bun cannot be baked too long, around 10 minutes for each side, to make it looks golden brown and tastes chewy. Talking about the traditional filling, the pork belly is stewed with around 20 types of spices to make it taste delicious. For vegetarians, there are beef filling instead, with different flavor but also delicious. Rou Jia Mo has been named Shaanxi Province's Intangible Cultural Heritage. You may ask your guide for help if you'd like to have a try.

After lunch, we will head back to downtown Xi'an to visit the Small Wild Goose Pagoda, which is a delicate Buddhist pagoda surviving for over 1,300 years from the Tang Dynasty. With a nice park around, it is also a good place to relax.

You will then be guided to visit the encircled City Wall. Take a leisure walk along the City Wall to enjoy the city view from a unique atmosphere. There are bikes, single and tandem, to rent for pedaling around. It may need some energy, and we leave the choice on your own. If you like to try cycling, please ask your guide for help and pay the rental fee on the spot.

Today's last stop is the well-known Muslim Quarter where gathers various shops and a wide range of local foods. This 500-metrer (546-yard) long street is paved with blue stones, under the shade of large trees. On both sides are the imitated architecture of the Ming and Qing dynasties (1368 - 1911). Try authentic local foods here and pick some souvenirs for your family or friends.

Finally, you will be driven back to the hotel after this one-day Xi'an Terracotta Army tour.

Tour Prices
| 1 traveler | 2-3 travelers | 4-5 travelers |
| --- | --- | --- |
| $239 | $149 | $109 |
Prices are per person in US Dollars.

Price Includes
Pick-up & drop-off from your hotel
Entrance fees as indicated above
Professional English speaking guide
Experienced driver & air conditioned vehicle
Two bottles of mineral water per person
Price Excludes
Bicycle hire
Meals
Tips or gratuities for guide and driver
Why Travel With Us
Itineraries you may also like:
Customer Reviews

Questions & Answers
Posted on August 11, 2020

I felt very good about this Xi'an day tour to Terracotta Army. The tour guide was enthusiastic and responsible, and the itinerary was very reasonable. As one of the world-class wonders, the Terracotta Army was so remarkable!

For a better travel experience, I booked this Xi'an day tour. The fact proved that my choice was right and I really enjoyed the trip! The food and transportation were verynice. The whole trip went smoothly and harmoniously, and the members got along well with each other. Thank you very much for the driver and the tour guide!

The tour guide was a local person, with a straightforward personality and a warm attitude. I like him very much. We were in a small group with five people. Everyone was very easy to get along with, and the tour guide could take care of everyone. Along the way, the tour guide told us some of Shaanxi's history and local customs. Anyway, the trip was very interesting and enjoyable!!!