Top Xian Attractions
More Things to Do
Top 10 City Tours
XA01-01: One Day Classic Xian Tour
Terracotta Army - Small Wild Goose Pagoda & Xian Museum - City Wall
Starting Time

About 9:00 AM

Activity Intensity

Moderate

Today we will take a pleasant Xian day trip! At the appointed time in the morning, our warm guide and driver will pick you up from the lobby of your hotel. We will start our Xian Terracotta Warriors tour with appreciating this eighth wonder of the world. It rides for around an hour to get to the museum. Our professional guide shall give a brief introduction on the history of this site on the way. During your 2.5 hours' visit, tour around the three pits, the bronze horses and the chariots exhibition hall inside.
After the site visit, have your lunch at one of the restaurants. Our guide will be very glad to offer his service if needed.
Terracotta Army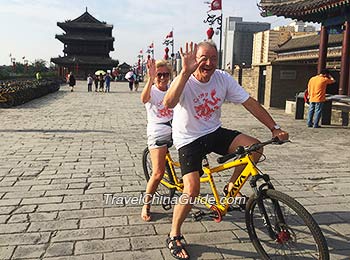 Riding a bicycle on the City Wall
After lunch, we will head back to downtown to tour the antique Small Wild Goose Pagoda and Xian Museum, which has a rich collection of 130,000 cultural relics. You will then be guided to a walkabout visit of the City Wall. Alternatively, you may rent a bike at your own expense to cycle along the wall.
You will then be driven back to your hotel after the one-day Xian Terracotta Army trip.
Meals: No meals, advice freely available
Terracotta Army
Built during the Qing Dynasty (221 - 207 BC), it is a terracotta troop buried together with Emperor Qin Shi Huang (259 BC - 210 BC). Three pits have been found so far. There are about 6,000 terracotta warriors and horses in various sizes and shapes, and a large number of bronze weapons in Pit 1 - the largest pit found in 1974. Pit 2 and Pit 3 are on either side of Pit 1. There are nearly 2,000 life-sized terracotta figurines and terracotta horses. Different types of soldiers, such as chariots, cavalry and infantry, were arranged in orderly rows. Two bronze chariots unearthed from the pits are on display in the exhibition hall. There are four bronze horses in front of each chariot and 14 kilograms of gold and silver were used to decorate the two chariots.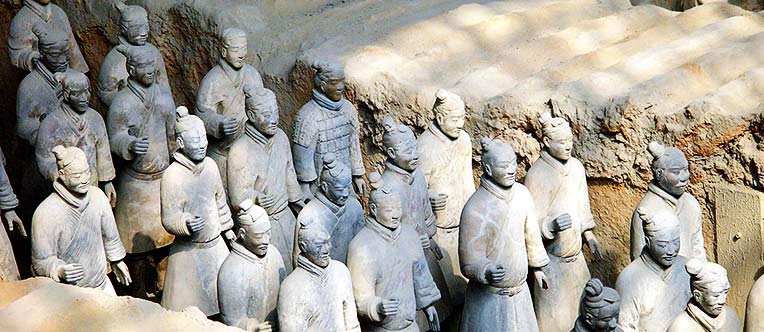 What an amazing experience to see the terracotta soldiers over 2200 years ago!
Small Wild Goose Pagoda
It was founded during the Tang Dynasty (618 - 907) to store sutras brought from India by an eminent monk, Yi Jing, and the pagoda is similar to the renowned Big Wild Goose Pagoda in shape but smaller in size, hence the name. Many exquisite stone Buddha, stone lions, stone horses and other stone carvings can be seen there.
City Wall
It was first built during the Sui and Tang dynasties (518 - 907) to defend against enemies. It is the largest and best-preserved city wall in China. There are four major gates, namely the eastern Changle Gate, Yongning Gate in the south, Anding Gate in the west and the northern Anyuan Gate. The city wall consists of gate towers, arrow towers and watchtowers, turrets, and sluice gate towers.
The ancient City Wall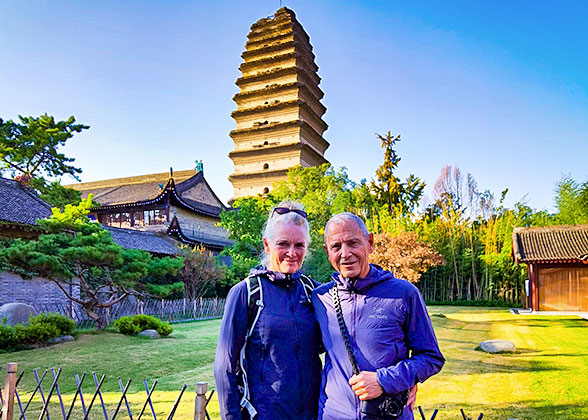 Small Wild Goose Pagoda
Prices (US$ Per Person)
1 person

$187

2 persons

$118

3 persons

$98

4 persons

$86

5 persons

$83

6 persons

$78

7 persons

$65

8 persons

$62

9 persons

$60

10+

$59

Price Includes
Private English-speaking guide
Private driver & air-conditioned vehicle
Entrance fees to tourist sites
Price Excludes
Hotel accommodation with breakfasts
Lunches and dinners
Tips or gratuities for guide and driver
Itineraries you may also like:
The above routes do not meet your requirements? Please click
Tailor My Trip