Xian-Chengdu Train
Only normal trains are running between Xian and Chengdu with the shortest duration of 10 hours. High speed railway that can accommodate bullet trains is under construction and is scheduled to be put into service on September 30, 2017.


Facts:

Duration: 10 – 18 hours

Stations: Xian, Xianyang, Yangling, Caijiapo, Baoji, Fengxian, Liangdang, Huixian, Lueyang, Yangpingguan, Guangyuan, Zhuyuanba, Zhaohua, Jiangyou, Mianyang, Deyang, Chengdu

Ticket Fare: CNY301/315/369 for soft sleeper, CNY194/208/244 for hard sleeper, CNY 98/112/128 for hard seat


Schedule

Xian to Chengdu Train Schedule


Xian Schedule
(Last Update on June 21st, 2017)
From
To
Nos.
Duration
Xian
Chengdu
1485, K291, K545, T7...
9 departures from 01:30 to 22:10
13h55m - 16h48m
Xian South
K385, K1615 at 07:26 and 21:02
11h48m/11h50m
Chengdu East
K195 (22:26/12:11+)
13h45m

Chengdu to Xian Train Timetable


Chengdu Schedule
(Last Update on June 21st, 2017)
From
To
Nos.
Duration
Chengdu
Xian
K546, T8, K870, K166...
9 departures from 07:36 to 21:50
13h27m - 17h57m
Xian South
K386, K998, K1616 from 12:47 to 22:16
9h57m- 11h14m
Chengdu East
K196 (14:12/00:54)
10h42m
Note:
1. "+" indicates the second day.
2. The above timetable is for reference only. Please use our tool on top of this page to search for the real-time schedule.
Tips for Taking Overnight Sleeper Trains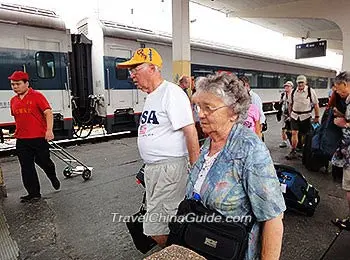 Interior of Soft Sleeper Cabin
Among all above trains, the overnight ones departing in the afternoon and arriving in the next morning, and those departing in the evening and arriving around the next noon are the most popular, because they save day time and hotel expenses. But there are several tips for those traveling overnight.



You'd better choose a sleeper. Generally speaking, sleeper will be more comfortable compared with hard seats. The overall environment in sleeper carriages is better than the hard seat ones because the carriages for hard seats may be very crowded, especially during holidays.

In most cases, the sleeper tickets are in much demand and they may be sold out quickly. So buy one in advance.

Dining car is available onboard providing Chinese dishes, but the price is relatively high and the food is not that delicious. If you want to save money, prepare some food and snacks in advance, like instant noodles, ham, hamburger, and other snacks. For a long journey, fruit is also recommended.

In China, the tab water is undrinkable. So take some bottled water. Of course, water is also sold onboard, but it's expensive. Or you can take a cup. Hot drinking water is provided onboard for free.
As for the toiletries, you should take it by yourself. Usually, there are no such items provided or sold onboard. Besides, there is no toilet paper in normal train carriages. You'd better take it on your own.

Take care of your luggage, especially the valuable stuff and important documents. Keep them with you even when sleeping and going to toilet.

Dress yourself comfortable. It will not be convenient to get changed in public like a rail carriage.

Download some games or movies to your cell phone in advance, or take some journals or magazines in case you feel bored.

You'd better make your phones fully charged or take a charger baby. There may not be enough charging sockets onboard.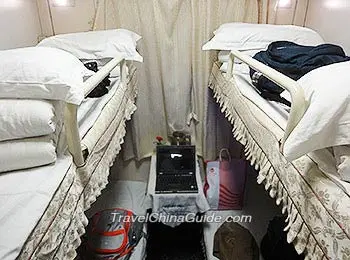 Platform of Xian Station
Transportation to/ from the Railway Stations

Xian Railway Station:
By Subway:
Line 1
By Bus: 5, 6, 9, 13, 14, 17, 25, 30, 39, 40, 41, 42, 103, 105, 201, 205, 206, 214, 229, 231, 240, 243, 251, 258, 266, 318, 351, 500, 511, 602, 603, 607, 608, 611, 616, 703, 705, 706, 707, 914, 915, Y5/306, Y7, Y8/610

Chengdu Railway Station:
By Subway:
Line 1
By Bus: 2, 9, 11, 15, 16, 17, 24, 27, 28, 34, 36, 50, 54, 55, 65, 83, 86, 123, 298, 802, 1037, BRT K2, BRT K2a, Airport Shuttle Bus Line 2
Xian-Chengdu High Speed Rail Line is under construction. It is scheduled to come into use on September 30, 2017. At that time, one can choose to take bullet trains and the journey between the two cities will only take 3 hours or so and a day trip between the two cities will be possible.

Major Rail Lines from Xian to: