Top Chengdu Attractions
More Things to Do
Top 10 City Tours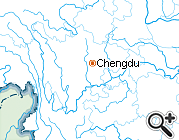 CD01: One Day Private Chengdu Panda Tour
From
$102
per person
Free Inquiry



Lovely pandas
Welcome to Chengdu! Today we will spend the day exploring this land of abundance!

Our tour starts 08:00, when our guide and driver will pick you up from the lobby of your hotel (self-booked). On the way to our first destination, our guide will give you a brief introduction to your private itinerary today and the history and culture of Chengdu city. We will first visit the Chengdu Research Base of Giant Panda, as the pandas are very active in the morning. You will proceed to Broad and Narrow Alleys, where you could have your own lunch at one of the nicer restaurants, and our guide will be very glad to give you some advice.

After lunch, our day trip continues with a visit to the famous Jinsha Site Museum, which is only 15 minute bus ride from the alleys. Our tour ends here. We will return you to your hotel for a good rest. You may also ask your guide advice on restaurants or other attractions in the city. We hope that you had a good time, and we look forward to serve you in the near future!

Meals: No meals, advice freely available

Chengdu Research Base of Giant Panda
There you will see lovely furry giant pandas of all ages eating and playing with each other. You will also have a chance to see the very cute baby pandas, as well as documents and pictures of how these little pink mouse-size things grow to giant white and black chubby pandas of over 100kg (about 220pounds). While at the base, you can also see red pandas and swans.

Broad and Narrow Alleys
It is one of the three cultural reserves in Chengdu, the other two being Daci Temple and Wenshu Temple. The Broad and Narrow Alleys were once old residential areas during the Qing Dynasty (1644 - 1911). Now, most of the houses have been restored and turned into restaurants, souvenir stores, bars, art galleries, and teahouses. You can not only find daily activities of the local people there, such as playing Mahjong, and drinking tea. Walking along the ancient but fashionable alleys, you will see the city past and present, as well as tradition and innovation.

Jinsha Site Museum
Jinsha was the site of the ancient Shu (ancient name for Sichuan) Kingdom between 12B.C. and 7A.D. It is famous for the mysterious Shu Culture and unique bronze civilization. In the museum you will see many precious ivory, gold and jade products, which are thousands of years old. The most famous item is the Gold Foil of Sun and Immortal Bird, which has many stories and legends about the patterns on it. Follow your guide and listen carefully to the interesting stories. You can also see many everyday products made of stone, pottery, bronze and ivory, from which you will learn the daily life of people of 3,000 years ago.
Friendly Tips:
We suggest that you get up early and finish your breakfast before 08:00. You can take some snacks with you as we will not have lunch until the afternoon. We will provide free bottled water for each of you.
Prices (US$ Per Person)
1 person

$214

2 persons

$130

3 persons

$114

4 persons

$102

5 persons

$100

6 persons

$89

7 persons

$83

8 persons

$78

9 persons

$75

10+

$65

Price Includes
Private English-speaking guide(s)
Private driver(s) & air-conditioned vehicle(s)
Entrance fees to tourist sites
Price Excludes
Hotel accommodation with breakfasts
Lunches and dinners
Tips or gratuities for guide and driver
Itineraries you may also like:
The above routes do not meet your requirements? Please click
Tailor My Trip