One Day Private Chengdu Panda Tour
Chengdu Research Base of Giant Panda - Broad and Narrow Alleys - Jinsha Site Museum
Trip Highlights:
►
Comfortable private car with an experienced driver and a knowledgeable guide.
►
Watch cute giant pandas goofing off and learn about their curious facts.
►
Dive into Wide and Narrow Alley, a place that integrates the old and the new.
►
At Jinsha Site Museum, get close to a puzzlingly vanished ancient civilization.
Itinerary:
Welcome to Chengdu! Follow us to spend a whole day exploring this land of abundance!
Let's go see giant pandas first! As they are most active in the morning, your guide and driver will pick you up from your hotel as early as 08:00 to
Chengdu Research Base of Giant Panda Breeding
, to watch them eat and play. On the way, listen to a brief introduction of this private itinerary as well as Chengdu's history and culture. Upon arrival, let your guide show you around separate enclosures of giant pandas in their different life stages. Imagine watching roly-poly baby pandas eating bamboo and sporting! Through documents and pictures, you can also learn how a tiny pink mouse-size infant can grow to a giant white and black chubby adult of over 100 kg (about 220 pounds). What's more, there are red pandas and swans, which add colors to the base.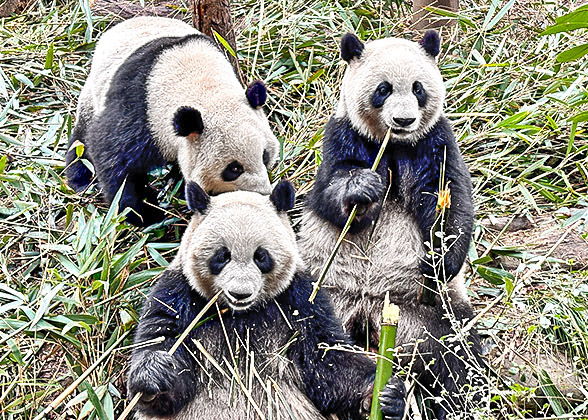 Giant pandas
Then, we'll proceed to
Wide and Narrow Alley
. Once a residential area during the Qing Dynasty (1644 - 1911), it is one of the three cultural reserves in Chengdu, with Daci Temple and Wenshu Monastery being the other two. Although most of the houses have been restored and turned into restaurants, craft stores, bars, art galleries, and teahouses, their traditional Chinese architectural style still remains. It's Chengdu's must-visit place to witness the synergy between the old and new. You can also see how locals while their time here, such as playing Mahjong and drinking tea. It'd be a special experience to have lunch here (at your own expense) at a restaurant recommended by your guide.
Continue to visit the famous
Jinsha Site Museum
, only 15 minutes' drive from the alleys. A museum constructed on the religious site of the ancient Shu (short for Sichuan) Kingdom (12th - 7th century BC), it presents before our eyes archeological discoveries introducing the civilization's enigmatic cultures. There are precious religious artifacts made of ivory, jade, and gold, including the famous gold foil of Sun and Immortal Bird, which has many stories and legends behind its pattern. Following your guide, you can also find myriad everyday products made of stone, pottery, bronze, or ivory, which offer sight into the daily life 3,000 years ago.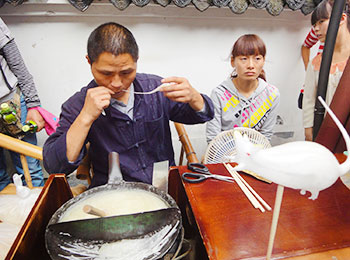 Broad and Narrow Alleys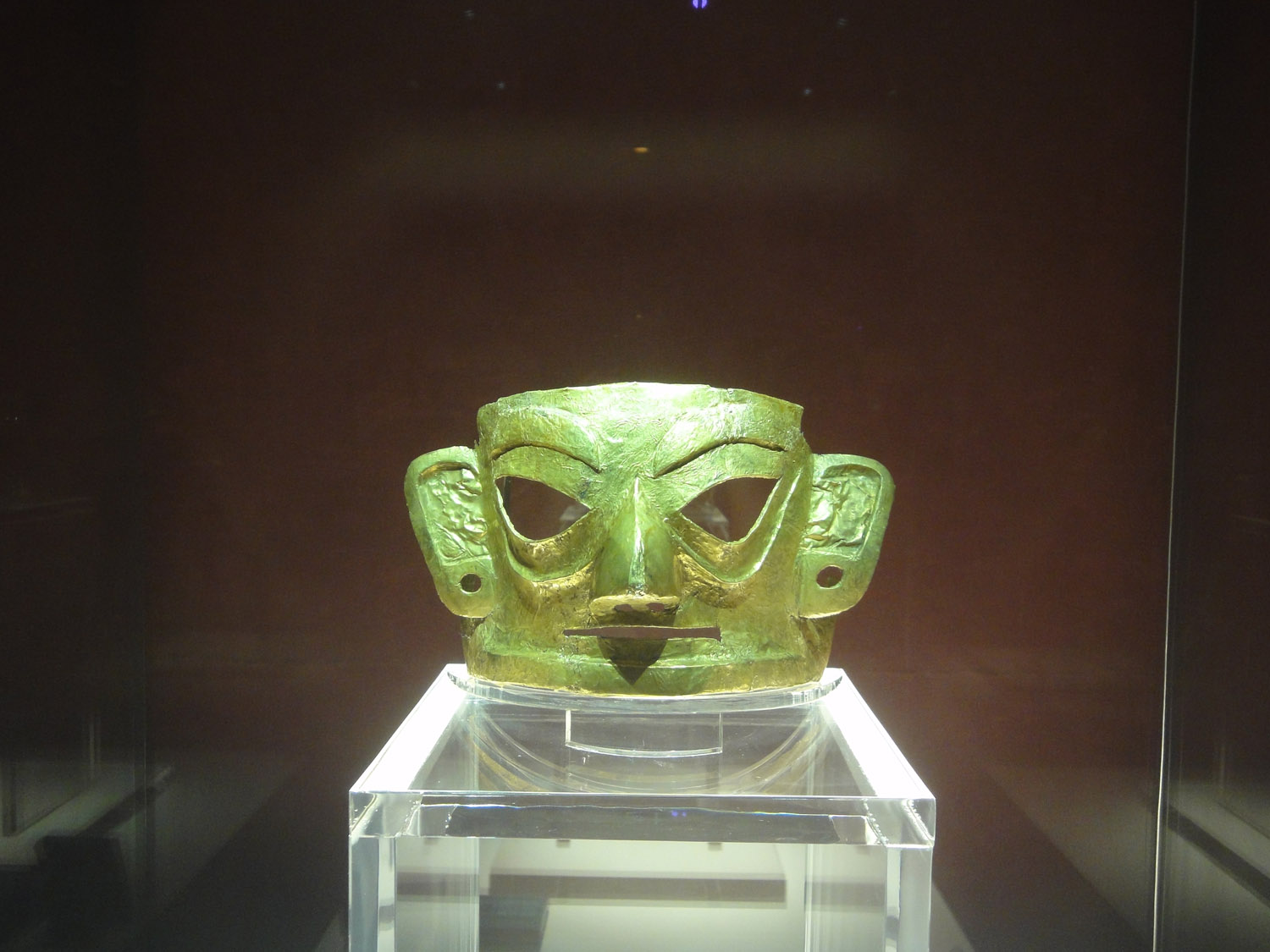 Gold Mask in Jinsha Site Museum
After the visit, our guide and the driver will escort you back to your hotel to conclude today's guided trip. You may also ask your guide for restaurants to taste authentic local food or other interesting places to visit. We hope you have had a good time with us, and look forward to serving you again in the near future!
●
Suggestion for Your Free Evening Time:
To perfect this trip, you can take the chance to enjoy Sichuan Opera at Shufeng Yayun Theater, a time-honored theater dedicated to the folk art. You might be interested because Sichuan Opera, a World Intangible Heritage, is an art form offering insight to both Chinese traditional drama and local culture, as it's a blend of the two. It would amaze you with its sensational artistic expressions, including the iconic face changing and fire spitting performances. Another thing of note is that the background music is performed live throughout, making the show even more engaging. If you want to enjoy it, please tell us in advance to book tickets and transfer (at your own expense). The show starts at 20:00 and ends at around 21:30. Order a cup of tea, and prepare to be wowed!
Tour Prices
| 1 traveler | 2-3 travelers | 4-5 travelers |
| --- | --- | --- |
| USD249 | USD149 | USD109 |
Prices are per person in US Dollars.

Price Includes
Private English-speaking guide
Private driver & air-conditioned vehicle
Entrance fees to tourist sites
Price Excludes
Hotel accommodation with breakfast
Lunch and dinner
Tips or gratuities for guide and driver
Why Travel With Us
Itineraries you may also like: