One Day Dujiangyan & Mount Qingcheng Tour
Dujiangyan Irrigation System - Mount Qingcheng
In the morning, our professional guide and driver will meet you at the lobby of your hotel in Chengdu at about 08:00. After warm introductions, we will begin this Chengdu day tour to Dujiangyan & Mt. Qingcheng. We will drive about 1.5 hours to reach Dujiangyan, which is the not only the oldest and only surviving ecological irrigation project in the world, but also a distinguished tourist attraction surrounded by a stunning natural landscape and valuable cultural relics and historic sites.
Then we will proceed the itinerary towards Mount Qinqcheng - approximately 30 minutes' driving. We will transfer to a 10-minute shuttle bus to reach the foot of the mountain, followed by hiking for 20 minutes to Yuecheng Lake, which is situated at the Front Mountain of Qingcheng. From there, we will embark on a short cruise to the cable car station and take the cable up the mountain. Afterwards, we will climb for 30 minutes to the famed Laojun Pavilion, a must-see for a Mt. Qingcheng tour.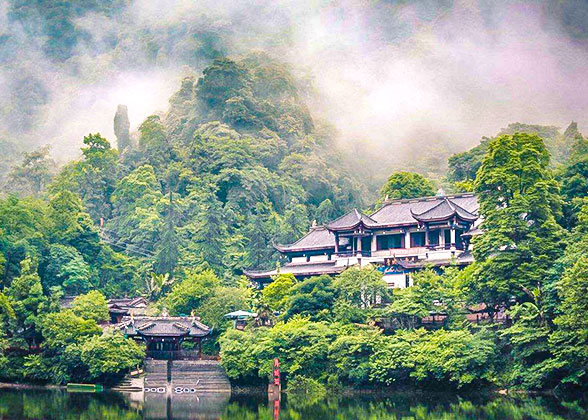 Mount Qingcheng is a holy land of Taoism with charming scenery and unique culture
When getting out from the Laojun Pavilion, your one day private Chengdu tour to Dujiangyan and Mt. Qingcheng will come to an end. Our guide will accompany you to the bottom of the hill, and then we will escort you back to your hotel in Chengdu downtown.
Meals: Lunch
Dujiangyan Irrigation System
Dujiangyan is one of the most popular day trips in Chengdu. Built in 256 BC, this grand irrigation project has played a crucial role in flood prevention and water irrigation for over 2,000 years. As one of the top natural heritages of the world, Dujiangyan possesses abundant resources; brimming rivers, sheer cliffs, steep mountains, and tall ancient trees. If that isn't enough, historical sites such as the majestic Fulong Temple and Erwang Temple will also leave you breathless. With such a beautiful ecological landscape, Dujiangyan is a wonderful place for tourists to explore and experience China's rich history and culture.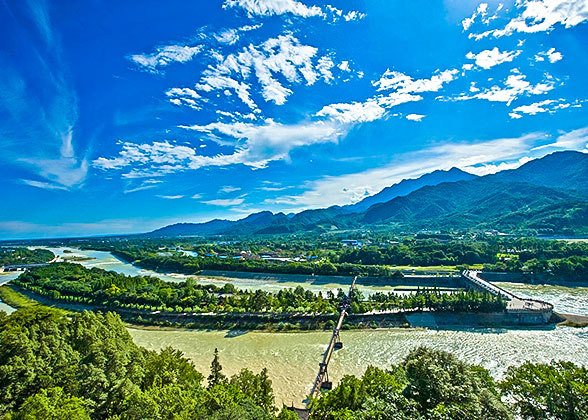 A panoramic view of Dujiangyan Irrigation System
Mount Qingcheng
Regarded as one of the birthplaces of Taoism, Mt. Qingcheng is a fascinating tourist spot which can be divided into two sections: Front and Rear Mountains. Its name 'Qingcheng', literally meaning 'green city', describes its shape like a city enveloped by luxuriant evergreens and surrounded by plentiful peaks. The Front Mountain is the main part of the Mount Qingcheng, and from there you will see towering ridges and peaks, deep valleys and extraordinary Taoist temples nestled within the surrounding natural scenery. The Rear Mountain is the Chengdu locals' back garden featuring picturesque scenery and a tranquil environment.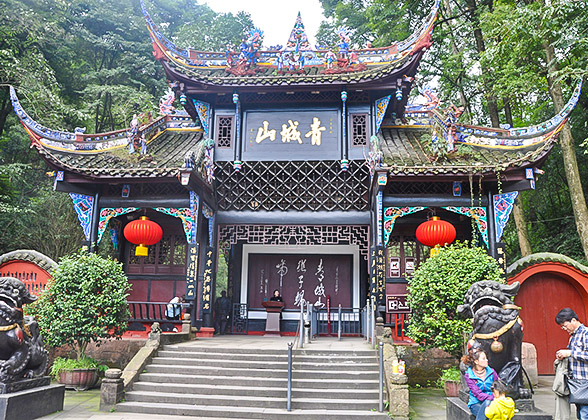 Take cable car to visit the Mt. Qingcheng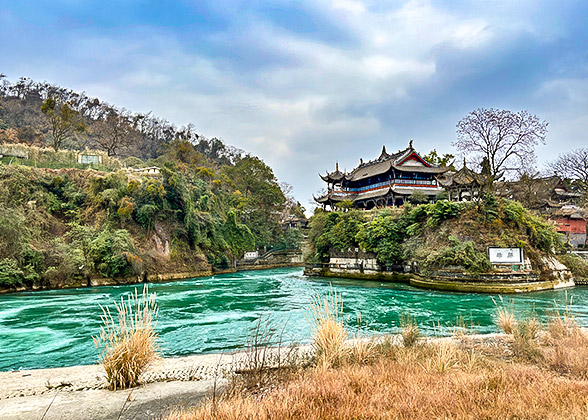 Laojun Pavilion on the mountain
Tour Prices
| 1 traveler | 2-3 travelers | 4-5 travelers |
| --- | --- | --- |
| USD329 | USD209 | USD169 |
Prices are per person in US Dollars.

Price Includes
Private English-speaking guide
Private driver & air-conditioned vehicle
Chinese lunch
Entrance fees to tourist sites
Price Excludes
Hotel accommodation with breakfast
Tips or gratuities for guide and driver
Why Travel With Us
Itineraries you may also like: