Xi'an Railway Station
Located to the north of the City Wall, Xi'an Railway Station is 2 miles (3.5 kilometers) from the Bell Tower (city center), 9 miles (15 kilometers) from North Railway Station, and 16 miles (26 kilometers) from Xianyang International Airport. It is one of the four biggest train stations in China in terms of passenger volume, and one of the country's six main rail terminals.

Address: No. 44 of North Huancheng Road in the Xincheng District

Schedule and Ticket Booking
Being an important transportation hub, the station is an important gateway to access the country's western region. Trains departing from the station can reach all the major cities in China such as Beijing, Shanghai, Lanzhou, Urumqi, Guangzhou, Shenzhen, Chengdu, Chongqing and Guilin.

Major Rail Lines from the station to:

Schedule to Major Destinations
(Last Update on May 29, 2023)
To
Trains
Duration
Ticket Fare (CNY)
Soft/ Hard Sleeper

Beijing West

Z152, Z130, T232, Z20...
8 departures from 01:40 to 22:57
11h45m - 14h00m
CNY 415.5/ 272.5
USD 61/ 40

Shanghai

K362, Z378, Z94, K558...
11 departures from 10:45 to 23:35
15h12m - 20h35m
CNY 509.5/ 331.5
USD 75/ 49

Lanzhou

Z377, T197, Z129, Z151...
37 departures from 03:33 to 23:58
6h49m - 9h23m
CNY 263/ 174
USD 39/ 26

Urumqi South

T197, Z293, T307, K1537...
10 departures from 03:46 to 13:03
24h55m - 32h39m
CNY 767.5/ 495.5
USD 113/ 73

Guangzhou

K228, K84, K84, K1298...
8 departures from 06:43 to 22:34
21h41m - 29h54m
CNY 723/ 397
USD 106/ 58

Shenzhen

K132, K1310, K1350, Z232...
5 departures from 00:05 to 23:10
23h21m - 31h50m
CNY 667/ 428
USD 98/ 63

Chengdu

T7, K545, K245, K385 from 06:09 to 21:19
11h00m - 16h39m
CNY 315/ 208
USD 46/ 31

Chongqing

K694 at 07:26
10h17m
CNY 285/ 190
USD 42/ 28

Luoyang

K132, T198, K178, Z152...
35 departures from 00:05 to 23:47
4h33m - 6h29m
CNY 155.5/ 102.5
USD 23/ 15

The above schedule is for reference only. For real-time schedule and ticket booking, please click the arrival stations.
See detailed
Xi'an Train Schedule
Layout & Functions of Xi'an Railway Station
As one of the landmarks of the city, the renovated Xi'an Railway Station covers an area of 282,000 square meters (70 acres). As a symmetrical Tang-style architecture, the entire station is integrated with the Danfengmen (the South Gate of Daming Palace) in the north and the Ming City Wall in the south.
The station has double station buildings and squares in the north and south. Making full use of the space of four waiting halls on 1F & 2F, the station displays the steam train, internal combustion train, electric train and high-speed train. 2F has the convenience store, fast food, dessert, snacks and beverage stores, and restaurants and the commercial area on 3F will be opened soon.
Functions of Danfengmen Square (North Square)

2F: Waiting Hall

1F: North Station House

B1: departure floor, public transit hub, drop-off area for buses, taxis and private vehicles

B2: arrival floor, 34 taxi pick-up points

B3: the parking lot with 960 parking spots

B4&5: Metro Line 4 & 7 (not open yet)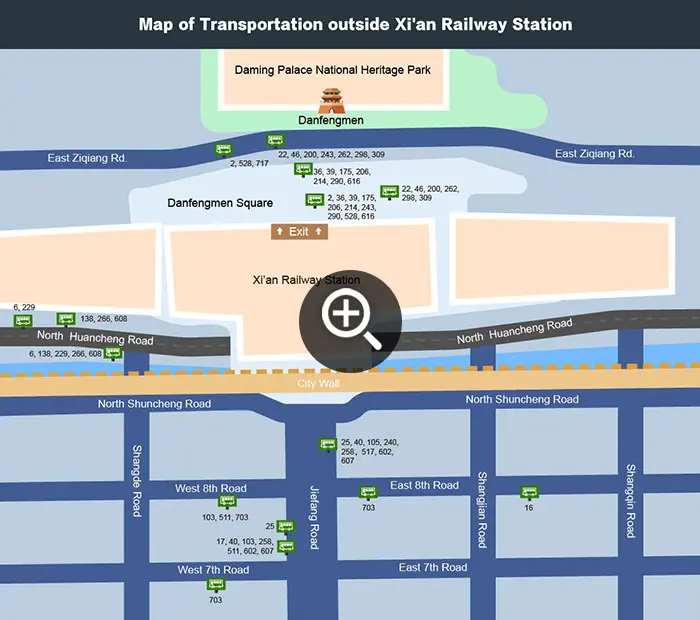 Map of Transportation outside the Station
Ticket Check and Boarding
Passengers are advised to prepare the ID certificate used to book the ticket in advance before reaching the check gate. After, follow the LED screens to reach the boarding platform. Please note that there are many passages leading to different platforms; read the LED screens carefully and do not go to the wrong one.
| | |
| --- | --- |
| Waiting Rooms Equipped with LED Screens | The LED Screen Tells the Time to Check in |
After reaching the platform, find your carriage according to your ticket information. Mind the steps when getting on board, as the carriages are higher than the platform. After, put your luggage on the luggage rack or under the berth/seat. Settle down and wait for departure.
How to exit and leave Xi'an Railway Station?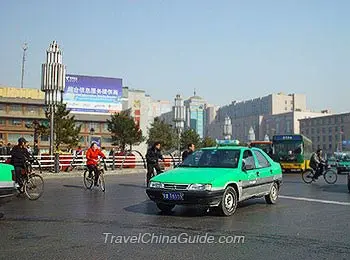 Leave by Taxi

By metro
On B2, passengers can follow the signs to take metro line 4 and transfer to line 1 at Wulukou station. At Beidajie on line 1, passengers can transfer to line 2 which runs through famous sites such as Bell Tower and City Wall.

By city bus
At the arrival hall on B2 of Danfengmen Square, passengers can take the escalator on the west of the transfer hall to the bus waiting area on B1. The operating buses like No. 2, 22, 200, 206, 214, 262, 39 46, 717, 616 will take you to the city center conveniently.
On South Square, passengers can take Bus No. 25, 40, 105, 240, 358, 517, 602, 607 100 meters away on the south, which run to famous destinations like Hepingmen (Near City Wall), Qinglong Temple and Giant Wild Goose Pagoda.

By taxi
To take taxis, there are 34 taxi pick-up points on B2. From the railway station to Bell Tower or City Wall, it costs CNY20-30 and less than 20 minutes if no traffic jams.
How to travel from Xi'an Railway Station to popular places

To
Xi'an North Railway Station
Bus 266 and Metro
Line 4
can take passengers there directly without transfer.

To
Bell Tower
Take line 4 to Dachaishi→Transfer to
line 6
to Bell Tower → Walk westward for 500 meters (547 yards) to the entrance

To
Terracotta Army
Take line 4 to Wukulou→Transfer to
line 1
to Fangzhicheng→Transfer to line 9 to Huaqing Pool→Take Exit C and walk for 210 meters (230 yards) to take Lintong 613 to Emperor Qinshihuang's Mausoleum Site Museum

To
Xi'an Airport
Take line 4 to Xi'an North Railway Station→Transfer to
line 14
to Airport West (T1, T2 & T3)

To
City Wall
Take subway line 4 to Hepingmen and get out from exit A→Walk northward for 400 (437 yards) meters to get to the City Wall

To
Giant Wild Goose Pagoda
Take subway line 4 and get off at Giant Wild Goose Pagoda. Take Exit C and walk south for 700 meters (765 yards) to the entrance. Shaanxi History Museum is nearby.

To
Mt. Huashan
1. Take an ordinary train from this station to Huashan Railway Station, which takes about 1.5 hours and CNY18.5 for a hard seat. Upon arrival, walk northward to take Huayin 603 to Huashan bus station. Walk for about 1.2 kilometers (0.75 miles) to the entrance.
2. Take Line 4 to North Railway Station to take a bullet train to Huashan North Station, which takes about half an hour and CNY 54.5 for a second-class seat. Upon arrival, walk northward for 240 meters to take Huayin 603, and then walk for about 1.2 kilometers to the entrance.
Bus/ Subway Search
Facilities and Services of the Station

Waiting Rooms:
The station has four normal waiting halls equipped with toilets and drinkable boiled water covering an area of 22,300 square meters (5.5 acres), which can accommodate 12,000 passengers. Baby care rooms with sofas and baby cribs are also available, which provide great convenience for those who make a
train travel with kids or during pregnancy
.

Ticket Office:
On 1F, the ticket hall is beside the entrance. On the elevated waiting hall, passengers can purchase, change or refund the ticket at the service center. Foreign passengers are required to provide their valid certificate like passports when purchasing or collecting tickets.
| | |
| --- | --- |
| Ticket Office to East of the Entrance | The Left Luggage Counter beside the Exit |

Left luggage:
At the passenger service center on South Square, there are self-service left luggage counters which provide a 24/7 service. The fare depends on the size and weight of your luggage. It costs CNY 5 for small bags less than 10 kilograms and CNY 10 for large luggage over 10 kilograms per day, and there is no time limit.

Others:
Hotels such as three-star hotels like Xi'an Jinrui Hotel, Fulin Hotel and four-star hotel Longhai Hotel around the station are excellent choices. Both around and inside the station, there are also many restaurants, food stands, supermarkets, and souvenir stores for passengers' convenience; but the price there are mostly higher than other places.
- Last updated on May. 30, 2023 by Gabby Li -