Train Travel in China with Kids or during Pregnancy
Train travel in China with kids
It is not so easy and pleasant to make a train travel in China with kids, especially with the little babies. In particular, we recommend that you not take them for a long-distance ride on a non-bullet train; a short-distance high-speed rail ride is a relatively better choice. Here are some tips you should know about traveling in China by rail with kids or babies:
Buy child tickets to save money
Children between 6 and 14 years old enjoy half-price tickets except for sleeper cars where the cost is about 75% of an adult ticket. There is no child discount for sleepers on bullet trains.

Kids below 6 years old ride free, but they cannot take a seat or sleeper berth of their own. A child ticket is needed if a seat or sleeper berth is taken. Each child riding free of charge must be accompanied by a full-price ticket adult. For additional kids, you must buy child tickets.
See details of How to Buy China Train Tickets
| | |
| --- | --- |
| Kids Playing Area at A Railway Station | Nursery Room at Xi'an North Station |
Wait in infant room & get onboard before check-in
Infant waiting rooms/areas and nursing rooms/areas are provided in most large railway stations. You can go there to feed the baby and change its diapers. They are not crowded and are quiet inside so you can wait comfortably; also, passengers there may be allowed to get onboard ahead of the check-in time to avoid the peak passenger flow. In some railway stations, simple amusement facilities are provided for kids to kill time as well.

Some stations may not have an Infant Waiting Room, but a paid waiting room, where passengers are also allowed to get onboard earlier than the check-in time. Usually, this costs CNY 10 per passenger.

Some stations have porters who can help passengers take their luggage to the platform ahead of check-in. Following them, one can also get onboard prior to check-in. The service fee is CNY 10 per piece of luggage.

Take a foldable portable stroller
Only collapsible portable strollers are allowed onboard. They can be put under the seat or berth of normal trains, or in the luggage cabinet between two high-speed carriages.
See details of Luggage Space

Prepare snacks and small toys for kids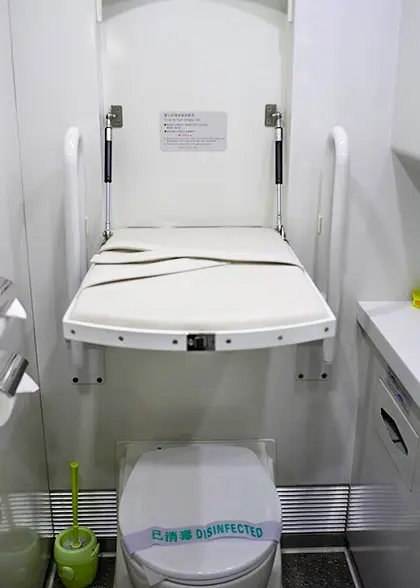 Diaper changing table
in first class carriage
Kids may feel bored when traveling, so pack some small toys, their favorite snacks and beverages to entertain them. Snacks and beverages are sold onboard but cost more. You should put them in a separate bag that you store within reach of your seat.

Diaper changing facilities are available on high speed trains
Some first class carriages of high speed train have diaper-changing facilities for passengers traveling with babies and toddlers. Nevertheless, we recommended that you change your baby's diaper in the Maternal and Infant Waiting Room before boarding.

Do not let the kids run around in the carriages
It is easy to fall in a moving train, especially toddlers. Also, there are always passengers fetching hot drinking water along the narrow aisle; it's dangerous to run into them.

Never leave your kid or baby alone at the seat or berth
If you have to walk away for a while, ask the railway staff to take care of them for you.

Train travel during pregnancy
Being clumsy, it is not safe and convenient for pregnant women to travel in China by rail, although some special facilities like maternal waiting rooms/areas have been set up at most large railway stations for them. Before traveling, it is advisable to consult the doctor and ask if it is OK to travel by rail. If permitted, make the journey time as short as possible by taking a bullet rail. In addition, the following tips are important for those who travel by rail during pregnancy:

Make the travel in the second trimester of pregnancy
If you are in the first trimester, you are advised to not take a rail trip because the baby is unstable and you may suffer from morning sickness. You are also not advised to travel by rail when it is close to the expected date of childbirth, or in the last two month of the third trimester, when it is harder for you to board or get off. If you are traveling by rail and something feels wrong go and ask for help from the railway staff immediately.

Avoid traveling alone during pregnancy
You should have a travel companion to take care of you and carry the luggage for you. Don't try to carry heavy luggage. You can help move a suitcase with wheels or ask help from the luggage carriers.
Bring suitable food on your own
Food onboard is limited and may not agree with your taste and meet your requirements for nutrition.
Do not go around when the train is moving
If you want to stretch your arms and legs, do it when the train halts. If you want to use the toilet or fetch hot drinking water, have your travel companion help you.
---

Other tips for traveling in China by rail with kids or during pregnancy:
1. Avoid the peak travel seasons such as Chinese New Year and the National Day holiday (Oct.1- 7th). Some stations are crammed with passengers then.
2. Bullet trains are recommended for their much shorter travel time, good environment and advanced facilities.
3. If you are going to take a non-bullet rail, buy a lower berth sleeper.
4. Arrive at the station early enough to get onboard without rushing. You can ask the railway staff or volunteers to help you with boarding.
5. If you are going to get off at an intermediate station, take your luggage to the exit and get ready for getting off in advance, as it only stops for a few minutes. If your destination is the final stop, you can get off a little bit later after other passengers to avoid the crowds. Also, you can ask the railway staff or volunteers to help you to get to the exit.
6. Dress properly and take an overcoat in case the air-conditioner is too cold. Also, if you are going to feed the baby onboard, take an overcoat or blanket to protect your privacy.



Further Reading:


China Train Travel Tips


China Train Travel - A Beginner's Guide


Facts on China Train Travel
- Last updated on Jun. 04, 2023 by Brenda Lian -
Questions & Answers on Train Travel in China with Kids or during Pregnancy
Asked by Armando from COLOMBIA | Mar. 25, 2019 07:21

Reply
Does a foreign baby born in China need a passport to travel by train?
We plan to deliver our baby in Shanghai but the passport will take foreve and we live in Guangzhou. If we can travel by train, we can make the passport in Guangzhou directly.
Answers (3)
Answered by Roger from USA | Mar. 25, 2019 19:27

0

0

Reply
If the child is under 120cm, the child do not need a ticket to take the train, so no travel document is needed as well.
Answered by EMC | Jun. 03, 2023 19:32

0

0

Reply
Hi! If the child just turned six but still under 120cm, does he travel for free?
Answered by Dorothy | Jun. 04, 2023 19:25

0

0

Reply
Yes, he can still take trains for free.
Asked by Imel from INDONESIA | Dec. 23, 2018 23:39

Reply
Does senior citizen also have some privilege on the ticket price?
Answers (1)
Answered by Madalynn from MALAYSIA | Dec. 24, 2018 01:03

0

0

Reply
No, senior citizen discount. Only for kids.
Asked by Imel from INDONESIA | Dec. 23, 2018 23:38

Reply
Hi is foreigner kid has the privilege on having free ticket?
Hi is foreigner kid has the privilege on having free ticket?
Answers (1)
Answered by Madalynn from MALAYSIA | Dec. 24, 2018 01:04

0

0

Reply
Yes, as long as the kid is under 120cm at the time of travel. By the way, one adult can only take one child under 120cm for free.
Asked by ElTuyo from SPAIN | Apr. 19, 2017 09:41

Reply
For sleeper bed, do we have to pay if our son 3 years old sleeps with one of us?
We travel 2 adults and one kid with 3 years old. We want to take a train during night time, sleeping, so we want to know if a 3 years old kid has to pay although he is going to use our bed
Answers (1)
Answered by Andrea from SINGAPORE | Apr. 20, 2017 01:54

0

0

Reply
The child under 120cm donot need a ticket. The child can use adults' bed directly.