Chinese National Day
What is China National Day?
Chinese National Day is celebrated on October 1st every year to commemorate the founding of People's Republic of China. On that day, lots of large-scaled activities are held nationwide. The 7-day holiday from Oct. 1st to 7th is called 'Golden Week', during which a large number of Chinese people go traveling around the country.

2023 Chinese National Day Holiday Schedule
Sep. 29
(Fri)
Sep. 30
(Sat)
Oct. 1
(Sun)
Oct. 2
(Mon)
Oct. 3
(Tue)
Oct. 4
(Wed)
Oct. 5
(Thu)
Oct. 6
(Fri)
Mid-Autumn Festival Holiday
Weekend leave
3 days' legal holiday
deferred holiday for Oct. 1, the Sunday
advance leave for Oct. 7
advance leave for Oct. 8
* Note: In 2023, the National Day holiday follows the Mid-Autumn Festival holiday, hence forming a prolonged holiday of 8 days. The holiday dates are Sep. 29 to Oct. 6th, 2023. People will be on duty on Oct. 7 (Sat) and Oct. 8 (Sun).

What is National Day Golden Week holiday in China?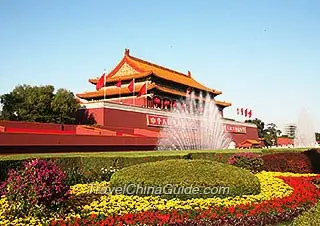 Beijing Tiananmen Tower on National Day
The legal holiday for Chinese National Day is 3 days in mainland China, 2 days in Macau and 1 day in Hong Kong. In mainland, the 3 days are usually connected with the weekends ahead and after, hence people can enjoy a 7-day holiday from Oct. 1st to 7th, which is the so-called 'Golden Week'.
Read more: What is Golden Week in China?

Why is it called Golden Week?
Falling in autumn season with clear weather and comfortable temperatures, Chinese National Day holiday is a golden time for travel. It is the longest public holiday in China besides the Chinese New Year. The weeklong holiday enables both short-distance and long-distance trips, resulting in a boom of tourist revenue, as well as an overwhelming tourist crowd.

Origin of China National Day
October 1st 1949 was the memorial day for the founding of the People's Republic of China. One thing should be noted is that the PRC was not founded on that day. Actually the Chinese independence day was September 21st 1949. The grand ceremony held at Tiananmen Square on October 1st 1949 was to celebrate the forming of the Central People's Government of the brand new country. Later on October 2nd 1949, the new government passed the 'Resolution on the National Day of the People's Republic of China' and declared October 1 to be the Chinese National Day. Ever since 1950, every October 1st has been grandly celebrated by Chinese people.

Oct. 1st Military Review & Parade in Beijing
On the Tiananmen Square in Beijing, altogether 14 military reviews have been held on October 1st since 1949. The most representative and influential ones include the military reviews on the founding ceremony, the 5th anniversary, 10th anniversary, 35th anniversary, 50th anniversary and 60th anniversary. Those impressive military reviews have attracted people from both home and abroad to watch. Following the military reviews are usually huge parades by common people to express their patriotic feelings. The Military Review & Parade is now held in a small scale every 5 years and in a large scale every 10 years.
Read more: China National Day Parade, on Tiananmen Square Beijing



Other Celebration Activities
Other activities like flag-raising ceremonies, dance and song shows, firework displays and painting and calligraphy exhibitions are also held to celebrate the National Day. If one loves shopping, National Day holiday is a great time, for many shopping malls offer big discounts during the holiday.
Read more: China National Day Celebration in Golden Week of October
| | |
| --- | --- |
| Celebration on Tiananmen Square, Beijing | Festooned Vehicles |
Golden Week Travel Tips
During the "Golden Week", lots of Chinese go traveling. It leads to a sea of people at attraction sites; train tickets difficult to get; flight tickets cost more than usual; and hotel rooms in short supply…

To make your travel in China easier and more comfortable, here are some tips for reference:
1. If possible, avoid traveling during the Golden Week. One can make it just before or after the "crowding period". During those time periods, there are usually fewer tourists, the cost is comparatively lower, and the visit is more satisfying.
2. If one really needs to travel during the Chinese National Day holiday, try to avoid the first two days and the last day of the Golden Week. Because they are the busiest time for transportation system, when the flight tickets are highest and train and long-distance bus tickets are hardest to buy. Also, the first two days are usually the most crowded at the attraction sites, especially the famous ones.
3. Avoid hot destinations. These places are always crowded of visitors during the Golden Week. Choose some not so famous tourism cities and attractions, where there are fewer visitors and one can enjoy the scene more leisurely.
4. Book flight / train tickets and hotel rooms in advance. There may be more discounts for flight tickets if one books earlier. For trains in China, the tickets are available 60 days prior to departure. The thing is the train tickets may be booked up in minutes once available, so please be prepared. The hotel rooms in hot travel destinations are also in demand. In case there is no place to stay, one should better book them in advance too. If one happens to book rooms upon arrival, try your luck at some business hotels.
| | |
| --- | --- |
| Bustling Nanjing Road, Shanghai | Crowded Railway Station during the Holiday |

More Tips on China National Day



Useful Booking Tools:
China Flights China Trains

- Last updated on Jan. 19, 2023 by Brenda Lian -
Questions & Answers on Chinese National Day
Asked by Graham from AUSTRALIA | Sep. 17, 2023 06:01

Reply
October National Day
Which dates will be replaced by October 7 and 8?
Answers (2)
Answered by Mike | Sep. 18, 2023 20:37

0

0

Reply
Oct. 5 and 6. They will be the advance weekend for Oct.7 and 8 this year.
Answered by Graham | Sep. 19, 2023 04:08

0

0

Reply
Thanks Mike. Yeah I got the news from my school this morning as well. Sucks as Thursday is my only busy day of the week.
Asked by Nevena from USA | Sep. 29, 2019 16:25

Reply
Will banks in China work normaly during this Golden Week celebration?
Answers (2)
Answered by Isabella from POLAND | Sep. 29, 2019 18:30

0

0

Reply
Don't worry. Banks will work normally during the holiday.
Answered by Bill from CHINA | Oct. 06, 2019 03:18

0

0

Reply
No, they will not. Only certain branches will be open on a rotating basis during the holiday. Banking operations that are centralized, such as wire transfers (both incoming and outgoing), will not be processed until October 8.
Asked by Monika from SWITZERLAND | Sep. 27, 2019 15:40

Reply
I will be in Beijing October 1st and just found out that it will be very busy because of the parade.
Do you have any suggestions where I could go where it is less busy?
Answers (2)
Answered by Chloe from POLAND | Sep. 29, 2019 18:45

0

0

Reply
You can tour around Great Walls. After Oct.1, most scenic areas will open normally. You can visit Forbidden City, Wangfujing Area. Have fun!
Answered by Judith from CHINA | Sep. 30, 2019 09:22

0

0

Reply
You can check out some Hutongs, they are the old alleys that have been renovated and commercialised, such as Nanluoguxiang and Wudaoying. Also, Houhai, which is a lake, could be fun to go. If you'd like to visit somewhere modern, you can try Sanlitun, that is a shopping area with lots of bars and clubs. Have fun!