Tiananmen Square
Located at the center of Beijing City and the midpoint of Chang'an Avenue is the remarkable Tiananmen Square, where you can visit the Tiananmen Tower, Monument to the People's Heroes, Great Hall of the People, Chairman Mao Zedong Memorial Hall and see the national flag raising ceremony. Thousands of people come to the Square every day. It is the must place to visit in Beijing City.

At the north end of the Square is Tiananmen Tower. Initially built in 1417 during the Ming Dynasty (1368 A.D.- 1644 A.D.), the Square was the front door of the Forbidden City.

The most important use of it in the past was to declare in a big ceremony to the common people who became the emperor and who became the empress. Until 1911 when the last feudal kingdom was over, no one could enter the Tower except for the royal family and aristocrats.
The granite Monument to the People's Heroes is just at the center of Tiananmen Square. Built in 1952, it is the largest monument in China's history. ' The People's Heroes are Immortal' written by Chairman Mao is engraved on the monument. Eight unusually large relief sculptures show to the people the development of Chinese modern history. Two rows of white marble railings enclose the monument, simple and beautiful.
Travel to Tiananmen Square with Us
West of Tiananmen Square is the Great Hall of the People. This building, erected in 1959, is the site of the China National People's Congress meetings and provides an impressive site for other political and diplomatic activities.Twelve marble posts are infront of the Hall which has three parts--the Central Hall, the Great Auditorium and a Banqueting Hall.The floor of the Central Hall is paved with marble and crystal lamps hang from the ceiling. The Great Auditorium behind the Central Hall seats 10,000. The Banqueting Hall is a huge hall with 5,000 seats.

Memorial Hall of Chairman Mao is at the south side of Tiananmen Square. This Hall is divided into three halls and our dear Chairman Mao's body lies in a crystal coffin in one of the halls surrounded by fresh bouquets of various famous flowers and grasses.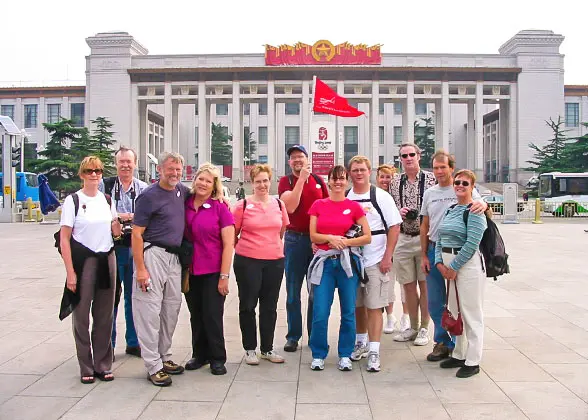 National Museum of China
Another important place for the tourist to visit is the China National Museum at the east side of Tiananmen Square. It just came into existence in 2003 and is a combination of Chinese History Museum and Chinese Revolutionary Museum. This National Museum faces the Great Hall of the People. Inside the Chinese Revolutionary Museum are a lot of material objects, pictures, books and models to present the development of modern China. The Chinese History Museum shows a large number of cultural relics illustrating the long history and glorious culture of China from 1,700,000 years ago to 1921 when the last emperor left the throne.
Flag-Raising Ceremony
Five Star Red Flag-the Chinese national flag, flies high in the sky above Tiananmen Square. To see the guard of honor raise the Flag is a must for the tourist visiting Beijing City. You have to get up very early and arrive at the Square before sunrise. Only by doing so can you see the ceremony clearly as there are crowds of people attending the ceremony every day. The reviewing stands flanking Tiananmen Tower on the west and east sides were opened up free on the first day of 2012 to the public to watch the flag rising ceremony. It is now available to group reservations for the opening day on the first day of each month.

Click for more details on 2022 Timetable for Flag-Raising Ceremony: January - June July - December



Tiananmen Square FAQs

The present square has an area of 440,000 square meters and has become a relaxing place for the common people to fly kites and walk. On a holiday, the whole square is covered with fresh flowers.

How to get to Tiananmen Square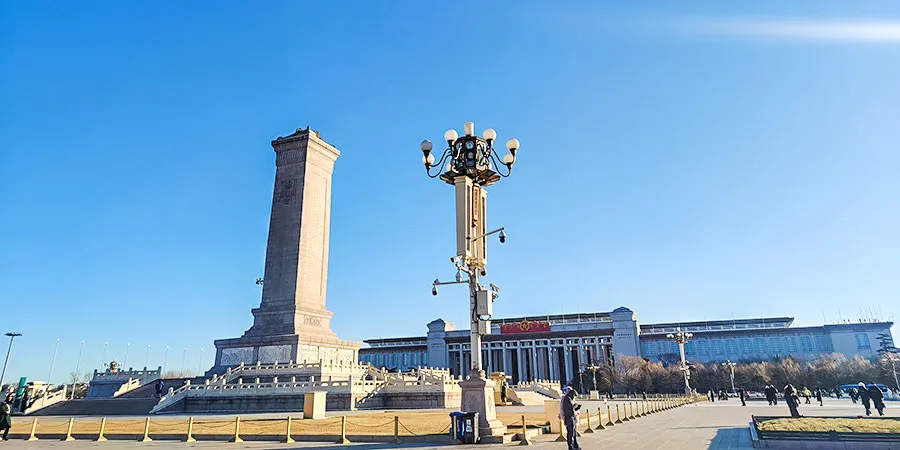 Monument to People's Heroes
By Subway:
1. Take Subway Line 1 to Tiananmen Dong or Tiananmen Xi Station.
2. Take Subway Line 2 and get off at Qianmen Station. Get out from Exit A or B and walk north.

By Bus:
1. Take bus 1, 5, 52, Sightseeing Bus Line 1, Sightseeing Bus Line 2, or Tourist Bus Line 2, and get off at Tiananmen Xi.
2. Take bus 1, 2, 52, 59, 82, 120, Sightseeing Bus Line 2 or Tourist Bus 2 to Tiananmen Dong.
3. Take bus 2, 5, 120, or Sightseeing Bus Line 2, and get off at Tiananmen Guangchang Dong (Tiananmen Square East).
4. Take bus 120 or Sightseeing Bus Line 2 to Tiananmen Guangchang Xi (Tiananmen Square West).
5. Take bus 8, 9 20, 44 Inner Ring, 44 Outer Ring, 622 to Qianmen East Station, then walk north to Tiananmen Square.

See more:
How to Get from Beijing South Railway Station to Forbidden City & Tiananmen Square
Beijing Bus / Subway Search
| | |
| --- | --- |
| Entrance Fee | Free for visiting the square; CNY 15 for ascending the Tiananmen Tower |
| Opening Hours | Flag-Raising Time - Flag-Lowering Time (Please refer to 2021 Timetable for Flag-Raising Ceremony for the schedule) |
| Recommended Time for a Visit | Half an hour |
Print
Nearby Attractions:
Forbidden City - After touring the attractions around this square, tourists often choose to visit the Forbidden City, which is just to the north of the Tiananmen Tower.
China Railway Museum
(Zheng Yang Gate Branch) - Located at the southeast side of this square, visitors can see abundant exhibitions about development history of China Railway.
Beijing Planning Exhibition Hall
- To the southeast of the square, demonstrating the development history and the future urban planning of the city.
Dongjiaomin Lane
and
Xijiaomin Lane
: Two Hutongs near the square.
Qianmen
: To the south of the square, it is a popular shopping area marked by an ancient gate tower.
Lao She Teahouse
: To the southwest of the square, it is a Beijing-style cultural teahouse.
Qianmen Food Streets
: To the south of the square, many restaurants and small booths offer various Chinese cuisines and street foods.
- Last modified on Mar. 03, 2022 -
Questions & Answers on Tiananmen Square
Asked by Janet Jaspe from USA | Sep. 12, 2019 13:43

Reply
Tiananmen Square will be open on Sep. 26, 2019?
Answers (1)
Answered by Cameron from USA | Sep. 16, 2019 00:43

0

0

Reply
Generally speaking, it will open. But I'm not sure whether there will be a temporary closure because October 1 is China's National Day and there will be grand military parade around this area.
Asked by Tayakee from THAILAND | Apr. 30, 2019 21:30

Reply
When does Tian'anmen Tower reopen? I'm planning to visit there end of May.
Answers (2)
Answered by Frank from USA | May. 05, 2019 01:51

0

0

Reply
It is said that it will be finished at the end of May but the reopen time is still uncertain.
Answered by Tayakee from THAILAND | May. 05, 2019 20:08

0

0

Reply
Thank you.
Asked by Kathy from UNITED STATES | Mar. 23, 2019 18:32

Reply
Benches in the Tian'anmen Square? Bicycles to get around?
Answers (3)
Answered by Jackson from DENMARK | Mar. 27, 2019 01:38

0

0

Reply
Yes, there are benches in the square. But it will be ok for you to ride bicycles to get around.
Answered by Kathy from USA | Mar. 28, 2019 16:29

0

0

Reply
Thanks sooo much! Another q I can't find answer to elsewhere... we are taking bus is great Wall. I can't do steps...can I get a helicopter tour from the wall? From beijing, they want $600. Ouch. Thanks again!!
Answered by Jackson | Mar. 28, 2019 18:54

0

0

Reply
Yes, you can take the helicopter to tour around the Great Wall. But as I know, the fare is appropriate if you are a solo traveler.
Asked by Roger from UNITED KINGDOM | Mar. 21, 2019 08:19

Reply
If the Tiananmen Tower is closed till end April can you get to the Forbidden City?
Thanks Roger
Answers (1)
Answered by Liam from UNITED KINGDOM | Mar. 21, 2019 19:42

0

0

Reply
Yes, you can still tour around Forbidden City.
Asked by Mandi from USA | Oct. 16, 2017 12:21

Reply
Tiananmen Sqaure open to public March 3 and 4, 2018?
We are visiting Beijing March 3 and 4, 2018. I've heard People's Congress will be meeting close to that time period as well. Will Tiananmen Square be open to the public to visit on March 3 and 4 of 2018?
Answers (1)
Answered by Donna from CANADA | Oct. 16, 2017 21:29

0

0

Reply
As I know, it won't be closed, but there may be some traffic control sometimes.