Tiananmen Tower (Gate of Heavenly Peace)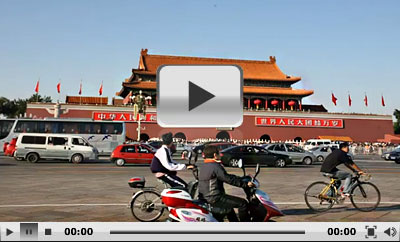 Standing at the juncture where the central axis of Beijing and Chang'an Avenue meet, on the northern edge of Tiananmen Square, Tian'anmen Tower (Gate of Heavenly Peace) is the symbol of modern China and featured on the emblem of the People's Republic of China. It served as the gatehouse of the Ming and Qing Dynasties.

The building is 66 meters long, 37 meters wide and 32 meters high. It is made up of a platform and a tower. The tower sits on the platform with five arch gateways. As the largest of the five, the center archway is used as the specific passage for Ming and Qing emperors while the side ones are smaller and employed as the passages for ministers and officials.

Above the archway hangs a large portrait of Maozedong, on the east and west sides of which are two giant placards, the left one reading: "Long Live the People's Republic of China" while the right one reading: "Long Live the Great Unity of the World's Peoples." In front of the Tiananmen Tower is golden water bridge, above which spans 7 white marble bridges with fine carvings. Same as the arch gateways, the central bridge as the widest one was reserved for the emperor. In front of the central arch gateway are two a pair of stone columns, called huabiao, each weighs 10 ton and reaches about 10m. The two columns are carved with dragon design and have an animal "Wangtianhou" on top as decoration. Outside the gate there are two lions and two more guarding the bridges. Lions are believed to protect humans from evil spirits in Chinese culture. On the south of Tiananmen extends the No. 1 Street of Beijing, Chang'an Street, further south of which is the largest square in the world, Tiananmen Square. The tower sitting on the platform is a structure with double-eaved roof and yellow-glazed tiles. It is made 9 bays wide and 5 bays deep, which indicates the supremacy of the emperor.
| | |
| --- | --- |
| Tiananmen Tower | Stone Lion in front of Tiananmen Tower |
On the two sides of the stone lions are reviewing stands. It was opened up to the public on the first day of 2012. Five thousand visitors were lucky to step up there and view the national flag rising that day. That was the first time the stands open up free to the public for since January 1, 1988. The reviewing stands now are available to group reservations for the opening day on the first day of each month. Only group reservations via local travel agencies are acceptable and should be submitted online before the 15th day of the previous month.

2022 Timetable for Flag-Raising Ceremony
Constructed during the reign of Ming Yongle in 1420, the tower has been destroyed and rebuilt several times. Originally, it was a three-storey timberwork in the form of paifang of the imperial building named Gate of Accepting Heavenly Mandate (Chengtian Gate). In 1457, it was damaged by lightning and was completely burnt down. Eight years later, Tian'anmen was rebuilt as a five-bay-wide and three-bay-deep gatehouse. In year 1644, the seventeenth year of the reign of Chongzhen (1627-1644), Gate of Accepting Heavenly Mandate suffered another blow in the war. It was burnt down by rebels led by Li Zicheng who attacked Beijing. In year 1661, the eighth year of the reign of Emperor Shunzhi (1644-1661) of the Qing Dynasty (1644-1911), the gate was given its present name when a massive remodeling lasting for six years completed. The Chinese name of the gate, Tiananmen, is made up of three Chinese characters "heaven", "peace" and "gate", hence the translated version "The Gate of Heavenly Peace". To be more accurate, this name is derived from the much longer phrase "receiving the mandate from heaven and stabilizing the dynasty". Later Tiananmen underwent two reconstruction works in year 1688 and in year 1952 separately. After standing there for more than 500 years, the gate had badly deteriorated and it was then rebuilt again in 1970. The external appearance of the gatehouse remained the same as it was in year 1651, although it is 83 centimeters higher from the original height 33.87m to 34.7m.
| | | |
| --- | --- | --- |
| Marble Cloud Pillar | | On the Tower |
Since November 1987, Tiananmen Tower began to be open to the public and common people can step on the tower and overlook Tiananmen Square just as the state leaders once did. It has always been a lure for tons of tourists from all over the world.
How to get to Tiananmen Tower
By Bus:
1. Take bus 1, 5, 52, Sightseeing Bus Line 1, Sightseeing Bus Line 2, or Tourist Bus Line 2, and get off at Tiananmen Xi.
2. Take bus 1, 2, 52, 59, 82, 120, Sightseeing Bus Line 2 or Tourist Bus 2 to and Tiananmen Dong.
3. Take bus 120 or Sightseeing Bus Line 2 to Tiananmen Guangchang Xi (Tiananmen Square West).
By Subway:
1.
Subway Line 1
: get off at Tiananmen East or Tiananmen West Station.
2.
Subway Line 2
: get off at Qianmen Station and walk north.
Beijing Bus / Subway Search
| | |
| --- | --- |
| Entrance Fee | CNY 15 |
| Opening Hours | 8:30 - 17:00; ticket selling stops at 16:30. |

Tips:
1. Tourists who go up to visit the tower are not allowed to take bags along. Bag Storage service is provided.
2. The renowned Forbidden City is reached through Tiananmen Gate.
Other Attractions around Tiananmen Square
- Last updated on Mar. 03, 2022 -
Questions & Answers on Tiananmen Tower (Gate of Heavenly Peace)
Asked by Sofie from GREECE | Oct. 01, 2018 02:51

Reply
Which is the entrance of Beijing Tiananmen square?
Can you enter from any point or is it a specific point?
Do you need tickets and where can you buy them? Is there a long queue so that is it necessary to pre-book tickets from this site?
Ticket is different from that you need for Forbidden City?
When you book ticket for every sightseeing from this site , it is for a specific date or you can choose after booking the date of visiting?
Thank you!
Answers (1)
Answered by Charles from USA | Oct. 08, 2018 19:37

0

0

Reply
There are many entrances that you can enter, such as History Museum, Great Hall of the People, the square, the gate of Quanjude, Coin Museum. Remember to take your passports because you need to go through the safety inspection before enter.

It is free in most scenic spots in this site. But if you want to ascend up to gate tower, the ticket fare is CNY15 per person and you don't need to buy the ticket in advance.

And you are advised to buy the tickets for Forbidden City in advance. You can book the tickets online but there is only Chinese official website. The tickets will be pre-sold 10 days in advance and you can choose one day you would like to visit when you book tickets.
Asked by Cara from AUSTRALIA | Aug. 19, 2018 15:27

Reply
Do you know if young children require a ticket to go up Tiananmen Tower with their parents?
My son is not quite 3 years old.
Answers (1)
Answered by Nina from FRANCE | Aug. 20, 2018 00:14

0

0

Reply
Yes, as I know, it may charge CNY 5 for a kid.
Asked by p akers from CANADA | Feb. 11, 2017 10:54

Reply
how much time should I allow to see Tian'anmen Tower (Gate of Heavenly Peace) ?
to see the forbidden city, do I have to pay the ticket price for Tian'anmen Tower (Gate of Heavenly Peace) as well as for the city? ie wondering if I can see them on 2 different days?
Answers (1)
Answered by Joe from CANADA | Feb. 12, 2017 01:37

0

0

Reply
Hello there. 20min is enough to visit the Tian'anmen Tower, to climb which CNY15 is charged. It is separately charged with Forbidden City, so you can surely visit in different days.
Asked by Bianca from PHILIPPINES | Jul. 07, 2012 13:15

Reply
Re reservation to go up Tiananmen Tower??
It says 'Reservation via a local travel angency is a necessary' So this means we can't do walk in?
Answers (1)
Answered by Nina | Jul. 07, 2012 21:30

1

2

Reply
yes, you cannot, unless you get a reservation via a travel agency.