Beijing Subway Line 2

Inner Ring:
Jishuitan - Dongzhimen - Fuxingmen - Jishuitan
Outer Ring:
Xizhimen - Fuxingmen - Dongzhimen - Xizhimen

(Identification Color: dark blue

)

Beijing subway line 2, also called the Ring Line, has a total length of 23.1km with 18 stops. It takes on a round-cornered rectangular shape on the subway map. The east, north, and west part of Subway Line 2 and Ring Road 2, while the south part runs through Changchunjie, Qian'men and Jianguomen. For the information of first train and last train of each stop, please check the following chart.
See subway maps for reference.
Timetable
Outer Ring:
Station
Outer Ring
First Train
Last Train
Total Line
To Jishuitan
Xizhimen
05:10
22:15
23:00
Jishuitan
05:35
22:56
---
Gulou Dajie
05:32
22:53
23:38
Andingmen
05:29
22:50
23:35
Yonghegong
05:28
22:49
23:34
Dongzhimen
05:24
22:45
23:30
Dongsishitiao
05:22
22:43
23:28
Chaoyangmen
05:20
22:41
23:26
Jianguomen
05:17
22:38
23:23
Beijing Railway Station
05:15
22:36
23:21
Chongwenmen
05:28
22:33
23:18
Qianmen
05:25
22:30
23:15
Hepingmen
05:23
22:28
23:13
Xuanwumen
05:21
22:26
23:11
Changchunjie
05:19
22:24
23:09
Fuxingmen
05:17
22:22
23:07
Fuchengmen
05:14
22:19
23:04
Chegongzhuang
05:12
22:17
23:02
Inner Ring:
Station
Inner Ring
First Train
Last Train
Total Line
To Xizhimen
Xizhimen
05:34
22:42
----
Jishuitan
05:04
21:56
22:45
Gulou Dajie
05:06
21:59
22:48
Andingmen
05:09
22:01
22:50
Yonghegong
05:11
22:03
22:52
Dongzhimen
05:14
22:07
22:56
Dongsishitiao
05:16
22:09
22:58
Chaoyangmen
05:18
22:11
23:00
Jianguomen
05:21
22:14
23:05
Beijing Railway Station
05:12
22:16
23:08
Chongwenmen
05:14
22:19
23:10
Qianmen
05:17
22:21
23:13
Hepingmen
05:19
22:24
23:14
Xuanwumen
05:21
22:25
23:16
Changchunjie
05:23
22:27
23:19
Fuxingmen
05:25
22:30
23:22
Fuchengmen
05:28
22:33
23:24
Chegongzhuang
05:30
22:35
22:45
Transfers

Xizhimen: Transfer with
Line 4
,
Line 13

Guloudajie: Transfer with
Line 8

Yonghegong: Transfer with
Line 5

Dongzhimen: Transfer with
Airport Express
, Line 13

Chaoyangmen and Chegongzhuang: Transfer with
Line 6

Jianguomen and Fuxingmen: Transfer with
Line 1

Chongwenmen: Transfer with
Line 5

Xuanwumen: Transfer with
Line 4
Surroundings and Bus Routes near All Stations
('

' Subway Transfer Stations)



Xizhimen
Surroundings: North Railway Station, Emperor's Boat Pier for Imperial Waterway Cruise
Buses Exchangeable:
A: northwest exit: 360 Branch, 902, 904, 334, 375, 392, 375 Branch, Night205, Yuntong 106, Yuntong 105
B: northeast exit: 7, 105, 111, 808, 44, 800, 820, 618, 27, 347, Yun104, Night 206, 706
C: southeast exit: 25, 375, 743, 375 Branch, 748, 749, 732 Branch, 932, 962, 816, 603 Branch
D: southwest exit: 382, 902, 933, Yun106, 26, 375, 743, 392, 375 Branch

Jishuitan
Surroundings: Xubeihong Memorial Hall, Houhai, Former Residence of Soong Ching Ling
Buses Exchangeable:
A: northwest exit: 315, 344, 345, 345 Branch, 914 Branch, 5, 27, 949, 409, 919
B: southeast exit: 55, 27, 815, Night 206
C: southwest exit: 27, 815, 22, 47, 38, 409, 709, 626, 726, 826, 810, 806, 826 Branch

Gulou Dajie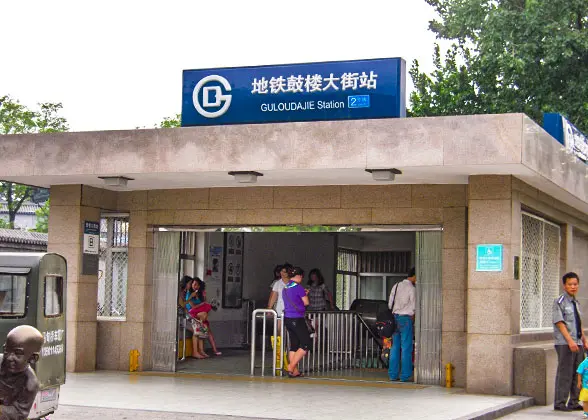 Gulou Dajie Subway Station
Surroundings: North Binhe Park,
Bell and Drum Towers
, Former Residence of Mao Zedong
Buses Exchangeable:
A: northeast exit: 380, 406, 409, 734, 819, 925
B: southwest exit: 44, 800, 820, 27, 60, 909, Night 206

Andingmen
Surroundings: Guozijian, Temple of Confucius, Capital Library, Ditan Park (Altar of Earth)
Buses Exchangeable:
A: northwest exit: 44, 820, 800
B: northeast exit: 358, 119, 18, 104, 108, 113, 850, 803

Yonghegong
Surroundings: Yonghe Temple (Yonghegong), Guozijian, Temple of Confucius, Ditan Park (Altar of Earth)
Buses Exchangeable:
A: northwest exit: 909, 606, 62, 18, Special Line 2, 820, 800, 44
B: southeast exit: 44, 800, 820
C: southwest exit: 909, Special Line 2, 62, 18, 13, 116, 807

Dongzhimen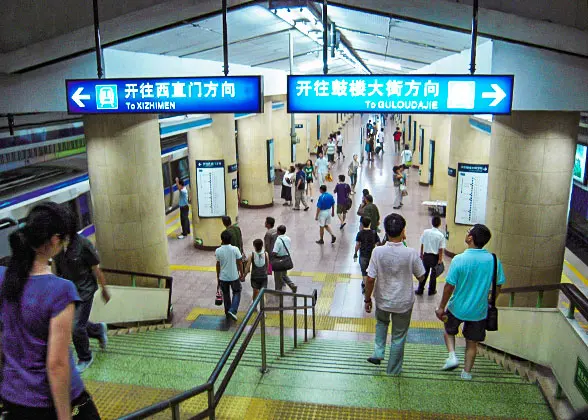 Surroundings: Guijie Street, Donghuan Square, Dongzhimen Long-Distance Bus Station
Buses Exchangeable:
A: northwest exit: 107, 106, 815, 24, 117
B: northeast exit: 614, 916, 966, 623, Night206, 909, 413, 117, 815, 107, 106, 24, 418, 123
C: southeast exit: 815, 909, 117, 24, 416, 413
D: southwest exit: 815, 24, 107, 106, 117

Dongsishitiao
Surroundings: Workers' Stadium, National Ballet Theater, Taikoo Li Sanlitun
Buses Exchangeable:
A: northwest exit: 113, 115, 118, 701, 734, 823
B: northeast exit: 113, 119, 118, 416, 701, 823
C: southeast exit: 113,115, 118, 412, 734, 44, 820, 800, Special Line 2
D: southwest exit: 113, 115, 118, 701, 734, 823, 44, 820, 800, Special Line 2

Chaoyangmen
Surroundings: Zhihua Temple, Ministry of Foreign Affairs, Ministry of Culture, Department of Justice
Buses Exchangeable
A: northeast exit: 110, 101, 750, 109, 813, 112, 420, 202, 846, 109, 810
B: southwest exit: 101, 109, 110, 112, 420, 810, 813, 84644, 800, 820, Special line2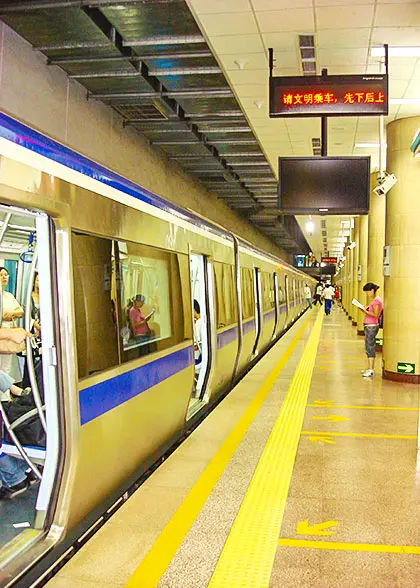 Jianguomen
Surroundings: Ancient Observatory, Chang'an Grand Theater, Ritan Park (Altar of Sun), Beijing International Hotel
Buses Exchangeable:
A: northwest exit: 907, 907 Branch1, 4, 37, 52, 103, 122, 703, 802, 43, 908, Special Line 1
B: northeast exit: 1, 4, 43, 120, 802
C: southwest exit: 103, 122, 703, 802, 43, 907, 907 Branch1, 52, 4, 37, 908, Special Line 1

Railway Station
Surroundings: Beijing Railway Station, Howard Johnson Paragon Hotel, General Customs Administration, Ministry of Communications, National Tourism Administration
Buses Exchangeable
A: northwest exit: 808, 703, 821, Night208, 103, 108, 24
B: northeast exit: 848, 9, 729, 907, 907 Branch, 713, 20, 703, 908, 908 Branch, 403, 721, 938, 859, 420, 821, 938, 744, 1, 4, 37, 120, 728
C: southeast exit: 10, 7, Night204, 39 Branch, 41 Branch, Night209, 52, 20, 63, 54, 713, Night203, 957
D: southwest exit: 104, 104 Fast

Chongwenmen
Surroundings: New World Department Store, Tongren Hospital, Beijing Hospital, Dongdan Park, Ming Dynasty City Wall Relics Park
Buses Exchangeable:
A: northwest exit: 103, 104, 3, 8, 54, 60 (A1), 211, 808, 703, Special Line 2, 848, 821, 7, Night209, 9, 48, 729, 744 (A2, B2)
B: northeast exit: 41, 812, 807, 813, 106, 110, 116 (B1)
C: southeast exit: 108, 111, 39, 39 Branch, 44, 43, 820
D: southwest exit: 103, 104 Fast, 808, 3, 211, Special Line 2, 808, 821, 703, Night209, 848, 48, 7, 744, 9, 729

Qianmen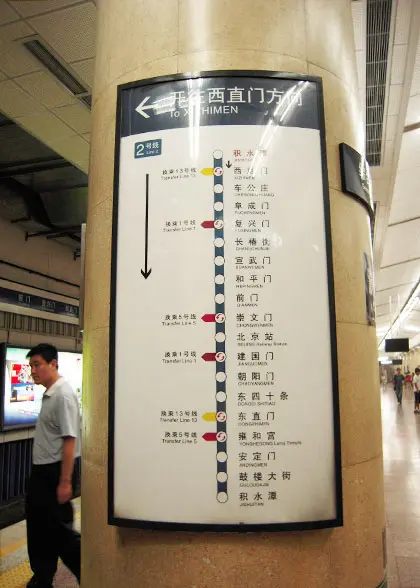 Route of Line 2
Surroundings:
Qianmen
(Zhengyangmen, Zhengyang Gate),
Qianmen Street
,
Qianmen Food Streets
,
Tiananmen Square
,
Tiananmen Tower
,
Great Hall of the People
,
Memorial Hall of Chairman Mao
,
Monument to the People's Heroes
,
National Museum of China
,
Dashilar Street
,
Lao She Teahouse
, Qianmen Quanjude Roast Dusk Restaurant, Tourism Distribution Center, Guanghe Theater, Diaoyutai Qianmen Hotel, Ministry of Public Security
Buses Exchangeable:
A: northeast exit: 2, 5, 20, 22, 120, 9, 44, 209, 848, 110, 808, Special Line 2, 48, 703, 729, 744
B: southeast exit: 859, 803, 726, 819, 826 Branch, Special Line 4
C: southwest exit: 7, 44, 48, 703, 309 Branch, 821, 21, 808, Te2, 820, 53, Night203, 20, 9, 22, 66, 859, 729, 742

Hepingmen
Surroundings: Quanjude Roast Duck (Hepingmen Branch), Hepingmen Department Store, China Bookstore, Emergency Medical Center, Liulichang Culture Street
Buses Exchangeable:
A: northwest exit: 7, 14 (A2, B2)
B: northeast exit: 7, 102, 703, 820, 821, 826, 337, 808, 848, Special Line 7 (B1)
C: southeast exit: 703, 102, 826, 820, 808, 821, Special Line 7, 337, Special Line 2, 848 (C1)
D: southwest exit: 15, 25 (D2, C2)

Xuanwumen
Surroundings: South Cathedral, Chongguang Department Store, Xinhua News Agency
Buses Exchangeable:
A1 exit: 102, 105, 109, 603 Branch, 47, Night24
A2 exit: 7, 48, Night209, 703, Special Line 2
B1 exit: 15, 44, Special Line 2, 212, 826, 820, Special Line 7, Special Line 4, 848
B2 exit: 8, 12, 47, You6, You7, You8, You2 Branch
C1 exit: 15, 44, 212, 820, 821, 826, 848, Special Line 2, Special Line 4, Special Line 7
C2 exit: 102, 105, 109, 603 Branch
D1 exit: 25, 48, 703, 922

Changchunjie
Surroundings: Xuanwu Park, Ming Dynasty East Wicket Wall Relic Park
Buses Exchangeable:
A1 exit: 25, 44, 47, 48, 309, 616, 922, 964, Special Line 2, Special Line 4, Special Line 7
B1 exit: 48, 309, 337, 703
B2 exit: 7, 10
C1 exit: 25, 48, 337, 848, 309 Branch
D1 exit: 25, 44, 47, 48, 309 Branch, 820, 703, 922, Special Line 2, Special Line 4, Special Line 7, 821, 848
D2 exit: 10

Fuxingmen
Surroundings: Central Conservatory of Music, Yuetan Park (Temple of Moon), Parkson Shopping Mall
Buses Exchangeable:
A exit: 44, 387, 702, 820, 845, Special Line 4
B exit: Night205, 728, 337, 802, Special Line 1, 15, 25, 4, 52, 37, 1
C exit: 15, 25, 4, 52, 37, 1, Night206, 728, 337, Special Line 1, 802

Fuchengmen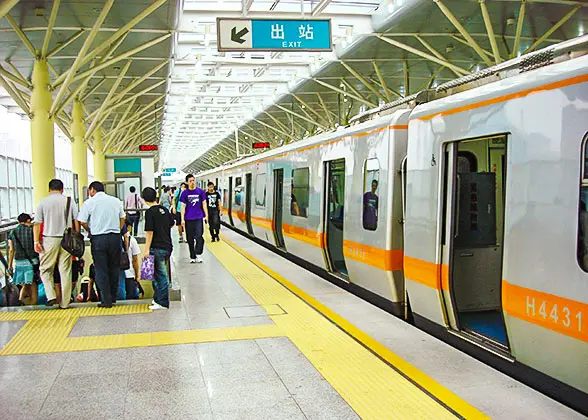 Surroundings: Luxun Museum, Miaoying Temple, Yuetan Park (Temple of Moon), Bank of China
Buses Exchangeable:
A exit: 121, 714, 603, 846, 850, 930, 56, 19
B exit: 121, 714, 423, 722, 13, 409, 101, 102, 103, 812, 814, 823, 709, 850, 603
C exit: 13, 409, 603, 850, 709, 42, 603 Branch, Night202, Night211
D exit: 21, 423, 732 Branch, 743, 939, 962, 335, 336, 921

Chegongzhuang
Surroundings: Guangyuan Park, China Children's Activity Center, Youth Palace, Renmin Hospital, Opera Theatre of Beijing
Buses Exchangeable:
A exit: 26, 107, 118, 701, 748, 812, 14
B exit: 107, 118, 701, 28, 375, 375 Branch, 392, 722, 748, 749, 902
-
- Last modified on Sep. 14, 2018 -