Yunnan Travel Guide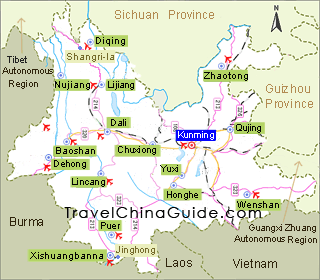 Click to enlarge the above map
Yunnan Facts:
Chinese Name: 云南 (yún nán)
Abbreviation: Dian
Administration Type: Province
Capital: Kunming
Location: 21°8' to 29°16' N, 97°31' to 106°11' E
Altitude: 6,562 feet (average); 22,113 feet (highest); 251 feet (lowest)
Climate: low latitude monsoon climate of mountain-plateau
Area: 394,000km² (152,124 mi²)
Population (2010): 45,966,000

Area Code & Zip Code

Weather

Best Time to Visit

People

Pictures

Map

Videos
Cities in Yunnan
Famous Attractions
Yunnan Introduction
Yunnan, which refers to 'the place south of the colorful clouds', or 'the place south of Yunling (cloudy ridge) Mountain', is the most southwest province of China. Externally, it borders Vietnam, Laos and Burma; internally, it is neighbor to Guizhou, Guangxi, Chongqing, Sichuan and Tibet. It is a land of various ethnic groups, landscapes, natural scenery, creatures, etc where one could taste the most aspects of our planet.



Geography
The topography changes a lot on this land due to the sharply decreasing altitude. It can roughly be divided into west and east, each with its own very different morphological regions.

In the west, the high mountains and valleys are closely spaced, forming a steep, unusual, and dangerous landscape. The famous Three Parallel Rivers is located here. In the east is the plateau area, which mainly consists of undulating low mountains and round hills. Among the plateaus and mountains are scattered many fault basins, which are called 'Bazi' by the locals. The 'Bazi' are relatively flat with thick soil deposits and flowing rivers, hence fertile and helpful in developing the farming economy.

Kunming, the capital city of Yunnan, is located in one of these 'Bazi'. What's more, the diverse topographies nurse the greatest number of plant species (more than 18,000) as well as an incredible array of animals, including the Asian elephant and the protected golden monkey, making this land the real 'Plant Kingdom' and 'Animal Kingdom'. The province also boasts beautiful and spectacular natural scenery with the changing topographies, like Jade Dragon Snow Mountain, Tiger Leaping Gorge, Meili Snow Mountain,and the Stone Forest as well as many more.



Ethnic Groups
Yunnan has the most ethnic minorities in China, which make up about 1/3 of the province's population. Of China's 55 ethnic minorities, the province is home to 51 and 25 of them exceed populations of 5,000.

These ethnic minorities live together over vast areas in the region while some live in individual concentrated communities in small areas. The residences of the ethnic minorities are various and characteristic; their clothes are colorful and distinctive; some of them have their own languages and writings. Last, but not least, they celebrate varied and colorful festivals. The most famous ones include the Torch Festival of Yi Nationality, the March Fair of Bai Nationality, the Water-splashing Festival of Dai Nationality, the Zongge Festival of Jingpo Nationality and the Knife Pole Festival of Lisu Nationality, etc.



Tips
Visitors are advised to always carry changes of clothing due to the large variations in temperature between day and night. The climate is relatively dry, so drinking more water, protecting oneself from strong UV radiation at high altitude, and protecting oneself from altitude sickness are all recommended. To lessen the effects of altitude sickness, avoid strenuous exercise and have plenty of rest.

See also:
Tour Operators in Yunnan
- Last updated on Jun. 26, 2023 by Brenda Lian -
Questions & Answers on Yunnan Travel
Asked by Paul from SWITZERLAND | Jan. 02, 2020 01:33

Reply
I am planning to spend my spring festival in Yunnan visiting at least Kumning and Dali.
I also want to do some scenery Hikings like the Tiger leaping gorge and try to escape the masses whilst still enjoying a nice scenery experience. What can I expect? Will it be full with Chinese tourists as most places during the festival or do I have a Chance of getting away from the masses.
And if not, what place would you recommend to visit during that time.
Thanks in advance
Answers (1)
Answered by Theo from SINGAPORE | Jan. 05, 2020 23:29

0

0

Reply
Undoubtedly, there will have large amount of tourists during spring festival. If possible, you are suggested to change the travel date and avoid touring around during public holidays.
You can go to natural attraction like Erhai Lake to enjoy your holiday.
Asked by Yong W K from MALAYSIA | Oct. 22, 2019 22:15

Reply
Is early December an ideal time to visit Yunnan & Lijiang? What i m concern is raining vy often?
Answers (1)
Answered by Blake from NEW ZEALAND | Oct. 24, 2019 02:43

0

0

Reply
Don't worry. It will be ok for you to tour around Yunnan and Lijiang at that time. It won't be cold. Based on the previous weather statistics, there won't have many rainy days. If yes, the rainy day won't influence the sightseeing a lot. Have a nice journey!
Asked by C. J. from USA | Jun. 06, 2019 07:45

Reply
We are planning to go to Yunnan for a week in October.
We love photography and like more scenic places and would like to avoid crowds if possible. Will Lijiang, rice terraces and Dongchuan be good to visit?
Answers (1)
Answered by Sherly from MALAYSIA | Jun. 09, 2019 23:06

0

0

Reply
These places are all popular and breathtaking tourism attractions. But you must avoid visiting them during Oct 1-7 because it is in China's National Day and there are tons of peopel going out to travel.
Asked by karen from MALAYSIA | May. 21, 2019 16:47

Reply
I will visit Yunnan on Nov. May I know how much needed to hire a private car per day?
Answers (1)
Answered by Nancy from AUSTRALIA | May. 21, 2019 19:44

0

0

Reply
The fare ranges from CNY500-800 due to different cars.