Diqing Travel Guide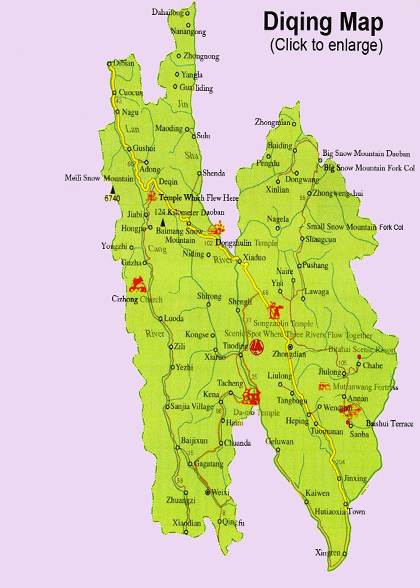 Diqing Map (Click to enlarge it)
Diqing Facts
Chinese Name: 迪庆 (dí qìng)
Population: 400,300
Area: 23,870 square kilometers (9,216 square miles)
Location: in the northwest of Yunnan, southwest China
Administrative Division: 1 county-level city (Shangri-La); 1 county (Deqin); 1 autonomous county (Weixi Lisu Autonomous County)
Area Code: 0887
Zip Code: 6744000
GDP (2019): CNY 25.12 billion (USD 3.64 billion)
Nationalities: Zang, Lisu, Han, Naxi, Bai
Famous for Shangri-La – A Fairyland in Lost Horizon
Situated in the northwest of Yunnan Province, the heart of the Hengduan Mountains, Diqing Tibetan Autonomous Prefecture lies at the juncture of Yunnan, Sichuan and Tibet, and in the hinterland of the Three Parallel Rivers of the Yunnan Protected Area. It provides the only pass from Yunnan to Tibet. Diqing means "a place of good luck" in the Tibetan language. It is also a place of eternal peace and tranquility described by James Hilton, a famous British writer, in his novel Lost Horizon.

In recent years, numerous visitors flock into Shangri-Lai to see what this fairyland hidden amid the snow mountains looks like. But the beauty of Diqing is more than that. The surging rivers, lofty snow mountains, stretching glaciers, crystal lakes, vast grasslands and deep gorges form impressive natural landscapes. Scattered monasteries offer visitors a glimpse into Tibetan Buddhism and Tibetan culture. Besides, the Yubeng Village is a great destination for trekking enthusiasts.
Attractions - Things to Do

Shangri-La: It is depicted as the Eden in dreams, a fascinating land out of this world. Lofty and continuous snow-covered mountains, endless grasslands, majestic canyons, azure lakes and very quaint villages promote the reputation of an eternally pure and tranquil land to this ideal home of dream.



Meili Snow Mountain: Reputed to be the sacred mountain by the Tibetans, it is the most spectacular snow-covered mountain of Yunnan Province. The Mingyong Glacier flowing from Kawagebo Peak is also a grand attraction of the mountain.



Yubeng Village: It is a Tibetan village at the foot of Meili Snow Mountain, and it is the wonderful place to hike.



Mingyong Glacier: It is located at Deqin County of Diqing Tibetan Autonomous Prefecture. It flows from the top of Kawagebo Peak, the highest peak of the Meili Snow Mountain which is considered a sacred mountain by Tibetans. The 5-kilometer (about 3 miles) long glacier is one of the lowest latitude glaciers in the world. In winter, the ice tongue creeps down the snow-covered mountaintop from an elevation of 5,500 meters (18,045 feet) and stretches to the bank of the Lancang River. The glacier, when seen at the Langcang River, is a tremendous spectacle, as if a silvered dragon is descending from heaven. It is very difficult for tourists to climb the mountain because of its steep slopes. It is better to ride a mule to admire the glacier. However, Tibetans say that pilgrims must climb the snow mountain on foot with heart and soul. A Prince Temple stands on the mountainside where people can get a good view of the glacier. To the left of the temple, a plank road winds high up into the cliff, leading visitors to a panoramic view the beautiful scenery of the Mingyong Glacier. Many trees overhang the glacier, and the valley is covered with evergreens.



Notes for Mingyong Glacier:
1. A professional tour guide is required for the glacier climbing in case of any danger;
2. Horse ride can be only rented at the entrance of the scenic area and Prince Temple.
Admission Fee

CNY230: Combo ticket for Meili Snow Mountain covering Jinsha River Grand Bay, Misty Summit, Temple Flying Afar, Mingyong Glacier and Yubeng Village.
Tip:No separate ticket for the glacier is available!

Horse Ride Fee for Reference
CNY150 for single journey to Lotus Temple and CNY180 for round trip
CNY130 for single journey to Prince Temple and CNY150 for round trip
(If the owners of the horses charge high, bargaining is necessary!)
Opening Hours
The whole day
Recommended Traveling Time
5-6 hours
Accommodation
1. Stay at local Tibetan farmers' houses or hostels in Mingyong Village;
2. Mingyong Villa next to Mingyong Glacier is a good choice for accommodation.
Transportation
1. Take a bus in Deqin Coach Station around 15:00-15:30 to Mingyong Village in around an hour and the bus fare is CNY13. At 08:00 every morning, there is a bus leaving from Yongming Village back to Deqin.
2. Rent a car at Deqin to head for the destination.
How to Get to Diqing
Road transportation is the most important mode of transport to Diqing. Shangri-La, the seat of the Diqing government, is about 200 kilometers (124 miles) from Lijiang and 300 kilometers (186 miles) from Dali. Diqing Shangri-La Airport is 5.5 kilometers (3.4 miles) from Shangri-La county, operating flights to/from Beijing, Chengdu, Chongqing, Guangzhou, Shanghai, Kunming and Lhasa. Flights from other main cities usually transit through Kunming.
Weather
-
Enjoying a typical plateau climate, it may snow in August. The prefecture is encompassed by the Hengduan Mountains, and the terrain varies greatly, so the temperature difference of a day is great, too. Sometimes visitors can even experience all the four seasons in one day. July to September is the rainy season. Visitors usually choose to visit Diqing in summer or autumn for the moderate temperature.
Diqing Travel Tips:

History: Six or seven thousand years ago, there were humans living in this remote land. The ancestors of Tubo (ancient name for Tibetans) created a colorful aboriginal culture here. In Qin Dynasty (221BC-206BC), the orbit of the central government began to extend here.



Physical Features: Diqing stands on the southward expansion of the Qinghai-Tibet Plateau with an average altitude of 3,380 meters (11,089 feet). Nushan Mountains, Yunling Mountains and Gongga Mountain (Minya Konka) zigzag paralleling to each other. The Jinsha River and Lancang River flow through the prefecture from north to south. Meadows are also the main landforms of this area.



Local Highlights: Tibetans make up almost thirty-four percent of the city's population. Traditional Tibetan celebrations and festivals, such as the horse racing festival and the Gedong (Lattice Winter) Festival, are certain to be the highlights.



Special Local Products:herbal medicine: cordyceps, snow lotus, Tibetan saffron; pine mushroom; Tibetan ornaments
- Last updated on Apr. 06, 2021 -
Questions & Answers on Diqing Travel
Asked by Pat from THAILAND | Jun. 07, 2017 21:14

Reply
Is there any long distance bus from diqin to shangrila and how can i find bus timetable?
Answers (1)
Answered by Richard from UK | Jun. 12, 2017 02:10

0

0

Reply
Do you want to find the shuttle bus between Deqin and Shangri-la? Yes, there is the shuttle bus operating between two places. The duration is around 8 hours. However, I'm quite sorry that I didn't find the exact schedule of this bus. You can consult the bus station for the information in detail by the service line 0887-8413322.
Asked by EK from THAILAND | Nov. 06, 2016 22:47

Reply
Deqin to Diqing Airport
Is it possible to leave Deqin in the morning (by chartered car) and catch the flight at the airport to Kunming in the same day?

The flight time at the airport is 13:55. Will it be too risky to do that?
Answers (1)
Answered by Ali from GERMANY | Nov. 07, 2016 03:04

0

0

Reply
The distance is about 112 miles (180km). It takes around 3 hours by car. In general, you should reach the airport at least two hours prior to departure. If you should set off early in the morning, you can catch the flight. Don't worry! :)
Asked by ARTURO_ESTEBANEZ | Sep. 24, 2016 14:02

Reply
I plan to go to Xidang and Yuben for about 8-10 days in early November 2016.
I have a couple of questions.
1) Would be snowing? Is it possible to hike/trek in early November. Without putting my life in danger or get lost in a snow-covered path?

2) I need to keep myself in contact back with my countries during those 8-10 days. Is there any internet connection (wifi or otherwise) in Xidang or Yubeng?

Thanks
Answers (3)
Answered by Vivian from USA | Sep. 26, 2016 03:56

3

0

Reply
1). Previous weather statistics show little possiblity of snow then. It may be cloudy and rain lightly sometimes. The temperature may range from 25F to 55F. You need to prepare down jackets, sweaters, warm pants, boots and raincoats. You can trek then. Don't worry!

2). Well, you can connect your phone to the internet by using China Mobile sim card with data. You can buy one at any branch of China Mobile before going there. Good luck! :)
Answered by arturo from SPAIN | Sep. 26, 2016 15:25

0

0

Reply
Hello Vivian

Thanks for your reply. Any chance to catch Wifi in Yubeng?

Thanks
Arturo
Answered by Vivian | Sep. 27, 2016 00:51

1

0

Reply
Yes! You can connect to wifi at most hostels. Don't worry! :)
Asked by ARTURO_ESTEBANEZ | Sep. 19, 2016 01:26

Reply
Any cheap hostel near the Dongzhulin Monastery?
I would like to visit the Dongzhulin Monastery that lies in between Shangri-la and Deqin. In website I found two hotels but there are very expensive for my budget (200-300 euros per night). Any suggestion?

Thanks and best regards.
Arturo
Answers (1)
Answered by Ali from GER | Sep. 20, 2016 02:14

1

0

Reply
Hi, dear! There are only a few hotels near the monastery, and they are quite expensive. You are advised to stay at Benzilan Town. There are many choices for you. Most hotels cost around CNY 200 per night.
Have a try! Good luck!