Zhaotong Travel Guide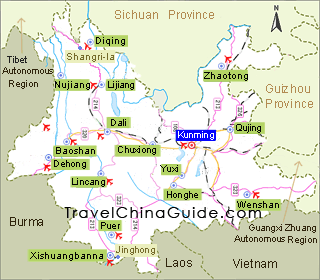 Zhaotong Facts
Chinese Name: 昭通市 (zhāo tōng shì)
Population: 6,250,000
Area: 23,021 square kilometers (8,888 square miles)
Location: in the northeast of Yunnan, southwest China
Administrative Division: 1 district (Zhaoyang); 1 county-level city (Shuifu); 9 counties (Ludian, Qiaojia, Yanjin, Daguan, Yongshan, Suijiang, Zhenxiong, Yiliang, Weixin)
Area Code: 0870
Zip Code: 657000
GDP (2019): CNY 119.42 billion (USD 17.31 billion)
Nationalities: Han, Hui, Yao, Yi
Gateway to the Heart of Yunnan Province
Zhaotong is situated in the northeast of Yunnan Province, sharing boundaries with Guizhou and Sichuan provinces. The city plays an important role in the economy and culture as the northern gate of the province. In history, the mainstream culture from central China was spread to Yunnan through Zhaotong, making it one of the three birthplaces of Yunnan culture.

During the period of the Republic of China, Zhaotong once became the second largest city of Yunnan Province. However, the economic and social development of Zhaotong slows down in modern times. For most tourists, it cannot deny that Zhaotong is a wonderful place to explore nature as the city is dotted by canyons, waterfalls, virgin forests, karst caves and rivers. Of course, no one will refuse to take a comfortable bath in the Western Grand Canyon Hot Spring.
Attractions - Things to Do

Western Grand Canyon Hot Spring: It is located 4 kilometers (2.5 miles) from Shuifu County of Yunan Province and about 32 kilometers (20 miles) from Yibin city of Sichuan Province. It is on the bank of the Jinsha River, only an hour's drive from Yibin of Sichuan. This picturesque ecological garden has many theme pools, such as vinegar hot spring, wine hot spring and herb hot spring that have different characteristics.
Tips on Hot Spring for your reference



Huanglianhe Scenic Area: It is located in Daguan County has a grand waterfall group hidden in the depths of the mountain valleys. Water curtains, caves and many other spectacles make this scenic area an attractive spot in Zhaotong.
How to Get to Zhaotong
1. Zhaotong Airport lies in the east of the city proper on the south bank of the Jinsha River, 4 kilometers (2.5 miles) away from downtown Zhaotong. Flight destinations include Beijing, Shanghai, Chengdu, Hangzhou, Chongqing, and Kunming are included. City bus travels between airport and downtown Zhaotong.


2. Zhaotong's long-distance bus station lies at 144, Longquan Lu, Zhaoyang District. It costs six hours from the station to get to the capital city of Yunnan, Kunming.

3. Zhaotong has a passenger port in Shuifu County, operating ships directly to Chongqing, Shanghai and Wuhan.
Weather
-
The city has a plateau monsoon climate. Due to the terrain, Zhaotong is sunny and warmer in the south region. The climate is capricious, ranging from the south's subtropical to the north's temperate. The temperature varies greatly in accordance with time and place. This is an all-year-round tourist destination due to favorable weather and no distinct seasons.
Zhaotong Travel Tips

History: Fossils discovered in the mountain caves indicate that human settlers began to move here one hundred thousand years ago, and many Neolithic relics have been discovered in the city. Before the Qin Dynasty (221BC-206BC) established Shu Shire here, it successively belonged to Liangzhou, and the Shu Kingdom. The Qin Court carved out the 'Wuchi Dao' here to connect the economic and cultural communication of Yunnan with Central China.



Physical Features: Located at the juncture of the Yunling Plateau and the Sichuan Basin, Zhaotong exhibits a typical mountainous landform, characterized by lofty mountains, deep valleys and great altitude differences

Local Highlights: Like many other cities in Yunnan, Zhaotong has a great number of ethnic minorities. Among the 520 thousand minority people, Yi and Miao ethnic minorities dominate. In addition to the traditional festival of Yi and Miao, unique local operas, music and dances are all common entertainments in the local people's daily life.

Special Local Products: apple, konjak, Kuding Tea (Bitter Tea)
- Last updated on Sep. 17, 2020 -