Xishuangbanna Travel Guide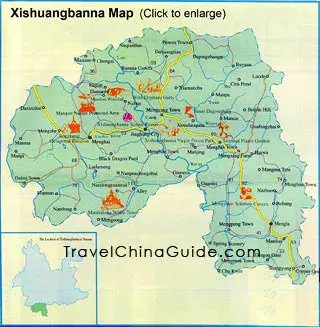 Xishuangbanna Map (Click to enlarge it)
Xishuangbanna Facts:
Full Name: Xishuangbanna Dai Autonomous Prefecture
Chinese Name: 西双版纳傣族自治州 (xī shuāng bǎn nà dǎi zú zì zhì zhōu)
Location: Xishuangbanna Dai Autonomous Prefecture is located at the south end of Yunnan Province. It shares a boundary of 966 kilometers (619 miles) with Burma and Laos in the east, south and west, being a vital pass from China to indo-China Peninsular by land.
Population
: 990,000
Area
: 19,700 square kilometers (7,606 square miles)
Nationalities
:
Dai
, Han
Administrative Division
: 2 counties (Menghai, Mengla); 1 county-level cities (
Jinghong
)
Seat of the City Government
: No.6, Jinghong Road (East), Jinghong City
Useful Telephone Numbers:
Tourist Complaints: 0691-96927, 2122323
Weather Forecast: 121
Zip Code Inquiry: 184
Bank of China: No.23, Minhang Road, Jinghong City
China Post: No.2, Jinghong Road (West), Jinghong City
Attractions - Things to Do
As the only tropical rain forest nature reserve in China, the area has surprising biological diversity in the virgin forest, particularly because it is so far away from central China and considered isolated. In religion, it is greatly influenced by Hinayana Buddhism of Southeast Asia. The enticing white masonry structure, Manfeilong Buddhist Pagoda, is the quintessence of Hinayana Buddhist architecture. The main pagoda is comprised of eight small pagodas, like a cluster of bamboo shoots.



Single-Tree Forest: A tree does not make a forest. But a nine hundred year old banyan in Daluo Town here is exception. It covers an area of 120 square meters (143.6 square yards) with over thirty stand roots. This 70-meter-high (230-feet-tall) banyan is an attractive and marvelous forest in itself.
Wild Elephant Valley: Chinese wild elephants are only found in the virgin forest of the Wild Elephant Valley, located in the Mengyang Nature Reserve, 45 kilometers (28 miles) from Jinghong. There are hostels in the elephant park. Cabins in trees on riverbank are the most perfect localities to admire the elephants.



Manfeilong Buddhist Pagoda: It is a Hinayana Buddhist architecture complex consisted of nine masonry pagodas of all sizes. It is also known as the White Pagoda due to its pure white structure. During the Water-Sprinkling Festival, crowds of the Dai people in Manfeilong Village will gather in front of the pagoda to celebrate the New Year of the Dai Calendar.



Olive Dam: It is the lowest and hottest place in this area. However, its torrid climate brings rich tropical fruits and products. It consists of two stockaded villages, each of which is highlighted by an eyeful of typical Burma styled Buddhist pagodas and bamboo building of the Dai minority.



Other Scenic Spots: Mandian Waterfall, Xishuangbanna Tropical plant Research Insititute, Nationality Culture Park, Old Town of Yiwu
How to Get to Xishuangbanna
1. Xishuangbanna Airport is located in Gasa Town, Jinghong City, Xishuangbanna Dai Autonomous Prefecture, Yunnan Province, Xishuangbanna Gasa International Airport is about 5.5 kilometers (about 3.5 miles) from downtown Jinghong. Airport shuttle bus and city bus for passengers travel between airport and Jinghong City.

2. There are a total of three public bus lines in Jinghong city proper. All the scenic spots and passenger transport stations inside Jinghong City can be reached by bus. Recently, renting a bicycle while visiting a city has gained popularity. As Jinghong city is not very big, seeing the city by bicycle would be pleasant and convenient.
Weather
-
The weather in this region is a combination of continental and oceanic climates with an annual average temperature of 18-22℃ (64.4-71.6℉). The coldest November is similar to the middle of summer in the lower reaches of the Yangtze River; thereby, Xishuangbanna is reputed as a happy land without winter. Generally, there are only two seasons. May to October is the rainy season and November to April is the dry season. Although it is an all-year-round tourist destination, the weather is most favourable from November to April. However since the roads conditions are excellent, this place is also a popular destination during the rainy season.
Xishuangbanna Travel Tips

History: To the Dai people, Xishuangbanna was known as 'Mengbanaxi' in ancient times, a name that means a miraculous and nice utopia. It had been a settlement where 13 ethnic minorities have lived in tight-knit communities for generations. The Jino ethnic minority is peculiar to the prefecture.


Physical Features: Located in the south extension of the Hengduan Mountains, over ninety-five percent of the area's territory is occupied by mountains and hills. Most of the prefecture is below the altitude of 1,500 meters (4921 feet). Jinghong City is only 550 meters (1804 feet) above the sea level. The Lancang River runs through the prefecture and when it passes through Laos, Thailand, Cambodia and Vietnam, it is known as the Mekong River.

Special Local Products: tea, coffee, tropical fruit, herbs, Yunnan tobacco

Local Highlights: The Water-sprinkling Festival is New Year's Day for the Dai, and is the most important and grandest festival of the year. It lasts three days from 13th to 15th, April (the sixth month of the Dai Calendar). Dai people dip branches into the river and sprinkle the water onto others as a way to express their best wishes. In addition, the festivals of the Hani, Jino and Yao ethnic minorities are also delightful part of local ethnic customs.
You May Like
- Last modified on Apr. 27, 2020 -
Questions & Answers on Xishuangbanna Travel
Asked by Marco from GERMANY | Jun. 01, 2019 22:36

Reply
How to get from Shangri-la to Xishuangbanna
Hello there, I will travel through Yunnan province next month and I`d like to know what is the best way to get from Shangri-la or Lijiang down in the south to Xishuangbanna (Jinghong)?
Answers (1)
Answered by Nancy from AUSTRALIA | Jun. 02, 2019 23:18

0

0

Reply
The best way is to take direct flight and there are more than 5 flights everyday from Lijiang to Jinghong.
Asked by Matian from CROATIA / CHINA | Dec. 19, 2018 06:10

Reply
I want to visit Kunming, Dali, Lijiang and Xishuangbanna from Beijing.
Do you have an idea on the possible route? What city is best to visit first? Thank you!
Answers (5)
Answered by Pandora from UNITED KINGDOM | Dec. 20, 2018 00:55

0

0

Reply
You are advised to do the following route:
Kunming - Dali - Lijiang - Xishuangbanna
Most tourists will choose this route. :)
Answered by Matian from CROATIA / CHINA | Dec. 20, 2018 01:36

0

0

Reply
So you advise getting back down from Xishuangbanna from Lijiang?
Answered by Pandora | Dec. 20, 2018 17:09

0

0

Reply
You are advised to go back to Beijing from Lijiang. After touring around Xishuangbanna, you can go back to Lijiang first. :)
Answered by Matian from CROATIA / CHINA | Dec. 21, 2018 02:36

0

0

Reply
So you advise Beijing - Kunming - Dali - Lijiang - Xishuangbanna - Lijiang - Beijing? How to get from Xishuangbanna to Lijiang and how long does it take? Thank you!
Answered by Pandora | Dec. 23, 2018 19:02

0

0

Reply
Yes. From Xishuangbanna to Lijiang, you can just take the direct flight. The duration is only about an hour.
Asked by Henry Ng from SINGAPORE | Sep. 06, 2017 03:42

Reply
How to go to Jinghong airport from Singapore?
Is there any direct flight to Jinghong airport.
Answers (1)
Answered by Johnson from ITALY | Sep. 06, 2017 22:29

0

0

Reply
Oh, no direct plane is available. You should fly to Kunming first and it takes about 4h. Then take another plane to Jinghong Airport.