Yuxi Travel Guide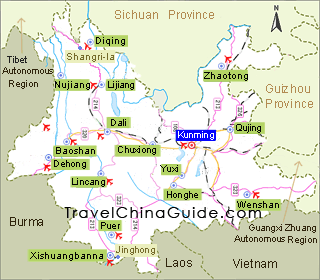 Yuxi Facts
Chinese Name: 玉溪 (yù xī)
Population: 2,389,000
Area: 15,258 square kilometers (5,891 square miles)
Location: in the southeast of Yunnan, southwest China
Administrative Division: 2 districts (Hongta, Jiangchuan); 4 counties (Chengjiang, Tonghai, Huaning, Yimen); 3 autonomous counties (Eshan Yi Ethnic Minority Autonomous County, Xinping Yi and Dai Ethnic Minorities Autonomous County, Yuanjiang Hani, Yi and Dai Ethnic Minorities Autonomous County)
Area Code: 0877
Zip Code: 653100
GDP (2019): CNY 194.971 billion (USD 28.261 billion)
Nationalities: Han, Yi, Hani, Dai, Hui, Mongolia, Bai
Home to China's Top Cigarette Company - Hongta Tobacco Group
Located in the middle of Yunnan Province, Yuxi is adjacent to Kunming, the capital of Yunnan to the north, Puer to the southwest, Honghe to the southeast, and Chuxiong to the northwest. Yuxi is the world's first-class production base of high-quality tobacco. Most of them are acquired by Hongta Tobacco Group, the largest modern cigarette enterprise in China and the fifth in the world. Yuxi is also home to Nie' er, a well-known Chinese musician who wrote the national anthem of the People's Republic of China.

With Fuxian, Xingyun and Qilu lakes adjacent to each other, Yuxi showcases beautiful and charming water landscapes. The popular scenic spots of Yuxi are mainly distributed in Chengjiang, Jiangchuan and Xinping counties.
Attractions - Things to Do

Chengjiang Fossil Site, Mt. Mopan Scenic Area, Mt. Yuanlao Scenic Area, Mt. Xiushan, Mt. Maotian, Fuxian Lake, Xingyun Lake, Yudai River

Recreation: Nie Er Park, Huilong Ecological Park, Xiangbi Hot Spring

Tourist Resorts of Ethnic Minorities: Eshan, Yuanjiang and Xinping
| | |
| --- | --- |
| Yuxi Museum | A Statue of Nie Er |
How to Get to Yuxi
From Kunming, it takes approximately two hours by train. There are two bus stations in Yuxi. The Central Bus Station is located near the crossroad on Shanhu Rd. Buses to Kunming and other provincial cities start from there every day. The Chengxi Bus Station is located on Qixing Street, from where visitors can go to Yuanjiang, Chengjiang, Jiangchuan and other counties. The city-buses here are quite convenient and cheap. The general ticket is from CNY1 to CNY2 per person.
Weather
-
The area enjoys a subtropical plateau monsoon climate, which blesses it with all-like-spring four seasons all year round. The hottest month is June while the coldest is in December or January. Best time to visit the region is between summer and autumn. Because of the high temperature difference between morning and night, you'd better take a coat when you go there in spring or autumn.
Yuxi Travel Tips

History: Yuxi was once the core area of Yunnan Province during the Previous Qin Dynasty (period before 221BC). In the Western Han Dynasty (206BC-24AD), it became a county of Yizhou Shire. The following dynasties witnessed the continuous separations and unifications of the area. It was not until 1997 that Yuxi became a prefecture-level city of the Republic of China.

Physical Features: This area is in the west edge of Yunnan-Guizhou Plateau, with complex geographic features including mountains, valleys, lakes, plateaus and basins. Fuxian Lake is China's second deepest lake. The whole area extends from high northwest to low southeast. The urban city is about 1,630 meters (1,782 yards) above the sea level.

Special Local Products: Endowed with pleasant climate, it is rich in crops and tobacco leaves, hence its honor 'Barn of Middle Yunnan Province' and 'Hometown of Yunnan Tobacco'. Yuxi Cigarette Company (Hongta Group) has become a famous cigarette making company. Its product brands such as Hongtashan, Ashima and Hongmei have been popular for many years in China. The area also has beautiful natural sceneries and colorful cultures. Various festivals, dances, musics and folk cultures of different ethnic minority groups should not be missed when traveling here. In addition, it is the hometown of Nie Er (1912-1935), the famous musician who has wrote many revolution songs including China's present national anthem.

Local Highlights: Handicrafts: Tonghai silver decorations and cloth umbrella
Foods: Tonghai bean powder candy; sesame pieces; Huaning dried rice noodles; 'three treasures' on Mt. Yuanlao (beet, Citou Cai-a kind of potherb with thorns and Yangnai Cai (a kind of potherb with sheep-milk-like juice))
- Last updated on Apr. 12, 2021 -
Questions & Answers on Yuxi Travel
Asked by Robert William Wolff from USA | Sep. 08, 2017 12:16

Reply
Have they built performing arts facilities in Yuxi since 2000?
I was involved with design of a concert theatre which was not built at that time. I found the food there excellent, and, in various cities in China while studying Chinese Opera, I tasted 18 different Eggplant dishes. They were wonderful. I have been unsuccessful finding Chinese chefs in USA who know these dishes. If anyone has Chinese recipes for eggplant, please pass on information.
Answers (1)
Answered by Nigel from CANADA | Sep. 12, 2017 22:36

0

0

Reply
Yes, as I know, Nie'er Grand Theatre has been built in 2008. Hope this is the one you mentioned.

As for the recipes for eggplant, you are suggested to search the Cooking Class Page of TravelChinaGuide, there are many local recipes including some dishes of eggplant.
Asked by Laurent Jacob from FRANCE | Oct. 06, 2013 02:50

Reply
Travel Guide in Yuxi city
I am in YX for some month, working on a project off recostituted tobacco machine. Next month, I will pick up my wife and our son to stay with me during one month. I am looking for somebody, preference a lady, speaking english and who will be available to guide my wife and our boy to visit the city I live and other interesting location around, during the time I am at work. Of course I take all the cost in my charge and will pay also for the service.
Answers (1)
Answered by Lando from SINGAPORE | Oct. 07, 2013 21:47

1

0

Reply
I suggest you post a thread at the Community page of this website to look for certain tour guide. It would be more useful. Just for reference!
Asked by andrea | Dec. 06, 2012 16:03

Reply
American moving to China
Hello, I will be moving to Yuxi in a few months with my work. I wanted to know from other expats how's life there? I've never been to China and I don't know anyone there either. Just curious as to what living is like and the people.

Andrea
Answers (4)
Answered by Sonia | Dec. 06, 2012 20:23

4

1

Reply
I lived in the city for just under one year and it was absolute pure heaven to say the least. I can't say one negative thing about my whole stay there as from the moment I arrived it was a feeling of wow. The people are so friendly and extremely kind and because they are not accustomed to many foreign faces they look at you in awe and welcome you with open arms. The night life doesn't consist of many dance or disco's but there is no shortage of bars and who wants to stay indoors when there is so much to explore from the mountains, temples, shopping, museums, tobacco factory, lakes, waterfalls, arcades and local customs for examples dancing in the parks, free opera shows outdoors or going to a tea house with friends. If you need a quick fix of the night life then Kunming is only a 90 minute bus ride from the city where you can indulge in what ever your missing in Yuxi.
If you don't speak Chinese then learn some useful phrases to make the most of your visit as I was lucky enough to be surrounded by people who were able to translate what I wanted but I wish I had learned some of the language as they seem to appreciate it more.

Answered by andrea from USA | Feb. 15, 2013 08:49

0

1

Reply
Awesome. I will leaving shortly for China, either Yuxi or Kunmig. Do you know anything about housing/apartments? I've been told that the plumbing isn't great and that the food isn't very good, especially things like chicken and beef. Duck and pork are considered the decent dishes. But I've gotten this info from a person that's in JiangCheng, so that area may be very different from Yuxi or kunmig.

I guess my main question would be is if this area of China is modern and up to date like a Hong Kong or Shanghai?

Thanks Again
Andrea
Answered by John | Feb. 17, 2013 20:49

1

0

Reply
I stay in a friend family in that city, so I am not very familiar with the local housing and apartment. I heard it from my friend that the renting fare is not very high in Yuxi.
The food there is not so bad, but it is totally different from the food in your country.
It is also different from the food in Jiangcheng.
This city cannot be compared to HK or Shanghai. It is not a modern city, but the local scenery is beautiful there.
Answered by Jim from USA | May. 28, 2013 06:20

0

1

Reply
Andrea, I too am about to move to YX. If you are there yet, can you say how you like it so far? What is the best and worst about it? What do you wish you'd brought but didn't?
Asked by jmarc from CANADA | Aug. 22, 2011 23:08

Reply
What is the best route to go to Yuxi/ Yunnan , China is it Beijing, Shanghui or Hong Kong
Answers (1)
Answered by Jamie from CHINA | Aug. 23, 2011 01:41

2

0

Reply
You should take an interntional flight to get to Beijing Capital Airport or Shanghai Pudong Airport. Then, take a domestic flight to arrive in Kunming Airport, the capital city of Yunnan Province. Finally, you could take a bus to get to your final destination in 2 hours.