Yuxi Travel Guide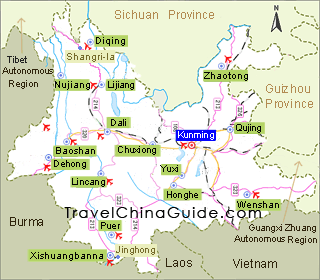 Yuxi Facts:
Chinese Name: 玉溪 (yù xī)
Location: Located in the middle of Yunnan Province, Yuxi is neighbor to Kunming City, Simao District, Honghe and Chuxiong States.

Population: 2,034,000
Area: 15,258 square kilometers (5,891 square miles)
Nationalities: Han, Yi, Hani, Dai, Hui, Mongolia, Bai, Miao and Lahu
Administrative Division: 1 district (Hongta); 5 counties (Jiangchuan, Chengjiang, Tonghai, Huaning, Yimen); 3 Ethnic Minority Autonomous Counties (Eshan Yi Ethnic Minority Autonomous County, Xinping Yi and Dai Ethnic Minorities Autonomous County, Yuanjiang Hani, Yi and Dai Ethnic Minorities Autonomous County)
Useful Telephone Numbers:
Tourist Complaints: 96927
Consumer Complaints: 12315
Car Rental for Tourist: 0877-2035985
Police: 110
Ambulance: 120
Attractions - Things to Do

Chengjiang Fossil Site, Mt. Mopan Scenic Area, Mt. Yuanlao Scenic Area, Mt. Xiushan, Mt. Maotian, Fuxian Lake, Xingyun Lake, Yudai River

Recreation: Nie Er Park, Huilong Ecological Park, Xiangbi Hot Spring

Tourist Resorts of Ethnic Minorities: Eshan, Yuanjiang and Xinping
| | |
| --- | --- |
| Yuxi Museum | A Statue of Nie Er |
How to Get to Yuxi
From Kunming, it takes approximately two hours by train. There are two bus stations in Yuxi. The Central Bus Station is located near the crossroad on Shanhu Rd. Buses to Kunming and other provincial cities start from there every day. The Chengxi Bus Station is located on Qixing Street, from where visitors can go to Yuanjiang, Chengjiang, Jiangchuan and other counties. The city-buses here are quite convenient and cheap. The general ticket is from CNY1 to CNY2 per person.
Weather
-
The area enjoys a subtropical plateau monsoon climate, which blesses it with all-like-spring four seasons all year round. The hottest month is June while the coldest is in December or January. Best time to visit the region is between summer and autumn. Because of the high temperature difference between morning and night, you'd better take a coat when you go there in spring or autumn.
Yuxi Travel Tips

History: Yuxi was once the core area of Yunnan Province during the Previous Qin Dynasty (period before 221BC). In the Western Han Dynasty (206BC-24AD), it became a county of Yizhou Shire. The following dynasties witnessed the continuous separations and unifications of the area. It was not until 1997 that Yuxi became a prefecture-level city of the Republic of China.

Physical Features: This area is in the west edge of Yunnan-Guizhou Plateau, with complex geographic features including mountains, valleys, lakes, plateaus and basins. Fuxian Lake is China's second deepest lake. The whole area extends from high northwest to low southeast. The urban city is about 1,630 meters (1,782 yards) above the sea level.

Special Local Products: Endowed with pleasant climate, it is rich in crops and tobacco leaves, hence its honor 'Barn of Middle Yunnan Province' and 'Hometown of Yunnan Tobacco'. Yuxi Cigarette Company (Hongta Group) has become a famous cigarette making company. Its product brands such as Hongtashan, Ashima and Hongmei have been popular for many years in China. The area also has beautiful natural sceneries and colorful cultures. Various festivals, dances, musics and folk cultures of different ethnic minority groups should not be missed when traveling here. In addition, it is the hometown of Nie Er (1912-1935), the famous musician who has wrote many revolution songs including China's present national anthem.

Local Highlights: Handicrafts: Tonghai silver decorations and cloth umbrella
Foods: Tonghai bean powder candy; sesame pieces; Huaning dried rice noodles; 'three treasures' on Mt. Yuanlao (beet, Citou Cai-a kind of potherb with thorns and Yangnai Cai (a kind of potherb with sheep-milk-like juice))