Lincang Travel Guide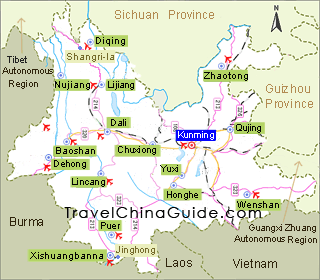 Lincang Facts
Chinese Name: 临沧 (lín cāng)
Population: 2,600,000
Area: 24,000 square kilometers (9,266 square miles)
Location: in the southwest of Yunnan, southwest China
Administrative Division: 1 district (Linxiang); 4 counties (Fengqing, Yunxian, Yongde, Zhenkang); 3 autonomous counties (Shuangjiang Lahu, Wa, Blang and Dai Autonomous County, Gengma Dai and Wa Autonomous County, Cangyuan Wa Autonomous County)
Area Code: 0883
Zip Code: 677000
GDP (2018): CNY 63.002 billion (USD 9.521 billion)
Nationalities: Han, Yi, Wa, Dai, Lahu
Chinese Largest Black Tea Production Area
Located in the southwest of Yunnan Province, Lincang City is so called because it sits along the Lancang River. It neighbors Puer to the east, Dali to the north and Baoshan to the west. Burma lies to the southwest of the city. Its downtown area is 598 kilometers (367 miles) from the capital city of the province, Kunming. China's largest black tea production base and Pu erh tea raw material base are located here. The Lincang Tea Culture Garden affords a chance to pick up tea leaves and learn about tea culture. In addition, Lincang nut planting area ranks first in China.

In this land, 23 ethnic minorities have lived and thrived for generations. The culture of various nationalities represented by Wa culture is brilliant. Wengding Village, located in Cangyuan County, retains the original architectural style and customs of the Wa people. Another famous cultural spot in the county is the Rock Paintings 3,000 years ago, mainly depicting hunting, gathering and religious activities.
Attractions - Things to Do
The Rock Paintings in Cangyuan County were created 3,000 years ago, ranking among the oldest rock paintings in the whole of China. The eleven paintings are scattered across several towns in the county. These frescoes are carved on the cliff usually 1,500 meters (4,921 feet) above the sea level and depict the daily life and work of locals at the time. Activities featured include hunting, grazing and dancing. The color of the paintings has been known to change with variations in sunlight, weather and temperature.



Lincang Tea Culture Garden: As the home of Yunnan black tea, the area has the largest tea garden and the greatest tea output in Yunnan. Its Fengqing County has more than 5,500 mu (906 acres) ancient tea plants and has done for over 3,200 years. Lingcang Tea Culture Garden is the perfect stage to demonstrate the profound cultural connotations of tea, tea drinking and tea-related folk songs specific to the area.



Wengding Village: It is a well preserved Wa village in Cangyuan Wa Autonomous County. While here, visitors can also admire the Cloud Sea of Washan Mountain. Combining the ethnic flavor of the Wa people and fascinating natural beauty, this destination is a must for visitors traveling here.



Other Scenic Spots: Shitong Temple, Yongde Snow Mountain, Guangyun Buddhist Temple
How to Get to Lincang
1. Lincang Airport is located in Boshang Town, Lincang City, Yunnan Province, Lincang airport is a 4C-grade civil airport which is 22.5 kilometers (14 miles) away from Lincang city. It operates direct flights to/from Shanghai, Kunming, and Xishuangbanna .

2. The city is a convenient stop-off point for travelers on their way to Burma. The city has three counties which border Burma: Cangyuan, Gengma and Zhenkang. Mengding Port of Gengma on the Qingshui River is also 187 kilometers (116 miles) from Lashio, one of the most important cities in Northern Burma.

3. Lincang is about nine hours' drive from Kunming and its long-distance bus station is situated in Xinmin Jie of Linxiang District.
Weather
-
The Tropic of Cancer runs across the city and lends it a subtropical climate but which also combines with the cooler climate of the adjacent mountains. Generally a warm city, Lincang has an annual average temperature of 16.8-17.7℃ (62.2-63.9℉). Enjoying favorable weather all the year round, the place is fine to visit at any season.
Lincang Travel Tips

History: The Western Han Dynasty (206BC-24AD) placed Lincang in the Yizhou shire after conquering the ancient Ailao Kingdom. During the Tang (618-907) and Song (960-1279) dynasties, it belonged to the Nanzhao and Dali states respectively.



Physical Features: The city lies at the bottom of the Hengduan Mountains and Nushan Mountain in western Yunnan. The terrain here slopes from southeast to southwest. There are many rivers which pass through or spring from here.

Local Highlights: The Wa ethnic minority is the largest minority group in the city and two thirds of the total Wa population of Yunnan live here. Wa villages and their handmade gifts and other crafts are attractive parts of a trip here.

Special Local Products: black tea, cane sugar, mango, Jian Pa (bag of Wa ethnic minority)
- Last updated on Sep. 16, 2020 -
Questions & Answers on Lincang Travel
Asked by Mr.Nyi Nyi Aung from MYANMAR | Jan. 15, 2020 06:09

Reply
How long does it take from Mengding to Lincang by bus?
Answers (1)
Answered by Bella from UNITED KINGDOM | Jan. 16, 2020 00:39

0

0

Reply
Generally speaking, the duration is around 3 hours.
Asked by Marie from CANADA | Jun. 19, 2017 19:28

Reply
How long does it take from Lincang to Wengding village? What is the distance?
Are there regular busses? Is there accommodation in Wengding?
Thanks Marie
Answers (1)
Answered by Tess from UK | Jun. 27, 2017 01:04

0

0

Reply
It is about 250 kilometers between these two places. As I know, you can take a shuttle bus at Lincang Bus Station to Cangyuan. Upon arrival, you may take another bus to Mengjiaoxiang which may stop by Wengding, or you may charter a car to the scenic spot directly. There are some farmhouses in the scenic spot welcoming the guests. You can find one easily when you arrive.
Asked by Jan D'Ath from NEW ZEALAND | Apr. 12, 2017 00:10

Reply
How do you get Lincang from Jinghong (June 2017)? direct bus?
Answers (1)
Answered by Sophie from NEPAL | Apr. 13, 2017 04:14

0

0

Reply
You can take a direct shuttle bus at Jinghong Passenger Terminal. The bus departs at 07:30. The ticket fare is CNY138/person.
Asked by Mario from SPAIN | Jan. 02, 2016 08:35

Reply
Hostel with dorm in Lincang
Hi, I am a backpacker traveling to the city, looking for a cheap place to sleep, and towns or tips about black tea around, thanks
Answers (1)
Answered by Juana | Jan. 02, 2016 21:28

1

2

Reply
Sorry I am not familiar with hostels with dorms in town, but I know several other cheap hotels for your choice, such as Binhai Business Hotel, at no. 689, Nantian Road, Linxiang District (near local Passenger Transport Center), and Yudu Business Hotel at no. 43, Nantang Street, Linxiang District.

As for black tea, i just know there are plants at Fengqing County, north of LC City. You may go and see. In addition, I heard there is a tea market in the city, but not clear about its location.
Asked by Aung Aung from BURMA | Mar. 31, 2015 23:16

Reply
Possible extension of trip to Burma Border
Hello,
How possible and feasible with normal China Visa to get touch to Burma border from Lincang and what are the tourist attractions along the Burma Border?
Thanks
Answers (1)
Answered by Kim from FRANCE | Apr. 01, 2015 02:04

1

1

Reply
For a trip from the border to Burma, I heard you need to prepare some paperwork in advance.

And I can just tell you attractions in the city: Guangyunmian Temple, Rock Paintings in Cangyuan County, Tea Culture Garden and Wending Villageare all worth to visit.