Baoshan Travel Guide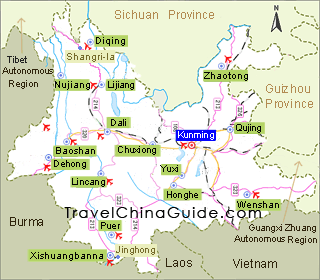 Baoshan Facts
Chinese Name: 保山 (bǎo shān)
Population: 2,610,000
Area: 19,637 square kilometers (7,582 square miles)
Location: in the southwest of Yunnan, southwest China
Administrative Division: 1 district (Longyang); 3 counties (Shidian, Longling, Changning); 1 county-level city (Tengchong)
Area Code: 0875
Zip Code: 678000
GDP (2019): CNY 96.07 billion (USD 13.93 billion)
Nationalities: Han, Yi, Dai, Bai
Baoshan is situated in the southwest of Yunnan Province, bordered to Burma in the south and northwest. Within the province, it neighbors Lincang to the east, Nujiang to the northeast and Dehong to the southwest. It is nearly 500 kilometers (310 miles) from Kunming, the capital city of Yunnan Province. Baoshan is truly a treasured place rich in geothermal resources and produces first-class jadeite, amber and Huanglong Jade.

Once served as the beginning of Southern Silk Road to India, this city is full of ancient towns, villages, bridges and temples. You can also enjoy the hot spring in Tengchong Hot Sea, sightsee the volcanic park by hot air balloon, or explore the ancestral halls, memorial archways and ancient residents of the Ming and Qing Dynasties (1368 - 1912) in Heshun Ancient Town. In Yinxing Village, more than 3,000 ginkgo trees are dotted inside and outside the farmyards, which has become the most popular destination in Baoshan from mid-November to early December.
Attractions - Things to Do

Tengchong Hot Sea (Rehai) refers to a group of geothermal springs, the most spectacular geothermal landscape 20 kilometers (12 miles) from Tengchong County. Tengchong is China's famous geothermal scenic area hides abundant terrestrial heat. This grand spring group covers an area of 9 kilometers (5.6 miles). It was said that there are 14 springs among the total 80 springs has their temperature above 90 degree centigrade (194 degree Fahrenheit). The Hot Sea is not only a marvelous spectacle but also benefit for health. Nowadays, these geothermal resources are well utilized by sanatoriums and thermaes.



Tengchong Volcano Park: There could be as many as 70 volcanoes within 100 kilometers (62 miles) of Tengchong County, and Tengchong is just located on lavas. Around Mazhan Village about 10 kilometers (6.2 miles) northwest of Tengchong, volcanoes are densely distributed. Volcano Park has been established here.



Wofo Temple (Reclining Buddha Temple) at the foot of Yunyang Mountain 16 kilometers (10 miles) north of the city proper has the biggest jade Buddha in China. The temple was first built in 716 of the Tang Dynasty (618-907). The main hall of the temple was built on the basis of a natural stone cave, and the 6 meters (20 feet) long jade Buddha together with many other sculptures area stored in the hall.



Other Scenic Spots: Dieshuihe Waterfall, Heshun Ancient Town
How to Get to Baoshan
1. Baoshan Airport is situated at Yunrui Street, Longyang District, Baoshan City, Yunnan Province, 9 kilometers (5.5 miles) away from the downtown. There are direct flights from/to Beijing, Kunming, Chengdu, Hangzhou, Chongqing, Xi'an and Nanjing. Airport shuttle bus and city bus connect downtown and airport.

2. Tengchong Tuofeng Airport is located in Tuofeng Village, Qingshui Township, Tengchong County, Baoshan City, Yunnan Province, about 10 kilometers (6.2 miles) away from downtown Tengchong. Tengchong Airport opens direct flights to/from Beijing, Guangzhou Shenzhen, Chongqing, Chengdu, Kunming, Xishuangbanna, Xi'an, Changsha, Nanjing and Guiyang. And it plans to open four international air routes to Yangon, Chiang Mai, Bangkok, Calcutta and Chittagong.

3. From Baoshan's passenger transport bus stations, there area minibuses to Tengchong County for about five hours. Two main bus stations are serving in the city proper:
Passenger Transport Bus Station: No.2, Jiulong Road, Longyang District
Passenger Transport South Bus Station: No.26, Nanguan Street, Longyang District
Weather
-
Due to the complex topography at low altitude in plateau, subtropical, temperate and plateau climatic types coexist in Baoshan. Its weather is moderate throughout the year, but the temperature varies greatly during a day. The annual average temperature falls between 14 and 17 degree centigrade (57.2-62.6 degree Fahrenheit). It is fine to visit during the whole year.
Baoshan Travel Tips

History: The area was called Yongchang in ancient times. Historically, it was the first residence for human settlers in western Yunnan. During the middle period of the Warring States Period (476BC-221BC), it was the center of ancient Ailao Kingdom. As the Ailao Kingdom turned to decline, Yongchang Shire, the origin of Baoshan City was established in the year of 69 of the Eastern Han Dynasty (25-220) as the second largest shire in the country. It was during the Tang (618-907) and Song (960-1279) dynasties that it successively belonged to two ethnic regimes, Nanzhao State and Dali State. The name of the city was first used in 1524.



Physical Features: Baishan lies in the south end of the Hengduan Mountains with more than ninety percent of its territory occupied by medium mountain and quasi-mountain areas. Another over seven percent is plateau plains and basins.



Special Local Products: jade article, rattan weaving product, Chinese Xuan Paper (for painting and calligraphy) of Tengchong County; Weiqi (the game of go) chessmans of Yongchang County, Arabica coffee bean
- Last modified on Sep. 10, 2020 -
Questions & Answers on Baoshan Travel
Asked by Cheaw Hon Ming from MALAYSIA | Mar. 25, 2019 19:13

Reply
Are there plans to build a railway connecting Kunming to Baoshan?
Baoshan is a relatively big city of 2.4 million so a railway connecting Dali and Kunming, cutting through the hills and valleys will be most welcome by travelers to this region. At present the 8 hour journey from Kunming is long and tedious and relatively expensive by air.
Answers (1)
Answered by Hailey from USA | Mar. 29, 2019 01:22

0

0

Reply
Yes, the railway is under construction but the open time is still not clear.
Asked by Klaas from NETHERLANDS | Dec. 14, 2016 08:19

Reply
Whether there are buses from Baoshan city to Fengqing and from which bus station they leave?
Answers (1)
Answered by William from UKRAINE | Dec. 14, 2016 20:50

1

0

Reply
You can take a coach to Fengqing from BS Bus Station. The bus departs at 12:30. The fare is CNY 34 or 48. The tirp takes about 3 hours. :)
Asked by Ricky Ng LeokYew from SINGAOPORE | Oct. 18, 2014 23:37

Reply
how many hours to travel by bus from Kunming to Baoshan
Answers (2)
Answered by Vivian from MALAYSIA | Oct. 19, 2014 01:13

1

0

Reply
It takes 8-9h. BTW, the buses can easily be taken at Kunming West Bus Station.
Answered by Ricky Ng Leok Yew from SINGAPORE. | Oct. 19, 2014 02:12

0

0

Reply
appreciate your prompt reply. many thanks, Vivian. with all best wishes.
Asked by Jojo from SINGAPORE | Jul. 24, 2014 02:55

Reply
May I know is there any bus or train from Baoshan to Dali. where is the bus stop or train station?
Thanks
Answers (3)
Answered by Joe from IRAQ | Jul. 24, 2014 04:12

0

0

Reply
There is no train to Dali. You can take the bus at the BS Bus Station to Dali. I remember the bus station is located at No. 2 of Jiulong Road.
Answered by Connie norup from NORWAY | Aug. 26, 2017 21:17

0

0

Reply
How long is he bus ride from dali to baoshan?
Answered by Helen from CANADA | Aug. 27, 2017 21:20

0

0

Reply
As I know, it takes around 2h 30 minutes.