Shangri-La Travel Guide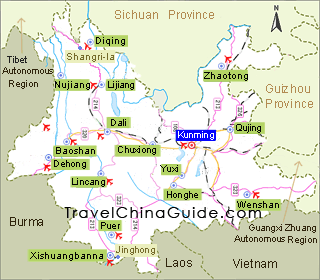 Shangri-La Facts:
Chinese Name: 香格里拉 (xiāng gé lǐ lā)
Population: 180,000
Area: 11,613 square kilometers (4,483 square miles)
Location: in the northwest of Yunnan, southwest China
Area Code: 0887
Zip Code: 674400
GDP (2019): CNY 15.226 billion (USD 2.207 billion)
Nationalities: Zang, Han, Naxi, Yi, Bai
Tibetan World in Yunnan: Monasteries, Snow Mountains & Gorges
Located at the point where Tibet, Sichuan and Yunnan all meet, Shangri-La County is administered by Diqing, Yunnan Province. What can be expected in Shangri-La, a beautiful and peaceful Tibetan world, is the surging rivers, snow mountains especially the highest mountain – Kawakarpo Mountain, sacred monasteries and simple Kangba people. The scenic spots of Shangri La are mainly concentrated in the old town of Dukezong, the surrounding of the city, north of Deqin County and Tiger Leaping Gorge. In general, it takes 3-5 days to fully visit Shangri-La. Some visitors who like hiking may spend another few days in Tiger Leaping Gorge and Yubeng Village. Also, if time permits, you can continue to go west from Shangri-La to explore real Tibet.
Shangri-La is the "Eden in dream". Since it first appeared in British novelist James Hilton's Lost Horizon in the 1939, it has been associated with the mystique of a place which could not possibly exist here on Earth. In Tibetan,Shangri-La means the "sun and moon in heart", an ideal home only found in heaven.There the lofty and continuous snowy mountains, endless grasslands, steep and grand gorges, azure lakes and the bucolic villages always leave a deep impression on visitors. As a Chinese saying goes, "The earliest sunrise is seen in Shangri-La; and the most unique place is also there". Once you visit, you will fully appreciate the meaning of this saying. In addition, the warm welcome of the residents of this land will make you feel at home.
Recommended Tour Itinerary:
Yunnan Highlights: 9 days tour of Kunming, Dali, Lijiang and Shangri-la
Hiking Adventure: Information about hiking in Shangri-La for your reference
| | |
| --- | --- |
| Bitahai Lake | Songzanlin Monastery |
Although at an average altitude of more than 3,000 meters (about 9,843 feet), it's not a hard thing to get to the county. To get there, visitors will typically begin their journey in Kunming, traveling first to Lijiang and then taking a Lijiang - Shangri-la high speed train. It's about 175 kilometers (108.74 miles) from Lijiang to Shangri-La. Or tourists can arrive there by air. Diqing Shangri-La Airport operating flights to/from Beijing, Chengdu, Chongqing, Guangzhou, Kunming, Lhasa, and Shanghai is only 20-minute drive from downtown area.

History: In the past, it was called Zhongdian or "Jiantang" in Tibetan. In ancient times, it together with Batang (in Tibet) and Litang (in Sichuan) was the fiefdom of the three sons of a Tibetan King. In 2002, Zhongdian changed its name to Shangri-La.



Physical Features: Shangri-La is rich in natural resources from valuable herbs to rich mineral deposits (including gold, silver, copper, manganese and many other rare metals) to abundant animal resources (such as golden monkeys, leopards and musk deer). This is a land full of natural wonders.



Local Highlights: The region is inhabited by many different ethnic groups, with the Tibetans comprising the majority of the population. There you will have an opportunity to experience Tibetan life and learn about their lifestyle, religion and cuisine. The unique scenery, highlighted by plateaus, together with the fascinating ethnic culture makes the land very attractive and charming to visit.



Further Reading:


Dinning

Shopping
You May Like
- Last updated on Dec. 01, 2023 by Gabby Li -
Questions & Answers on Shangri-La Travel
Asked by Tania | Sep. 01, 2023 07:22

Reply
Are there buses that go from Shangri-la to Yunnan Golden Monkey reserve
I would like to visit Yunnan Golden Monkey reserve in January. Can you please tell me if there are buses going from Shangri-la to Yunnan golden monkey reserve?
Answers (1)
Answered by Alice | Sep. 03, 2023 23:41

0

0

Reply
I haven't found any available buses yet. However, you may also consult the local staff in your hotel. BTW, it is possible to hire a private car to get there.
Asked by Jacob Rudy from ISRAEL | Dec. 11, 2019 10:28

Reply
Do westeners need a special permit to visit shangri-la like tibet ? or the regular visa is enough?
Answers (3)
Answered by Shelby from CANADA | Dec. 11, 2019 17:47

0

0

Reply
No, if you want to tour around Tibet, you need to join in a travel agency and apply for the special stay permit.
Answered by Jacob Rudy from ISRAEL | Dec. 12, 2019 01:32

0

0

Reply
so for shangri-la the regular visa is enough?
Answered by Jennie from USA | Dec. 12, 2019 18:07

0

0

Reply
Yes, it is.
Asked by Jacob Rudy from ISRAEL | Nov. 10, 2019 00:02

Reply
is there a height problem in Shangri-la? we are a couple age 60
And we will be staying 3 nights in Dali and than 4 nights in Lijiang before getting to Shangri-la
Answers (1)
Answered by Jo from UKRAINE | Nov. 11, 2019 23:21

0

0

Reply
Generally speaking, people won't have height problem in there. However, just in case, you are suggested to prepare some medicine.
Asked by Jeanne from SINGAPORE | Oct. 31, 2019 07:51

Reply
Shangri-la in December?
Is it a good time to visit in December?
Answers (1)
Answered by Henry from CANADA | Nov. 04, 2019 00:17

0

0

Reply
Not reallt, it will be very cold in December. But you can appreciate the different snow view. So it depends on you.
Asked by Joanna from SINGAPORE | Oct. 03, 2019 03:54

Reply
Shangri-la in November?
Hi, is it advisable to visit Shangri-la early November? Will there be things to do and is the weather good?
Answers (2)
Answered by Jamie from AUSTRALIA | Oct. 10, 2019 19:53

0

0

Reply
It is not a good time to travel here compared with other months. The temperature could be around 5-10C with large temperature difference. You need to bring down jacket. You can go trekking, visit Meri snow mountain and so on.
Answered by Anthony Ho | Aug. 03, 2021 04:15

0

0

Reply
November is very cold.