Shangri-La Travel Guide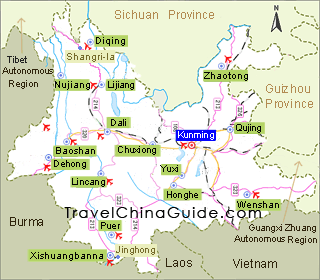 Shangri-La Facts:

Chinese Name: 香格里拉 (xiāng gé lǐ lā)
Location: Located at point where Tibet, Sichuan and Yunnan all meet, Shangri-La County is administered by Diqing Tibetan Autonomous Prefecture, Yunnan Province.

Population: 174,585
Area: 11,613 square kilometers (4,483 square miles)
Nationalities: Tibetan, Han, Naxi, Yi
Administrative Division: 4 towns (Jiantang, Xiaozhongdian, Hutiaoxia, Jinjiang); 7 counties (Shangjiang, Sanba Naxi, Luoji, Nixi, Gezan, Dongwang, Wujing)

Shangri-La is the "Eden in dream". Since it first appeared in British novelist James Hilton's Lost Horizon in the 1939, it has been associated with the mystique of a place which could not possibly exist here on Earth. In Tibetan,Shangri-La means the "sun and moon in heart", an ideal home only found in heaven.There the lofty and continuous snowy mountains, endless grasslands, steep and grand gorges, azure lakes and the bucolic villages always leave a deep impression on visitors. As a Chinese saying goes, "The earliest sunrise is seen in Shangri-La; and the most unique place is also there". Once you visit, you will fully appreciate the meaning of this saying. In addition, the warm welcome of the residents of this land will make you feel at home.
Recommended Tour Itinerary:
Yunnan Highlights: 9 days tour of Kunming, Dali, Lijiang and Shangri-la
Hiking Adventure: Information about hiking in Shangri-La for your reference
| | |
| --- | --- |
| Bitahai Lake | Songzanlin Monastery |
At an average altitude of more than 3,000 meters (about 9,843 feet), the county is very difficult to be reached. Without railways leading there, the chief means of transportation is motor vehicles.To get there, visitors will typically begin their journey in Kunming,traveling first to Lijiang and then taking the long-distance bus in Lijiang to get there. It's about 175 kilometers (108.74 miles) from Lijiang to Shangri-La. On this way, the Tiger Leaping Gorge can be seen. Or tourists can arrive there by air. Diqing Shangri-La Airport operating flights to/from Beijing, Chengdu, Chongqing, Guangzhou, Kunming, Lhasa, and Shanghai is only 20-minute drive from downtown area.

History: In the past, it was called Zhongdian or "Jiantang" in Tibetan. In ancient times, it together with Batang (in Tibet) and Litang (in Sichuan) was the fiefdom of the three sons of a Tibetan King. In 2002, Zhongdian changed its name to Shangri-La.



Physical Features: Shangri-La is rich in natural resources from valuable herbs to rich mineral deposits (including gold, silver, copper, manganese and many other rare metals) to abundant animal resources (such as golden monkeys, leopards and musk deer). This is a land full of natural wonders.



Local Highlights: The region is inhabited by many different ethnic groups, with the Tibetans comprising the majority of the population. There you will have an opportunity to experience Tibetan life and learn about their lifestyle, religion and cuisine. The unique scenery, highlighted by plateaus, together with the fascinating ethnic culture makes the land very attractive and charming to visit.



Further Reading:


Dinning

Shopping