Sichuan Travel Guide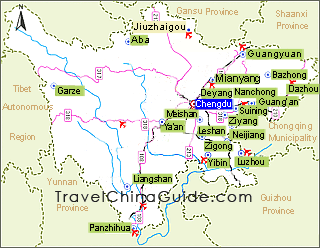 Click to enlarge the above map
Sichuan Facts:
Chinese Name: 四川 ( Sì Chuān )
Abbreviation: Chuan
Administration Type: Province
Capital: Chengdu
Location: 26°03' to 34°19' N, 97°21' to 108°31' E
Area: 485,000 km² (187,260 mi²)
Population (2010): 80,418,200

Area Code & Zip Code

Sichuan Pictures
Cities in Sichuan

Jiuzhai Valley in Jiuzhaigou County is now closed due to an earthquake on Aug. 8th 2017. We kindly remind you to postpone your travel plan there. It is estimated to reopen in 2020. Traveling to Chengdu and its surrounding areas is not affected.
Recommended Sichuan Itineraries
Famous Attractions
Sichuan Introduction
Sichuan Province is one of the largest provinces in China with an area of 485,000 km² (187,260 mi²). Its terrain slopes from west to east on the whole and the main landforms include plains, hills, mountains and plateaus. The climate here is mild with plenty of rainfall. The average annual temperature is 14℃-19℃ and the annual rainfall is 900-1,200 millimeters. Located in southwest part of the country, it has been the gateway to Tibet. In fact, the western part of the province is one of the Tibetan-inhabited areas and visitors can experience customs and living habits of the Tibetan nationality here too. Another main ethnic group of the province is the Yi nationality, concentrating in western part of the province as well. Its capital city, Chengdu, is the cultural and industrial center for the agricultural Chengdu Plain and one of the first centers of printing in the country. It has also been famous for its luxurious satins, brocades, and lacquer ware since the 13th century.



Natural Resources
Apart from the main landforms like plains, hills, mountains and plateaus, Sichuan enjoys a wide variety of beautiful landscapes including ravines, basin, rivers, lakes, hot springs, waterfalls and limestone caves, etc. Some of them have been developed into scenic sites for tourism like the Jiuzhaigou Scenic Area and Trumpet Shell Valley. Moreover, the diversified landscapes together with the nice climate nurse a great number of rare plant and animal species. The Hengduan Mountains in its west is home to over one fifth of the country's rare plant species, including the so-called 'Living Fossil', silver fir and sequoia. The mountains also host more than 50 kinds of rare animals, among which the giant pandas are most precious. Actually, 85% of China's giant pandas are living in this mountain area, earning the province a reputation of 'Hometown of Giant Pandas'. Visitors can contact with those lovely pandas in Chengdu Panda Breeding and Research Center (one of the most important centers in the world for the captive conservation of giant pandas), Bifeng Gorge Base of China Panda Protection and Research Center, etc.



History & Culture
Sichuan is one of the birthplaces of the Chinese nation and plays an important role in China's history. As early as two million years ago, human beings had already begun activities in this area; about 25,000 years ago, civilizations appeared here and formed the highly developed ancient Shu civilization, represented by Three-Star Piles site (Sanxingdui). With the unification of China by Emperor Qin Shi Huang in 221 BC, the region gradually blended the Central Plain culture. Meanwhile, the local culture continued to develop. Up to now, the province could be divided into four culture zones: Ba Culture Zone, Shu Culture Zone, Panzhihua-Xichang Culture Zone and West Sichuan Plateau Culture Zone. During the Three Kingdoms Period (220 - 280), Chengdu had been the capital of the Kingdom of Shu. The long history of early-developed civilization has left this area abundant historical heritages, such as Dujiangyan Irrigation Project, Leshan Giant Buddha and Mt. Emei as well as distinctive local highlights like Sichuan Opera and the delicious local food. Sichuan Opera is one of the most famous operas in the country. Changing faces and spitting fire are the most attractive and mysterious skills of it. Sichuan food is also well-known all over the country and even in foreign countries. It is characterized by spicy and pungent flavors. Typical menu items are: Hot Pot, Smoked Duck, Kung Pao Chicken, Twice-Cooked Pork and Ma Po Tofu.