Jiuzhaigou Travel Guide
Jiuzhaigou Facts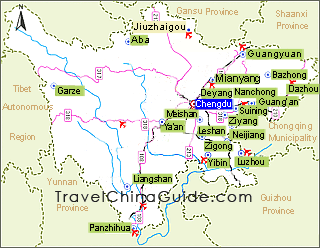 Chinese Name: 九寨沟县 (jǐu zhài gōu xiàn)
Population: 81,500
Area: 5,286 square kilometers (2,041 square miles)
Location: in the north of Sichuan Province, southwest China
Area Code: 0837
Zip Code: 623400
GDP (2018): CNY 2.54 billion (USD 0.384 billion)
Nationalities: Han, Tibetan, Hui, Qiang

Famous for Stunning Natural Scenery in Jiuzhaigou National Park
Located in the north of Sichuan Province, Jiuzhaigou County, previously known as Nanping County, is part of the Aba Tibetan and Qiang Autonomous Prefecture. Since the opening of the Jiuzhaigou National Park in 1984, visitors have flocked to the region year by year. The distance from Jiuzhaigou county to Jiuzhaigou National Park is about 48 km (30 mi). Up to now, over 100 hotels and restaurants are available in the county.

Jiuzhaigou is famous for green lakes, waterfalls, colorful forests, snow peaks, Tibetan customs and blue ices. April to November is the peak season of Jiuzhaigou tourism. Around April, Jiuzhaigou is covered with red, purple, blue and yellow flowers. From June to August, it is a good place for summer vacation because the cool climate brought by the high altitude can keep tourists away from the heat. Also it is the best time to watch the green lakes and waterfalls due to the abundant water supply. October and November sees the most brilliant Jiuzhaigou scenery as the forests are dressed in beautiful colors and all reflected in the bright lakes. Besides, visitors can experience strong Tibetan customs through Tibetan performances, traditional buildings, monasteries and Tibetan custom parks.

With some of the most beautiful and inspiring scenery on earth and some of the reserves scenic spots considered holy by the local Tibetan and Qiang people, it is no wonder a number of mysterious legends surround the wonderful landscape of Jiuzhaigou. Many people are drawn to the area for these reasons, and with the park open all year round the authorities have ensured that the fragile environment is sufficiently protected with a range of comprehensive facilities.
| | | |
| --- | --- | --- |
| Panda Lake | Tiger Lake | Five-Flower Lake |
Recommended Tour Itineraries:
7-Day Sichuan Tour of Chengdu, Jiuzhaigou from $1609
5 Days Private Jiuzhaigou Tour from Chengdu from $1199
Hiking Adventure


More China Tour Packages
In previous years it had been difficult for visitors to get there due to its isolated location, however this is no longer a concern due to the construction of the Jiuzhaigou Ring Way which links the reserve with Chengdu and the Jiuhuang Airport, and has made gaining access to the park a great deal easier. Jiuhuang Airport operates direct flights to/from Chengdu and Chongqing at present. About the transportation inside the county, there were sightseeing buses in the Jiuzhaigou Valley. However, the buses are suspended because the scenic area is closed now due to the earthquake. There is no train service now. However, Jiuzhaigou Railway Station, which is under construction, will open in 2019 along with the operation of the Jiuzhaigou - Chengdu Train.
| | |
| --- | --- |
| Multi-Color Pond, Huanglong Valley | Bonsai Lake, Huanglong Valley |

Best Time to Visit Jiuzhaigou

Local Highlights:
Historically, the region has been home to small population of Tibetan and Qiang people, and provides a good opportunity to get to know more about the locals' unique life and culture. The highlight of any visit to these areas are special performances laid on by the Tibetan and Qiang people which are also a popular form of the local nightlife.



Special Local Products:
Trying some of the typical local foods and picking up a number of the reasonably-priced, locally-produced goods of the Tibetan and Qiang groups are something of a must during your visit. This area has been blessed with some of the most captivating landscapes on earth and words simply do not do it justice, and so you are encouraged to visit at the earliest opportunity.



Physical Features:
Lying on the highest tableland in the world between the Sichuan Basin and the Qinghai-Tibetan Plateau, Jiuzhaigou covers altitudes ranging from 2,000 meters (6,561 feet) to about 4,300 meters (14,107 feet). With a large number of lake groups, waterfalls and a rich variety of endangered plants and fauna, it was awarded the status of UNESCO Man and Biosphere Reserve in 1997 and was also recognized as a UNESCO World Heritage Site in 1992. The reserve has received a string of other titles including that of a National Geological Park, a AAAAA Class Scenic Spot in China and a Green Globe 21.



Further Reading:


Dining & Nightlife

Shopping

You May Like
10 Best Places to Visit in China for Return Visitors
15 Spectauclar Natural Wonders of China
- Last updated on Aug. 22, 2023 -
Questions & Answers on Jiuzhaigou Travel
Asked by Joe | Aug. 22, 2023 09:52

Reply
Is the weather good during fall, spring, and summer?
Answers (1)
Answered by Kelvin | Aug. 22, 2023 20:39

0

0

Reply
Yes, April to November is good time to travel to Jiuzhaigou but October is the best because it is the most colorful then.
Asked by Ethan T from UNITED STATES | Jul. 31, 2023 18:06

Reply
Jiuzhaigou In December
Thoughts on visiting Jiuzhaigou in December.
Thinking of taking a guided tour in Chengdu and surrounds also for 8D7N

How is the weather and foliage? Brief google online says April to November best time to visit. Snows in December?
TiA
Answers (1)
Answered by Vivian | Aug. 01, 2023 01:48

0

0

Reply
December is not a good time to visit Jiuzhaigou. It's cold and leaves haven fallen down. But if there is a snow, the scenery can be beautiful, too.
Asked by Swee from SINGAPORE | Jul. 25, 2023 00:03

Reply
HuangLong and Jiuzhaigou.
I'm taking a flight from Chengdu to Jiuzhaigou on 15 Sept 2023.
I arrive at JiuZhaigou airport at 8.40AM. I have book a hotel near JiuZhaigou National Park from 15 Sept to 21 Sept.
On the day I arrive on 15 Sept in Jiuzhaigou, I want to go straight from the airport to HuangLong Scenic Area.
I will spent a few hours in HuangLong, then take a bus directly to my hotel near the Jiuzhaigou National Park entrance (near Holiday Inn Express in PengFeng VVillage, Zhangzha Town) or take a bus to Jiuzhaigou airport and then a bus from the airport to the hotel, whichever is easier and faster.
My question:
How frequent is the 1hour bus from airport to Huanglong.
Is there a place I can store my lugagge in HuangLong while I tour the Scenic area?
What is the last bus leaving Huanglong for the airport?
What is the last bus from HuangLong to Jiuzhaigou National Park entrance area? If there is such a bus?
What is the last bus from airport to Jiuzhaigou National Park entrance area?
Are these public buses?
Thanks, Swee

What is the last bus

Answers (2)
Answered by Andrew | Jul. 27, 2023 02:11

0

0

Reply
1. In fact, there is no large shuttle bus but only mini bus between the airport and Huanglong. The mini bus will depart when filled up with passengers so there is no schedule.

2. It is said the bus offers service from the airport to Huanglong and then pick your up from Huanglong to Jiuzhaigou. You can stay in Huanglong for about 4 hours. However, for specific schedule, you are suggested to consult the bus staff. You can store luggage at the tourist center.

3. If there is no such bus service, hiring a private car or car pooling with others is the best way and the cost differs according to different car types.
Answered by Swee | Jul. 27, 2023 23:08

0

0

Reply
Thanks Andrew for your valuable answer.
Yes I will ask the respective bus operators at the airport.
Cheers, Swee
Asked by Swee from SINGAPORE | Jul. 04, 2023 19:27

Reply
Can foreign tourist visit Jiuzhaigou now? And travel independently instead of tour groups?
I'm travelling to China from 12 Sept to 26 Sept in Chengdu, Jiuzhaigou, Zhangjiajie & Xi'an.

Answers (1)
Answered by Molly | Jul. 04, 2023 22:40

0

0

Reply
As I know, it still only allows group tours.
Asked by Thirapat from THAILAND | May. 31, 2023 21:21

Reply
่่่Jiuzhaigou ticket booking reseavation
dear sir or madam,
My name is Thirapat (Net) a backpacker from Thailand, I am wondering if I book Jiuzhaigou ticket from you and pay for the fee by credit card, then where could I pick up the tickets sir, and If I have these ticket I can enter the national park as soon as the opening time of the day imediately , right?
I have never been to China, but I would love to start now, from Chengdu Airport to Jiuzhaigou national park, If it doesn't bother you too much please give me some advice, I might land at Chengdu airport around 2 am on July 27 if it possible if i hop on the bus from Xinanmen Coach Station to Jiuzhaigou that morning?, and I will start the Jiuzhaigou trip on July 28 - 30 and do the HongLong journey on July 31 .... do I have to come back to Jiuzhaigou to get back to Chengdu on the next day (Aug1)? or I can stay at HongLong and spend the night of July 31 and next morning I can take bus back to Chengdu from HoangLong, straight away sir,
please give me some advice
I am Looking forward to hearing from you soon
Thirapat (Net)
ps. please calculate me approximately price for Jiuzhaigou and Hoanglong for me, many thanks in advance
Answers (1)
Answered by George | Jun. 01, 2023 23:42

0

0

Reply
It is suggested to book tickets on the official website of Jiuzhaigou or its WeChat accounts as TravelChinaGuide now seems doesn't offer the ticket booking service.

The coach departing from Xinnanmen at 8:10 and costs CNY 186 per person.

From Jiuzhaigou to Huanglong, there is a direct bus departing at 7:40 in Zhangzha Town passenger station in Jiuzhaigou and it takes about 2 hours and costs CNY47.

From Huanglong to Chengdu, you don't have to go back to Jiuzhaigou, but you need to go to Chuanzhusi first. Two buses depart from Chuanzhusi to Chengdu everyday at 6:20 and 9:00, costing about CNY 150.