Jiuzhaigou & Giant Pandas
114: 6 Days Private Tour of Chengdu - Leshan - Mt. Emei - Chengdu - Huanglong - Jiuzhaigou
Tour Type:
Private Tour, any part of the itinerary can be customized
Guide & Driver:
English-speaking guide, experienced driver with an air-conditioned vehicle
Highlights:
Have a once-in-a-life chance to get close to the incredibly cute giant pandas.
Enjoy the dreamlike scenery of the fairyland on earth, Jiuzhaigou.
Admire the largest stone carved Buddha in the world - the Leshan Giant Buddha.
Visit Mt. Emei, one of the most scenic and sacred Buddhist mountains in China.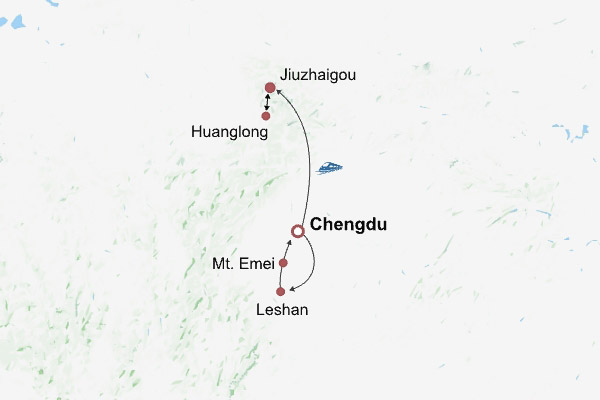 Airport pick-up & airport-hotel transfer; rest of the day is free for you.
Welcome to Chengdu! Your 6 days Sichuan tour itinerary starts when our guide greets you at the airport or the high-speed train station. A comfortable private transfer will take you to the well-located hotel for check-in.

After setting in your hotel, you can spend the rest of today simply relaxing, or explore the nearby area to have fun. You can wander about the famous Chunxi Road and the nearby Taikoo Li, which are situated in central Chengdu. The two districts together make up a shopping paradise for travelers and locals alike. Explore the diverse and energetic Chunxi Road for souvenirs and local food, while at Taikoo Li, enjoy a quiet, classy ambience amid a mix of traditional and modern buildings selling luxury brands.
Day 2
Chengdu - Leshan - Mt. Emei
Visit Chengdu Research Base of Giant Panda Breeding and have a a cruise tour by the Leshan Giant Buddha; drive to Mt. Emei. (B+L+D)
For many people, the foremost thing to do in Chengdu is to see the adorable pandas. At present, of around 1,500 pandas in the world, most live in Sichuan, China. Today, finish breakfast as early as possible and set out to the
Chengdu Research Base of Giant Panda Breeding
. An early start is essential, if we hope to see those morning creatures eating bamboo, climbing trees and playing with each other.
After lunch, proceed to Leshan to have
a cruise tour by the Leshan Giant Buddha
, the largest statue of Maitreya in the world. 71 meters (233 feet) tall, the UNESCO-honored Buddha was carved into the face of a red sandstone cliff. Despite a thousand years of history and weathering, its graceful poise still can be sensed. Afterwards, drive to Mt. Emei and check into a local hotel upon arrival.
Meals: Western buffet breakfast, Lunch, Dinner
Pandas Munching on Bamboos
Leshan Giant Buddha
Visit Mt. Emei, including Wannian Temple and Baoguo Temple; drive back to Chengdu. (B+L)
You will visit the
Mt. Emei
today. As one of the four most famous Buddhist Mountains in China, Mt. Emei is 3,099 meters (10,167 feet) high at its highest peak, boasting a splendid landscape, abundance of plants, precious trees, curious monkeys and Buddhist temples. From the parking lot, a cable car and 10-20 minutes' walk will take us first to appreciate the 1,600-year-old Wannian Temple, one of the oldest temples on the mountain. Come back the same way, and continue with a 20-minute drive to the Baoguo Temple. Sheltered by ancient pines and cypresses, the temple houses many Buddhist treasures attracting lots of Buddhist culture lovers. Return to Chengdu after a day's excursion.
Meals: Western buffet breakfast, Lunch
Day 4
Chengdu - Jiuzhaigou - Huanglong - Jiuzhaigou
Take a morning flight to Jiuzhaigou and drive to Huanglong; visit Huanglong National Scenic Reserve, including Huanglong Temple; drive back to Jiuzhaigou. (B+L+D)
After breakfast, we will see you off for your morning flight to Jiuzhaigou. As the only daytime flight from Chengdu to Jiuzhaigou takes off very early in the morning, please understand that you need to set off as early to catch it. Our local guide and driver in Jiuzhaigou will pick you up and then transfer you to Huanglong. Spend the rest of the day in the
Huanglong National Scenic Reserve
. With snow-capped mountains, dense forests, waterfalls, diverse wildlife, as well as karst formations, the heavenly sight merits its designation as a World Heritage Site. It is particularly famous for the thousands of multi-colored ponds on a 3.6-kilometer-long (2.2-mile-long) stretch of golden terraced travertines, which looks like a Chinese dragon winding through the forests and is thus named Yellow Dragon Gully. You will also visit the historical site of the Huanglong Temple before being transferred to Jiuzhaigou for a two-night stay.
Tips:
As the elevation of Huanglong National Scenic Reserve varies from 1,700 to 5,588 meters (5,577 to 18,333 feet) and Jiuzhaigou Valley from 1,900 to 3,500 meters (6,233 to 11,482 feet), you are likely to encounter altitude sickness and unpredictable drastic weather changes. To prevent mountain sickness, avoid heavy exercise and alcohol and remember to eat lots of vitamin-rich fruits and vegetables. Also, remember to save energy for the hike and keep a watchful eye while along steep trails. To cope with the sun's UV rays, you might consider bringing sun block, sun hat, and sun glasses; in case it rains or the temperature is low, take an umbrella or raincoat and a warm overcoat.
Meals: Western buffet breakfast, Lunch, Dinner
Huanglong National Scenic Reserve
Mt. Emei
Day 5
Jiuzhaigou Valley National Park
A full day trip of the Jiuzhaigou Valley National Park. (B+D)
You will have a full day trip touring the
Jiuzhaigou Valley National Park
, another UNESCO-honored natural heritage site. Renowned as the fairyland on earth, the scenic area features unparalleled green-blue lakes and waterfalls, reflecting ancient trees, dense forests, and snowy mountain ridges. You can even spot villages of Tibetan and Qiang ethnic groups nestling in the mountains. The most beautiful lake you will see is the Multi-Colored Lake. Besides, ready to be amazed by the Nuorilang Waterfall and the Pearl Shoal Waterfall, two of the most splendid travertine waterfalls in China, as well as the glassy ink-blue Long Lake!
As for lunch, there is only one restaurant (a buffet one) inside the park, but in case you don't feel like queuing for it or don't like the offerings, we suggest you have a hearty breakfast at the hotel this morning and pack some fast food to refuel your energy around noontime.
Meals: Chinese breakfast, Dinner
Jiuzhaigou Valley National Park
Local People of Qiang Village
Day 6
See-off at Jiuzhaigou Airport
Hotel-airport transfer & see you off; a pleasant trip home! (B)
Your private Sichuan tour ends today. Our guide and driver will escort you to the Jiuzhai Huanglong Airport according to your onward flight schedule. From the airport, you can fly non-stop to cities of Chengdu, Beijing, Xi'an, Guangzhou, Chongqing, Hangzhou, and so on. If you'd like to travel to these cities, we can help you book tickets (at your own expense). Wish you a pleasant journey ahead!

Meals: Chinese breakfast
This trip can be customized to meet your individual needs!
Destinations
4 Stars Hotels
5 Stars Hotels
Chengdu
Holiday Inn Chengdu Oriental Plaza
Grand Hyatt Chengdu
Jiuzhaigou
New Jiuzhai Hotel
Taihe International Hotel-Former Sheraton
Emei
Building No. 5 of Hongzhushan

Mountain-view Room

Building No. 5 of Hongzhushan

Mountain-view Room
Tour Prices
Prices with 4 Stars Hotels
2-3 travelers
4-5 travelers

USD1869

USD1649
Prices with 5 Stars Hotels
2-3 travelers
4-5 travelers

USD2079

USD1869
Prices are per person on twin sharing basis.
Price Includes
Domestic airfares
Hotel accommodation with breakfasts
Private English-speaking guides
Lunches and dinners as itinerary specifies
Private drivers & air-conditioned vehicles
Entrance fees to tourist sites
Price Excludes
International airfares
Entry Visa fees
Personal expenses
Tips or gratuities for guides and drivers
Itineraries you may also like: