Huanglong National Scenic Reserve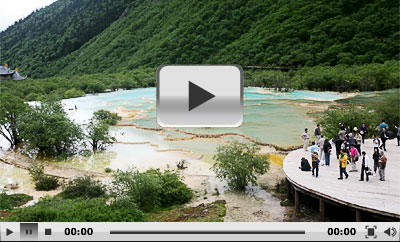 Huanglong Pictures
Huanglong Facts
Location: Songpan County in the northwest part of Sichuan Province
Huanglong altitude: 1,700 - 5,588m (5,580 - 18,300 feet)
What to see: Huanglong Valley and Mounigou Valley

The 'World Wonder' and 'Fairy Land on Earth' are names enjoyed by the Huanglong Scenic and Historic Interest Area, which is well known for its colorful Huanglong pool, lakes, snow clad mountains, valleys and virgin forest. It was included in the UNESCO world heritage list in 1992.

The Huanglong National Scenic Reserve encompasses the Huanglong and Mounigou Valley.

Huanglong Valley
The major scenery is concentrated in the 3.6-kilometer (2.2 miles) long Huanglong Valley that includes snow-clad peaks and the easternmost glaciers in China. Due to its layered calcium carbonated deposit patterns, the valley resembles a golden dragon winding its way through the virgin forest, stone mountains and glaciers. Along the valley are scattering numerous colorful ponds of different sizes and shapes, which are strewn with gold colored limestone deposit giving a shimmering golden hue to water, so in sunlight, a golden dragon seems to surge forth from the forest. Thus it was named 'Huanglong Valley' (Yellow Dragon Valley).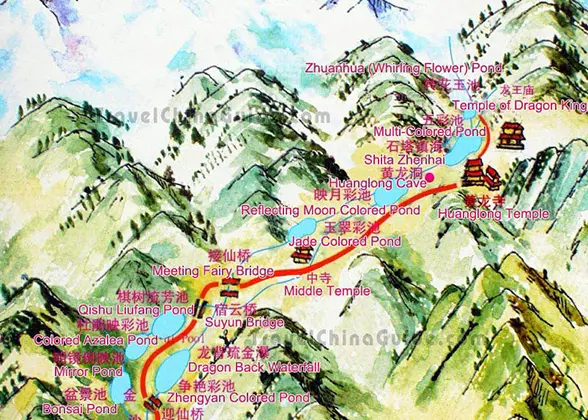 Huanglong Map (Click to enlarge)
Huanglong Scenic and Historic Interest Area is famed for its outstanding travertine (calcium carbonate) formations. With the virgin forest as its backdrop, the travertine scenery holds colorful ponds, beaches, lakes, springs, waterfalls, caves, etc. The travertine formations scenery is No.1 in China.

Upon entering the Huanglong National Scenic Reserve, a group of exquisite, crystal clear ponds will immediately catch your eyes with their unparalleled and esthetic charm. These are the Yingbin (welcoming guests) Colored Ponds. In spring, the luxuriant trees, blooming flowers, butterflies and birdsong enhance their glamour even more. From the ponds, you can see the interwoven reflection of trees, mountains, clouds and sky, which is a veritable feast to the eyes.

Along the valley, you will see many attractions including Feipuliuhui (glowing waterfall), Xishen (washing body) Cave, Penjing (miniascape) Ponds, Huanglong (Yellow Dragon) Temple, Huanglong (Yellow Dragon) Cave, Shitazhenhai and Zhuanhua (whirling flower) Pond, etc. In the Yellow Dragon Cave, there are three sitting Buddha figures whose bodies are encrusted with calc-sinter crystals. In winter, ice forest, bamboo shoots and waterfalls, etc, form a magical icy scene. Shitazhenhai is the most beautiful attraction of the whole scenic area. The calcium carbonate deposits give a myriad of different hues to the water, which is truly breath-taking. Zhuanhua Pond is crystal clear and the spring water never stops welling up. If you throw flowers or leaves into the pond, they will swirl rhythmically with flow of the water.
| | |
| --- | --- |
| Bonsai Pond | Flying Waterfall on Lotus Platform |
Huanglong's beauty is beyond mere words, you need see it in person to truly appreciate this 'Fairy Land on Earth'.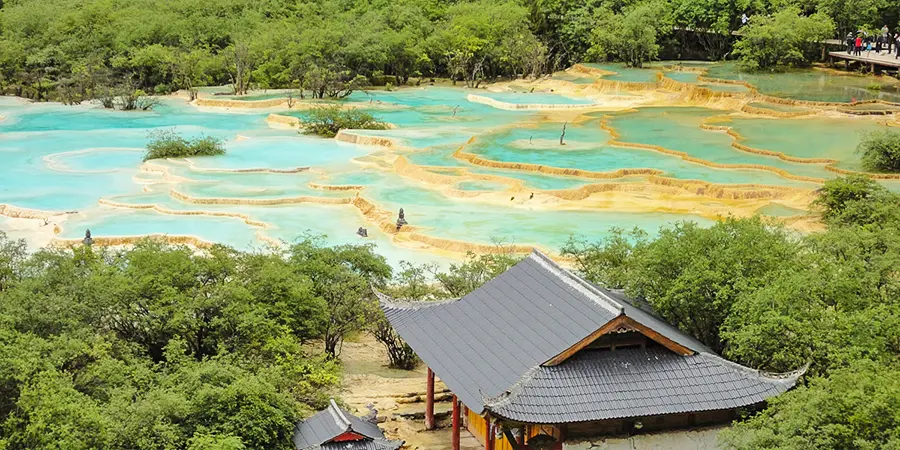 Multi-colored Pond
Holding the primary area of virgin forest in Huanglong Scenic and Historic Interest Area, the Mounigou Valley comprises Erdao Lake and Zhaga Waterfall which is the biggest calcified waterfall in all China.
Erdao Lake
Located in the northern part of Mounigou Valley, Erdao Lake is the largest in the area and around the lake are many underground limestone caves which connect Erdao Lake with other lakes in the area. The color of Erdao Lake varies with the seasons, harmoniously complementing the lake with its surrounding of colored limestone. When standing by the lake, it seems very tranquil and calm; this belies a strong undercurrent that is very active. Erdao Lake holds attractions such as Swan Lake, Baihua Lake, etc. Beside the Baihua Lake, there is a mysterious cave which embraces wonderful and magnificent naturally-formed stalactites.
Zhaga Waterfall
Zhaga Waterfall scenic spot stretches for about 5 kilometers (3 miles), where water flows around trees and trees grow in water and this scenic spot boasts many attractions. At the bottom of Zhaga Waterfall, there is a round-shaped stone onto which the waterfall cascades. In the sunlight, the spattering water is like jade, exhibiting wonderful colors. This is the Jianyu Tai (spattering jade platform).Guhuashi (ancient fossils) is the place where a number of prehistoric, fossilized animals, plants and fish are well preserved and remain intact. Feicui (Emerald) Spring is one of the ten most famous springs in China due to its water's medicinal value, and many have recovered from stomach sickness and arthritis after drinking or bathing in its water. The local population considers Feicui spring divine and allows nobody to cause damage.

The Huanglong National Scenic Reserve gained its fame for its magical landscape of limestone formations, as well as the forest ecosystems and animals on the brink of extinction, such as the giant panda and Sichuan golden snub-nosed monkey.
| | |
| --- | --- |
| Middle Temple | Ancient Temple |
Tips: The average temperature is around 7°C all the year round. It is misty in the morning and evening and rainy from May to August.
How to get to Huanglong National Scenic Reserve
Chengdu to Huanglong
Take a bus from Chengdu Chadianzi Bus Station to Songpan county, and the buses depart at 7:30, 9:30, 11:30 and 13:00. The bus fare is CNY109. After arrival, take a bus to Huanglong at 6:00, 7:00 or 14:00, and the bus fare is CNY25/ 29.
Jiuzhaigou to Huanglong
Visitors can hire a private car and the fare is around CNY400 for a round trip.
Entrance Fee
Apr. - Nov. 15 (Peak Season): CNY170;
Nov. 16 - Mar.: CNY60.
Huanglong Cable Car Ticket
CNY80 (up), CNY40 (down)
Opening Hours
8:00 - 17:00
Recommended Time for a Visit
1 day

Recommended Guided Tours:
7-Day Sichuan Tour of Chengdu, Jiuzhaigou from $1749
5 Days Private Jiuzhaigou Tour from Chengdu
- Last modified on Jun. 16, 2019 -
Questions & Answers on Huanglong National Scenic Reserve
Asked by Yuma from THAILAND | Jul. 13, 2019 03:21

Reply
How long from Maoxian to Huanglong by rent car and how about price? Thx.
Answers (2)
Answered by Bea from AUSTRALIA | Jul. 15, 2019 00:20

0

0

Reply
Generally speaking, the fare is CNY 300 to 400 for the single trip. It will take around 2 hours on the way.
Answered by Yuma from THAILAND | Jul. 16, 2019 07:07

0

0

Reply
Thank you.
Asked by SENG LEONG P'NG from MALAYSIA | Jul. 09, 2019 20:19

Reply
Is it possible to visit Huanglong and Jiuzhaigou in one day??
Answers (3)
Answered by Emma from USA | Jul. 09, 2019 20:59

0

0

Reply
No, it is impossible. These two places are 3-hour-drive away and Jiuzhaigou will takes you 1-2 days to visit. Thus you'd better to prepare 2-3 days to tour around.
Besides, Jiuzhaigou area is closed now.
Answered by SL PNG from MALAYSIA | Jul. 10, 2019 21:39

0

0

Reply
When Jiuzhaigou will open again? I need to reschedule my holiday again.
Answered by Julie from AUSTRALIA | Jul. 12, 2019 01:09

0

0

Reply
It is still not clear. There is no official announce at present.
Asked by eka from INDONESIA | Jun. 15, 2019 22:41

Reply
Hi! How long it takes to go from chengdu to huang long by bus?
Is the road well or bumpy?

Thanks
Answers (1)
Answered by Jesse from AUSTRALIA | Jun. 16, 2019 20:53

0

0

Reply
There is no direct bus from Chengdu to Huanglong and it only departs from Chadianzi Bus Station to Songpan at 7:30 9:30 11:30 12:30 13:30 and then transfer to a bus to Huanglong. The bus to Songpan takes about 5 hours and costs CNY109 per person. The road is not bumpy.
Asked by Kate from THE NETHERLANDS | May. 16, 2019 02:19

Reply
staying overnight at Huanglong
Given the long busride it seems nessecary (and also nice) to stay overnight at the park. Is that possible? Any recomendations?
Answers (2)
Answered by Emilie from AUSTRALIA | May. 16, 2019 20:30

0

0

Reply
The Seercuo International Hotel near the scenic area is recommended. Tel: 0837-8759000.
Answered by Kate from THE NETHERLANDS | May. 19, 2019 23:33

0

0

Reply
thanks

Asked by Gerardo from MEXICO | Apr. 18, 2019 23:53

Reply
Is Huanglong and Jiuzhaigou areas open now? April 2019
I'm visiting Chengdu and would love to visit both of this places, or just one depends on how much time we have. But I've heard from a Chinese friend that the scenic areas are closed. Is it true?
Answers (1)
Answered by Beryl from CANADA | Apr. 23, 2019 01:02

0

0

Reply
Jiuzhaigou Scenic Area is closed nowadays. The reopening time is unclear. But you can tour around Huanglong.