Jiuzhaigou Attractions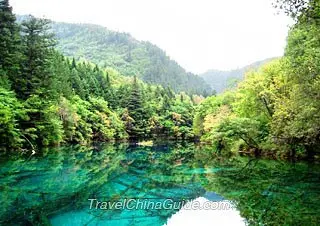 Jiuzhai Valley

Jiuzhai Valley National Park (Jiuzhaigou)

Huanglong National Scenic Reserve

Fairy Pool Scenic Area

Songpan Ancient Town

Mounigou Valley

Four Maiden's Mountain
(Mt. Siguniangshan)
First on the must-go attractions of Chengdu is Jiuzhai Valley National Park (Jiuzhaigou), located in Jiuzhai County. Some 460 kilometers (about 286 miles) away from Chengdu, it has an unusual ecosystem with dozens of pristine lakes, waterfalls, forests and rare animals. There goes a saying: no mountain is worth seeing after Mt. Huangshan and no other water will be of interest after Jiuzhaigou. If there are 'fairylands' in the world, Jiuzhaigou is certainly one of them. This site has been designated as a UNESCO World Heritage Site.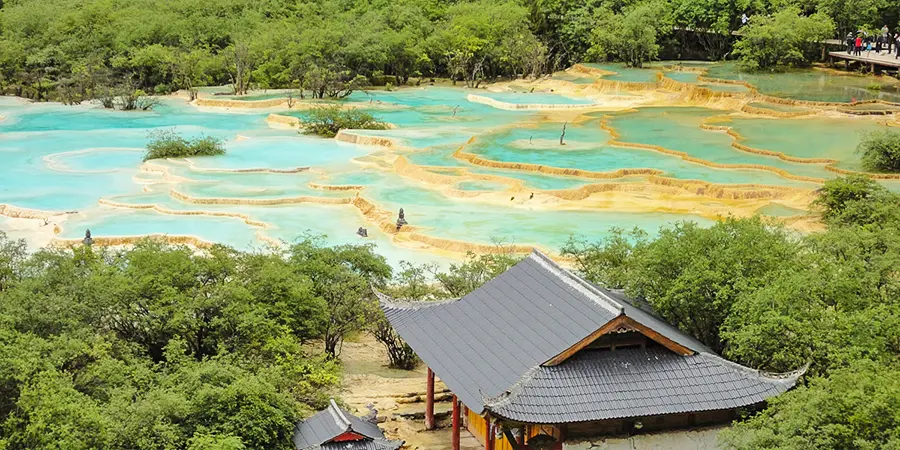 Multi-color pond in Huanglong
Going west along Jiuhuang Ring Way towards Chengdu, visitors can stop and explore many spectacular scenic wonders. The Huanglong Scenic and Historic Interest Area, located in Songpan County, is another UNESCO World Heritage Site. It is noted for its colorful waters, lakes, hot springs, snow-capped mountains, valleys and forest. It is another must see for visitors coming to Jiuzhai Valley. The majestic snow-capped Xuebaoding Mountain, soaring 5500 meters above sea level, stands on the way to Huanglong scenic area. It is a favorite among mountain climbers and hikers.
To get to Huanglong, visitors have to transfer to a bus at Chuanzhusi Town, about 90 kilometers away from Jiuzhaigou, or at Songpan County, about 20 kilometers further from Chuanzhusi. Each of these places has its unique history and charm.
There are two minor attractions along the way to Chuanzhusi--Ganhaizi Lake and Fairy Pool. Ganhaizi Lake is about 18 kilometers (about 11 miles) away from Jiuzhai Valley and Fairy Pool Scenic Area is about 45 kilometers (about 28 miles) away from Ganhaizi Lake. These two attractions feature pure, tranquil waters, lush forests and lofty mountains. Rare animals often appear in the area of Fairy Pool Scenic Area. The virgin forest here is an ideal living environment for pandas, golden monkeys and Tibetan antelopes.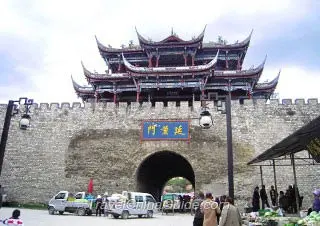 Songpan Ancient Town
Songpan County is an ancient Tibetan town favored by some foreign visitors because they can explore this wonderful scenic area on horseback. It is easy to find a caravan in this small county. Shunjiang Horse Trek Company, located near the city gate of Songpan Ancient Town, is a good choice, offering each tourist a horse and a guide. Most company guides can speak some English. Several tour lines depart from here to places like Huanglong, Xuebaoding Mountain and Mounigou Valley.
Mounigou Valley is southwest of Songpan County, with an elevation between 2880 meters and 4070 meters. It has two scenic spots: Zhaga Waterfalls and Erdaohai Lake. The latter can only be reached on horseback.
The lofty Four Maiden's Mountain, well-known Dujiangyan Irrigation Project and Mt.Qingcheng are located on the way to Chengdu.
In summary, the trip to Jiuzhaigou will be a feast for the senses, a memory to be treasured.

Recommended Tour Itineraries:
Chengdu, Jiuzhaigou Tour: 6 days of Chengdu, Jiuzhaigou, Huanglong, Dujiangyan
Memorable China Tour: 14 days of Beijing, Chengdu, Jiuzhaigou, Huanglong, Mt. Emei, Lijiang, Dali, Kunming