Jiuzhaigou Attractions - Things to Do
Top Things to Do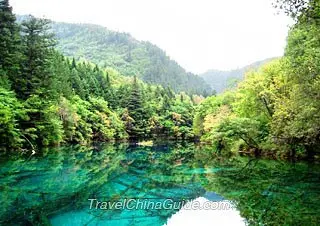 Jiuzhai Valley
The first on the must-go attractions list of Jiuzhaigou is the Jiuzhai Valley National Park (Jiuzhaigou Valley). Located about 460 kilometers (286 miles) away from Chengdu, it has an unusual ecosystem with dozens of pristine lakes, waterfalls, forests and rare animals. There goes a saying: no mountain is worth seeing after the Yellow Mountain and no other water will be of interest after the Jiuzhai Valley. If there are 'fairylands' in the world, Jiuzhaigou is certainly one of them. This site has been designated as a UNESCO World Heritage Site.

Note: Jiuzhai Valley National Park is closed due to post-disaster recovery and reconstruction and predicted to reopen on Oct. 1, 2019.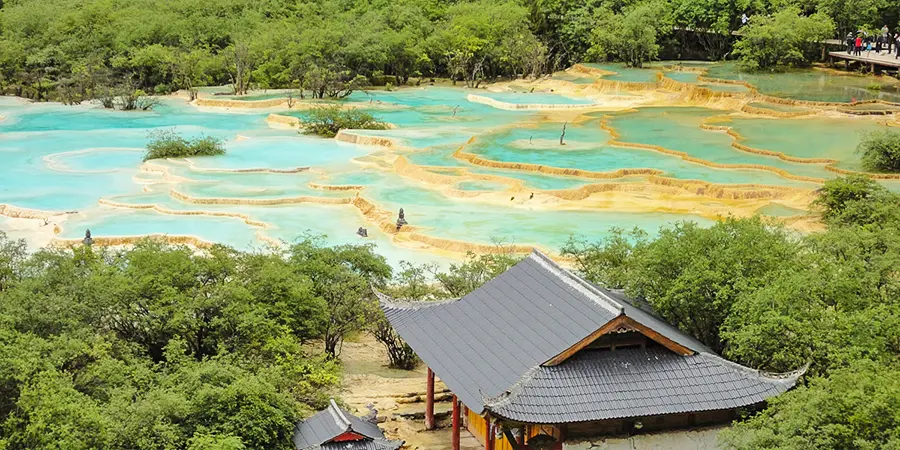 Multi-color pond in Huanglong
Going west along Jiuhuang Ring Way towards Chengdu, visitors can stop and explore many spectacular scenic wonders. The Huanglong National Scenic Reserve, located in Songpan County, is another UNESCO World Heritage Site. It is noted for its colorful waters, lakes, hot springs, snow-capped mountains, valleys, and forests. It is another must see for visitors coming to Jiuzhaigou. The majestic snow-capped Xuebaoding Mountain, soaring 5,500 meters (18,000 feet) above sea level, stands on the way to Huanglong Reserve. It is a favorite among mountain climbers and hikers.

To get to Huanglong, visitors have to transfer to a bus at Chuanzhusi Town, about 90 kilometers away from Jiuzhaigou, or at Songpan County, about 20 kilometers away from Chuanzhusi. Each of these places has its unique history and charm.

More Attractions

Fairy Pool Scenic Area


Four Maiden's Mountain (Mt. Siguniangshan)


Mounigou Valley


Songpan Ancient Town

There are two minor attractions along the way to Chuanzhusi - Ganhaizi Lake and Fairy Pool. Ganhaizi Lake is about 18 kilometers (11 miles) away from Jiuzhai Valley and Fairy Pool Scenic Area is about 45 kilometers (28 miles) away from Ganhaizi Lake. These two attractions feature pure, tranquil waters, lush forests, and lofty mountains. Rare animals often appear in the Fairy Pool Scenic Area. The virgin forest there is an ideal living environment for giant pandas, golden monkeys, and Tibetan antelopes.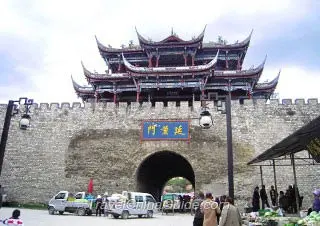 Songpan Ancient Town
Songpan County is an ancient Tibetan town favored by some foreign visitors because they can explore this wonderful area on horseback. It is easy to find a caravan in this small county. Shunjiang Horse Trek Company, located near the city gate of Songpan Ancient Town, is a good choice, offering each tourist a horse and a guide. Most horse companys' guides can speak some English. Several tour lines depart from there to places like Huanglong, Xuebaoding Mountain and Mounigou Valley.

Mounigou Valley is the southwest of Songpan County, with an elevation between 2,880 meters (9,450 feet) and 4,070 meters (13,350 feet). It has two scenic spots - Zhaga Waterfalls and Erdaohai Lake. The latter can only be reached on horseback.

The lofty Four Maiden's Mountain, Bipeng Valley, and Miyaluo Scenic Area are located on the way from Jiuzhaigou to Chengdu.

In summary, the trip to Jiuzhaigou will be a feast for the senses, and a memory to be treasured.

Recommended Guided Tours:
5 Days Private Jiuzhaigou Tour from Chengdu
7-Day Sichuan Tour of Chengdu, Jiuzhaigou from $1709
- Last modified on Jul. 01, 2019 -
Questions & Answers on Jiuzhaigou Attractions
Asked by Vicky from AUSTRALIAS | Jun. 12, 2019 04:22

Reply
Is the Jiuzhaigou valley area open? We plan on visiting in July
Answers (1)
Answered by Diego from USA | Jun. 12, 2019 19:37

0

0

Reply
Sorry, it is still closed nowadays. The reopen time is unclear.
Asked by Justine from FRANCE | Apr. 02, 2019 14:10

Reply
Do you know if Jiuzhaigou Scenic Area will be open in June 2019 ?
Thanks
Answers (3)
Answered by Nora from USA | Apr. 02, 2019 23:08

0

0

Reply
Hi, Justine, I am not sure. The reopening time is unclear.
Answered by Juan from SPAIN | Apr. 05, 2019 05:34

0

0

Reply
Flights from Chengdu are begining again from late May 2019, so I think it may be reopen since then 😀
Answered by Justine from FRANCE | Apr. 11, 2019 09:34

0

0

Reply
Thank you to both of you :) I hope so but not sure I should book plane tickets and organise everything if it's not sure ... let's wait and see.
Asked by A from SWEDEN | Dec. 23, 2018 01:55

Reply
Hey, is Jiuzhaigou still closed? We plan to go there in January 2019 if possible.
Answers (1)
Answered by Emily from USA | Dec. 23, 2018 22:44

0

0

Reply
Well, I am not sure. The reopening time is still unclear.
Asked by Sue from USA | Sep. 04, 2018 19:01

Reply
Is Jiuzhaigou still closed for Sep 9,2018
Answers (1)
Answered by Thomas from CANADA | Sep. 05, 2018 18:44

0

0

Reply
Yes, it is and the reopen time is still uncertain.
Asked by Udit from CHIBA | May. 30, 2018 11:52

Reply
We are 3 people travelling to Chengdu on 14th June,2018.
We plan to visit Juizhaiguo for 2 days on 15th and 16th and back to chengdu on 17th.
How can i arrange for valley park tickets as it's only available through tour group for these dates.
Answers (1)
Answered by Rain from USA | Jun. 04, 2018 01:23

0

0

Reply
You can find a reliable travel agency. I used to join a travel agency which is pretty good, maybe you can contact them travel

travelchinaguide.com.