Jiuzhaigou Transportation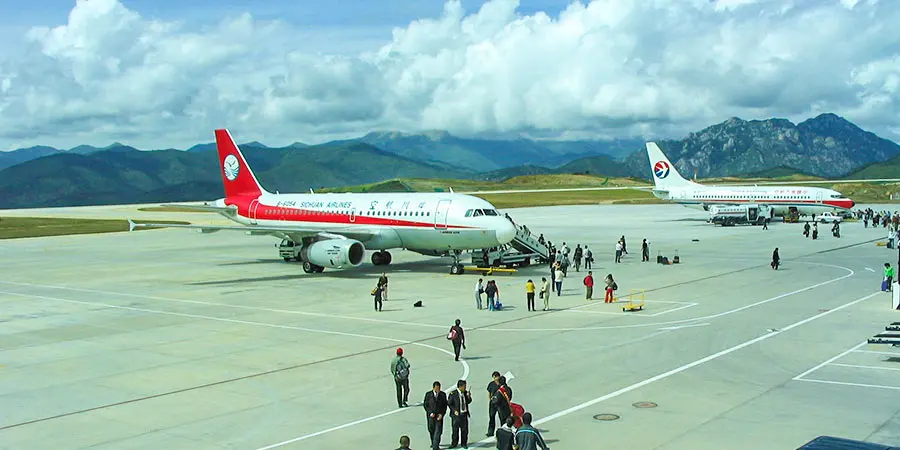 Jiuzhaigou-Huanglong Airport
Located in the far northeast of Sichuan Province, Jiuzhaigou National Park lies isolated from other cities in the province. For many people, how to get to Jiuzhaigou is a big problem. However, Jiuhuang Airport mainly serving Jiuzhaigou Valley and Huanglong National Scenic Reserve as well as the road link between Chengdu and Jiuzhaigou have meant that the journey to Jiuzhaigou has become a great deal easier for today's visitors.

Chengdu remains the starting point for visitors to Jiuzhaigou, as there are only a few of direct planes or long-distance bus service to the region from elsewhere within China.

Jiuhuang Airport (JZH) is 12 kilometers (7.5 miles) away to the north of Chuanzhusi Town, which is located in Songpan County of the Aba Autonomous Prefecture. Passengers can take flight to this airport from Chengdu, Chongqing, Xi'an, Guangzhou, Beijing and Shanghai in usual time. However, the flight schedules are decreased a lot because of the Jiuzhaigou Earthquake on Aug. 8th 2017. Only direct flights to/from Chengdu and Chongqing are available currently. Visitors are advised to recheck the flight schedule or postpone the travel plans there.

Huanglong Reserve was not affected and open as usual. After arriving at Jiuhuang Airport, visitors can take shuttle buses to Huanglong Reserve, and some of other local scenic spots. The departure time of the shuttle buses generally runs in accordance with the flight schedule.

Train
As of now, there is no direct train to/from Jiuzhai Valley. Passengers can only take trains to Guangyuan or Jiangyou first and then change to a bus to arrive at the destination, but it is rather inconvenient. It is reported that Jiuzhaigou Railway Station will be put into service by the end of 2019 along with the operation of Chengdu - Jiuzhaigou Train. By then, the travel between Chengdu and Jiuzhaigou will be very convenient and rail travel just takes 2 hours or so.

There are two long-distance bus stations in Jiuzhaigou currently. Most long-distance buses depart in the early morning and arrive at dawn, and now even provide a service throughout the winter months. Traveling by bus can also help with gradual acclimatization to the local high altitudes (it is recommended that those prone to altitude sickness take appropriate medication before departure).

Some visitors prefer to drive there by themselves or hire a car. The advantage is that visitors can plan their journey freely without too many limitations. However, unless they are skilled drivers, it is recommended to hire someone who is familiar with the local conditions, since some sections of the road are hazardous and especially dangerous at night. They can hire a car with a driver at Jiuhuang Airport and go to Huanglong National Scenic Reserve. However, if they prefer to travel independently, it is possible to hire a car when they arrive in Chengdu or Mianyang. The whole route can then be catered to their interests. Below is the reference price for chartered car:
| Route | Price (Single Trip) |
| --- | --- |
| Jiuhuang Airport - Huanglong | CNY300 |
| Jiuhuang Airport - Mounigou Valley | CNY300 |
| Chengdu - Huanglong | CNY1,500 |

Tips:
1. Drivers do not speak English, so it is recommended to have a friend who can speak Chinese. Or visitors can learn some Chinese before going there.
2. Make sure to bargain for a reasonable price with the driver before getting in the car.

Sightseeing buses provided in Jiuzhai Valley brings lots of convenience for visitors. These buses start from the entrance gate of the valley and stop at main attraction sites inside the valley. A round trip inside the valley usually takes about 130 minutes. Tourists need to buy bus tickets at the entrance gate. Since the reopening after the earthquake, the bus fare is CNY 90. Besides, two kinds of buses are provided: the larger buses can only be taken at designated stations and the medium-size ones can be taken at any place along its travel route.

Taxi
Most hotels and restaurants still located at areas which still have a distance from the main entrance of the valley. The flag-down rate of the taxis in Jiuzhaigou County is CNY4-6 for the first 2 kilometers (1.2 miles) due to the different car types. Only a few drivers would use the taximeter. Thus it is quite necessary to negotiate the price before boarding. Usually shuttling in the county and near the valley costs no more than CNY10.
Reference Taxi Fare:
Jiuhuang Airport – Huanglong Scenic Area: CNY600-700 for a single trip
Chengdu –Huanglong Scenic Area: about CNY1, 500 for a single trip

On Foot
If tourists would like to get closer to the charming scenery in the Jiuzhaigou Valley, then walking provides the perfect opportunity to do so. Local officials have introduced a footpath for visitors that winds its way around Jiuzhaigou's major attractions, like a necklace stringing together a series of spectacular sceneries. The eco-friendly wooden trails are extending for over 70 kilometers (44 miles). Mountain climbers are advised to take professional climbing equipments and walk along the main footpath.


Further Reading:
How to Travel between Xi'an and Jiuzhaigou
Best Way to Travel between Chengdu and Jiuzhaigou
- Last updated on Jul. 27, 2023 -
Questions & Answers on Jiuzhaigou Transportation
Asked by Swee from SINGAPORE | Jul. 24, 2023 23:30

Reply
Huanglong and Jiuzhaigou bus.
I'm travelling to Jiuzhaigou in Sept.
I arrive in Jiuzhaigou airport at 8.40AM on 15th Sept, from Chengu by plane..
I have booked a hotel near Jiuzhaigou National Forest Park from 15/9/23 to 21/9/23.
I was thinking of taking a one hour public bus from airport to Huanglong on the day I arrive on 15/9/23.
I will spend a few hours seeing Huanglong Scenic Area.
I will then take the one hour public bus to Jiuzhaigou airport, so I can take another 2 hour public bus to the hotel near Jiuzhaigou National Park the same evening.

My question:
How frequent is the bus from Jiuzhaigou airport to HuangLong Scenic Park?
What is the last bus leaving HuangLong Scenic Park to the airport or direct to Jiuzhaigou National Park entrance?
What is the last bus from JiuzhaiGou airport to JiuZhaiGou National Park entrance.
I'm staying in a hotel near Holiday Inn Express in PengFeng Village, Zhangzha Town, Jiuzhaigou.
thanks, Swee
Answers (2)
Answered by Scott | Jul. 25, 2023 19:06

0

0

Reply
The bus schedule from the airport to Huanglong and Jiuzhaigou is in accordance with the flight schedule. It will depart once fully occupied.

I don't think you can rely on the bus from Huanglong to Jiuzhaigou or back to the airport. A more convenient way is to hail a car, costing CNY250-300. You can share the car with other visitors to save money.
Answered by Swee | Jul. 27, 2023 23:11

0

0

Reply
Thanks Scott for your reply.
Much appreciated.
I will check with the bus operators at the airport.
Cheers, Swee.
Asked by Ge from PHILIPPINES | Oct. 02, 2019 04:17

Reply
What is the best way to get from Guangzhou to Jiuzhaigou?
Hi, what mode of transportation (budget-friendly) would you recommend to get from Guangzhou to Jiuzhaigou? Is the park already open? Plan to visit on November 2019.
Answers (1)
Answered by Presley from USA | Oct. 09, 2019 23:45

0

0

Reply
You can take high speed train from Guangzhou Railway station to Chengdu East Railway station, then take taxi to Xinnanmen Coach station. From there, you can take bus to Jiuzhaigou.
Asked by Julija from LITHUANIA | Oct. 20, 2018 22:01

Reply
What is the best way to go from Leshan to Jiuzhaigou?
but cant find any direct buses, can you please advice us what to do and how to get there? If there is any link with bus schedule please leave it for us! Thank you in advance :)
Answers (1)
Answered by Lassie from USA | Oct. 22, 2018 01:03

0

0

Reply
You can first take the bus at Leshan Xiaoba Tourism Bus Station to Chengdu Xinnanmen Bus Station and the buses usually depart from 07:10 to 19:00 every day. Then take the bus at Xinnanmen Bus Station to JZG, usually departing at 08;00, 08:05 and 08:20.
Asked by Lukas from LITHUANIA | Jul. 22, 2018 18:15

Reply
Songpan & Huanglong
Hello,

My tour plan:
1. I will get on the bus from Chengdu to Songpan and stay night.
2. I get on the bus to Huanglong early morning around 6:00.
3. After Huanglong sighting, how can I get back to Songpan? There indirect any the bus.

I'm waiting for someone helping me.
Answers (1)
Answered by Jim from USA | Jul. 23, 2018 18:30

0

0

Reply
Do you plan to take a bus to HL in Chuanzhusi? It has still 17km from SP. And the bus back to SP from HL is uncertain, so it is advised to hire a car with other tourists, which will be more convenient.