Jiuzhaigou National Park
It is said that if there should be wonderlands on the earth, Jiuzhaigou National Park must be one of them. There is no equal elsewhere that has sceneries and fables of dreamlike eloquence, or natural purities like a fairyland as it.

Jiuzhaigou National Park, aka Jiuzhai Valley National Park or Jiuzhaigou Valley, is located in Jiuzhaigou County, 450 kilometers (280 miles) to the north of Chengdu. Its name is due to the existence of nine stockaded villages of Tibetan origin, and it is always regarded as a holy mountain and watercourse by the Tibetan people.

Jiuzhaigou National Park is a great masterpiece of nature having dreamlike scenery, which combines blue lakes, waterfalls, verdant forests, snow-covered mountains, and the folk customs of the Tibetan and Qiang peoples. Legend has it that long long ago the deity of mountain named Dago had a crush on the goddess Semo, and he gave a mirror that was made from wind and cloud to the goddess. However, the devil appeared and made trouble to Semo. Inadvertently, Semo broke the mirror into 108 pieces, which fell down to the earth and then turned to 108 colorful lakes. The lake is also called Haizi by local people.
| | |
| --- | --- |
| Five-Flower Lake | Our Guests in Jiuzhaigou Valley |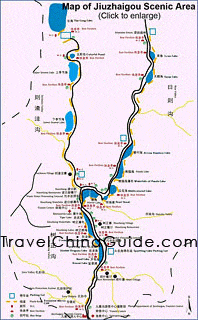 Map of Jiuzhaigou
(Click to enlarge)
In addition to the dreamlike sceneries, there are numerous flora and fauna in Jiuzhaigou National Park. The natural forest covers an area of nearly 30,000 hectares (about 74,132 acres), including 2,576 higher plant species (24 species of national protected plants) and over 400 lower plant species (212 species of algae). The diversity of flora has provided a good environment for wild animals. There are 170 species of vertebrates, 141 species of birds and 17 species of rare animals. Among them the first rank has giant pandas, takins and golden monkeys and the second rank has lesser pandas, marmots, and blue sheep.

Jiuzhaigou Valley Scenic and Historic Interest Area covers more than 600 square kilometers (about 230 square miles). Shuzheng Valley, Rize Valley and Zechawa Valley are the three main valleys, but the sceneries are far more than you expect. There are Panda Lake Waterfall which has the longest drop in Jiuzhaigou Valley and freezes to a crystal world in winter, the giant calc-sinter beach Pearl Beach, the Arrow Bamboo Lake that has a large area of bamboo, the favorite food of pandas, and Swan Lake where swans inhabit ...

The best time to visit Jiuzhaigou is autumn, especially September and October. Besides, with the snow scenery, Jiuzhaigou winter is attracting.

Entrance Fee
| | |
| --- | --- |
| Apr. 1 - Nov. 15 | CNY 169 |
| Nov. 16 - Mar. 31 | CNY 80 |

Notes:
Both individual and group tourists are received at present. Tourists need to book a ticket online in advance before visiting.



Preferential Policy:
1. Children and teenagers aged between 6 and 18, as well as seniors aged between 60 and 70 can enjoy half price of the entrance ticket with their certificates of identification, but without preference on the sightseeing bus.
2. Children aged 6 or younger and those under 1.2 m (3.9 ft), as well as seniors aged above 70 can enjoy free entry to the park, but without exemption of the sightseeing bus fare.
Opening Hours
Apr. 1 - Nov. 15: 8:00 - 17:00
Nov. 16 - Mar. 31: 8:30 - 17:00

Visitors need to take the sightseeing bus to enter the scenic area. The green environmental-friendly sightseeing buses serve the whole scenic area. The bus fare is CNY 90 from April 1 to November 15, and CNY 80 from November 16 to March 31.

How to get to Jiuzhaigou National Park from Chengdu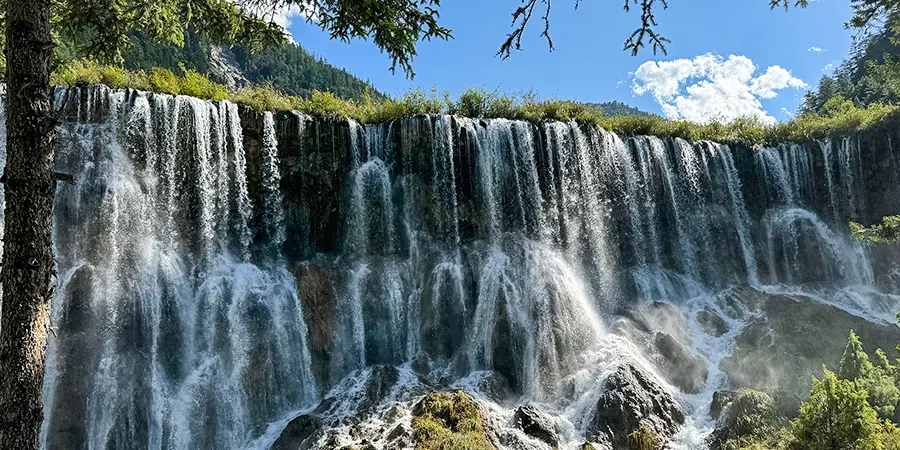 Pearl Shoal Waterfall

By Air:
Jiuhuang Airport is about 88 kilometers (55 miles) from the mouth of the valley and about 53 kilometers (33 miles) from Huanglong. It takes 40 minutes to fly from Chengdu to the airport and a half hours' ride from the airport to the scenic area. Currently, the airport only operates direct air routes to Chengdu.
Please use China Flight to search for the latest schedule and price.



By Bus:
Regular buses are available from Chengdu Xinnanmen Bus Station at 8:00, 8:05 and 8:20 in the morning. The bus fare is CNY 141/ 158. It is suggested to buy the bus ticket in advance. Besides, the following bus can also take you to Jiuzhaigou: one from Chengdu General Bus Station at 7:10am, one from East City Bus Station at 7:00am and one from Shiyangchang Bus Station at 8:45am. It takes about 10-11 hours from Chengdu to Jiuzhaigou.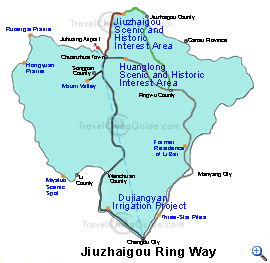 Map of Jiuzhaigou Ring Way
(Click to enlarge)

By train:
Chengdu - Jiuzhaigou Train will be operated between the two places by the end of 2020. By then, one can make a quick rail travel within 2 hours between Jiuzhaigou National Park and Chengdu.

By chartered car:
The fare is around CNY 1,000 - 1,400 for a round trip.



Further Reading: Best Way to Travel between Chengdu and Jiuzhaigou

How to get to Jiuzhaigou National Park from Xi'an?
At present, there are no direct flights from Xi'an to Jiuzhaigou. Visitors need to get to Chengdu first, and then catch a flight or bus to Jiuzhaigou. From Xi'an to Chengdu, they can conveniently take high speed trains at Xi'an North Railway Station and the train journey only takes about 2.5 hours.



Further Reading: How to Travel between Xi'an and Jiuzhaigou



Read More: 15 Most Beautiful Places in China
- Last updated on Aug. 16, 2023 -
Questions & Answers on Jiuzhaigou National Park
Asked by Joan from SINGAPORE | Sep. 10, 2023 08:41

Reply
Jiuzhaigou ticket admission duration
Hi there!

1/ Can i check if the admission ticket can be used for entry for 2 days? Or is it just a one-day only admission?
2/ Is there any nearby places other than Huanglong that you would recommend as well?
Answers (1)
Answered by Andrew | Sep. 11, 2023 23:54

0

0

Reply
1. It is only valid for one day.
2. Songpan Ancient Town and Mouni Valley are good places to explore nearby.
Asked by Maggie from AUSTRALIA | Aug. 16, 2023 00:50

Reply
Is jiuzhaigou is open to foreigners again? I will be travelling to china in sept-oct this year.
Answers (3)
Answered by David | Aug. 16, 2023 01:31

0

0

Reply
Yes, it opens to foreigners now.
Answered by P | Aug. 16, 2023 03:16

0

0

Reply
Are there still any health requirements for foreigners?

In 2021, foreigners needed to meet these requirements:
01. Foreigners who live/work in China and has proof of residence/work.
02. Local Tianfu health QR green code.
03. Visitors from Guangdong province (or have been to Guangdong lately) need to have Nucleic Acid Test made in past 48 hours.
Answered by James | Aug. 16, 2023 18:17

0

0

Reply
Hi, there is not any health requirement at present. However, booking tickets on line in advance is necessary as there is no ticket counter at the spot now. Pay attention that you should enter the scenic area between 7:30-14:00.
Asked by Joh from THAILAND | May. 27, 2023 02:04

Reply
Currently, Are JiuZhaiGou, limit traveller per day?
I have plan to go to Jiuzhaigou at October from thailand, Do I need to reserve the entrance ticket to valley and how many day per people can entrance to the valley?

Thank you very much
Answers (1)
Answered by Kelvin | May. 29, 2023 00:12

0

0

Reply
The limit is generally 41,000 every day. It is better for you to pre-book the entrance ticket in advance and pay attention to avoiding the extreme busy peak season during October 1-8.
Asked by Jenny from MALAYSIA | May. 18, 2023 07:29

Reply
Autumn in jiuzhaiguo
In September, can we see colourful leaves in jiuzhaiguo?
Answers (1)
Answered by Eric | May. 18, 2023 20:06

0

0

Reply
Yes. Actually it is the mot beautiful time of the valley.
Asked by Swee from SINGAPORE | May. 07, 2023 22:24

Reply
Jiuzhaigou National Park.
I'm a 67yo tourist from Singapore, travelling independently & visiting Jiuzhaigou National Park in Sept 2023.
I will spend 2 full days visiting Jiuzhaigou Scenic Area like Zechewa Valley, Shusheng Valley & Rize Valley as we can only buy 2 days ticket.
Questions:
(1) Which is the nearest town to stay so I can visit the above tourist site easily?
(2) How do I get from JiuHuang Airport (JZH) to the nearest town/hotel by public transport? Cost?

I may have extra days to stay, so:
(3) Is it possible to visit Huanglong National Scenic Reserve in one day? How to get there & public transport cost?
(4) how far is Songpan Ancient Town from Jiuzhaigou Scenic Area? What's the distance, travel time & public transport cost?

Thanks in advance. Swee.
Answers (2)
Answered by Nelly | May. 08, 2023 18:36

0

0

Reply
1. As I know, it is not allowed to stay in the scenic area so it is recommended to stay in the entrance of Jiuzhaigou. There are many hotel options right outside the entrance.

2. From the airport to Jiuzhaigou Scenic Area, there are some shuttle buses operating. It takes about 1.5 hours for a single journey and costs CNY45.

3. Direct buses are also operated between Jiuzhaigou and Huanglong. You can take a bus from Jiuzhaigou Zhangzha Town Bus Station (only about 100 meters from the entrance of the scenic area). The bus departs from 7:40 every day and there are 5 buses operating. It costs about 2.5 hours for a single journey and the ticket fare costs CNY47.

4.I knew only one bus departs from Jiuzhaigou Scenic Area in the early morning at 7:50 to Songpan, it costs about CNY42 and takes about 2 hours with the distance of around 100 km.

Answered by Swee | May. 18, 2023 23:24

0

0

Reply
Thanks Nelly.
Much appreciate your response which is very helpful.
cheers, Swee