Jiuzhai Valley Travel Tips
Travel Necessaries
Clothes: In consideration of the plateau climate, intense ultraviolet radiation and great difference in temperature at daytime and night. You should better take long-sleeve blouse, trousers, enough warm clothes and rain gear. It is still necessary to bring down coat if one pays a visit in April.

Medicine: Please bring some standing drugs in case of cold, allergy, discomfort in stomach, etc, as well as some bandages and vitamin. Prepare some medicine to prevent altitude illness, such as Rhodiola Rosea herb capsules, American ginseng throat tablets, etc.

Skin Care: To protect skin from hurt for long-time outside activities, bring hat and suncream.

Oxygen Problem: Prepare small oxygen cylinder for the aged people and young kids. It is easy to buy find oxygen cylinders at medicine stores in Chengdu. This is a no-go area for people with high blood pressure or heart diseases.

Local Transportation
Most visitors choose to go there by airplane. The fact is that Jiuzhaigou Airport is still 88 kilometers from the mouth of Jiuzhai Valley, 1.5 hours' bus ride, 50 kilometers from Huanglong Scenic Area, about one hour's bus ride. The airport is between Jiuzhai Valley and Huanglong which are 2.5-3 hours from each other by car.

Clarifications on Names of Places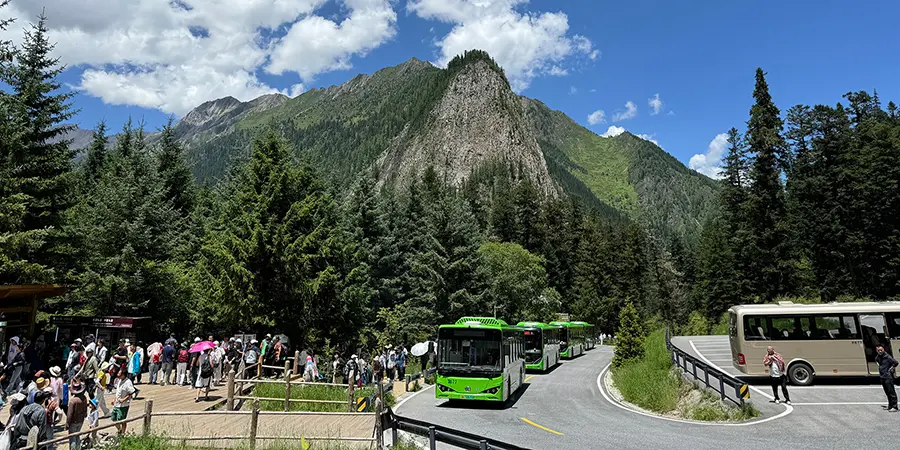 Tourist buses in the Valley
The mouth of Jiuzhai Valley, shortly called Gou Kou by the local, refers to the outer area outside the main entrance to Jiuzhai Valley. Visitors would like to stay here, looking for eating, shopping and living places. Its name is formally Pengfeng Village.
Zhangzha Town is what the people call Zhen Shang (the town). It is located in the upper reaches of Pengfeng Village, also a place with restaurants and lodging. Compared with Pengfeng, Zhangzha is a bit farther from the scenic area.
Jiuzhaigou County, also known as Nanping, is the town seat of Jiuzhaigou. It is 43 kilometers from the scenic area of Jiuzhaigou. Pay attention to the destination while taking bus.

Accommodation
Hotel price here during the peak season is higher than that in the off-peak season, but not much. It costs around CNY200 for a 3/4 star hotel, while the 5 star hotel is much expensive, about CNY700-900. The price is subjected to changes according to your need. Anyway, popular hotels, hostels or inns will usually be full during the peak season.

Second-day Ticket
During the off-peak season (November 16-March 31), you could not pay a full price for the second day visit to the scenic area, but only CNY20. It is impossible during the peak season. The detail for a two-consecutive-day visit is: when you purchase your ticket in the first day, you will be asked if you would like to go for another day. You say yes and pay, your photo will be taken on entry to the park to validate your second day's ticket. The ticket price is CNY 80 entrance fee + CNY80 tourist bus fare for the first day and CNY20 + CNY80 bus fee for the second day visit. If you pay for a one-day ticket and decide that you would like to re-enter on the second day you must tell the park staff on the way out, before you exit the park.

Visiting the Scenic Area on Foot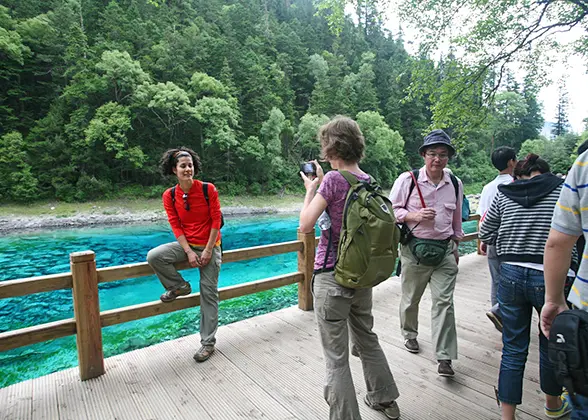 Tourists in the Valley
There are over 70-kilometer eco-friendly wooden trails throughout Jiuzhai Valley. You can choose these trails in stead of the tourist bus. This can maximize your enjoyment of the scenery. There are many natural beauties that can not be visible on the bus.

It is possible to get off the bus at the top of each valley inside the scenic area and walk all the way out. It is still suggested to take bus from one valley to another for most visitors, for not everyone is passionate to walk all of the three valleys two full days.

Some Spots Closed during off-Peak Season
To protect the ecological environment, Jiuzhaigou Scenic Area will partly close some attractions for maintenance every year from November 16 to March 31. Those parts include the virgin forest section, Tiger Lake – Five-Flower Lake, Mirror Lake – Shuzheng Old Mill, Arrow Bamboo Lake – Pearl Shoal. It will not have impact on your visit to the valley.




Jiuzhai Valley
Jiuzhai Valley Travel Tips
- Last updated on Nov. 20, 2019 -
Questions & Answers on Jiuzhai Valley Travel Tips
Asked by Sanu from INDIA | Oct. 28, 2019 21:58

Reply
How to book the entry ticket of Jiuzhaigou National Forest Park?
I'm planning to visit the park for 3 days starting from December 25th. I read that buying entry ticket as an individual is jot possible. How to buy the entry ticket and is there any options of staying inside the park after buying entry ticket for 3 days?
Answers (1)
Answered by Lisa from THAILAND | Oct. 31, 2019 19:28

0

0

Reply
You need to book the ticket from local travel agency.
Asked by Pin from THAILAND | Oct. 04, 2016 11:01

Reply
Will I easily find a taxi to go to Jiuzhaigou National Park and go back if I stay at Zhangzha town?
And how much should a taxi cost? I plan to visit JZG during November 14-15. Thank you.
Answers (2)
Answered by Jaqueline from RUSSIA | Oct. 04, 2016 22:07

0

2

Reply
Yeah, it will be easy to hire a taxi or take a private car to shuttle between. They are not far from each other and the fare for a single journey can be 20RMB or so.
Answered by Pin from THAILAND | Oct. 05, 2016 03:49

0

0

Reply
Thank you very much Jaqueline.
Asked by Elsie from SINGAPORE | Jul. 13, 2016 03:39

Reply
What is the temperature like when visit Jiuzhaigou on 15 Dec.?What can I see?
Answers (2)
Answered by Pepe from SP | Jul. 13, 2016 04:29

0

0

Reply
It may be cloudy and snow lightly sometimes. The temperature may range from 25F to 40F. It will be cold.
You are advised to take down jackets, sweaters, warm pants, and boots. You can enjoy a beautiful winter scene, like icefalls and trees with rime. :)
Answered by Elsie from SINGAPORE | Jul. 16, 2016 20:30

0

0

Reply
Pepe Thanks for the information
Asked by Mohd Faizal from MALAYSIA | Jun. 15, 2016 18:22

Reply
What is the best time to have a visit to Jiuzhaigou National Park?
As I plan to have a visit here in early April. Is it a good time for having a spectacular view of this scenic area?
Answers (2)
Answered by Linda from AUSTRALIA | Jun. 15, 2016 21:57

2

0

Reply
In general, from June to October is a best period for sightseeing. If you wanna see a spectacular view of the scenic area, you are suggested to change your travel plan. If not, it's still ok for you to go there in April. Just pay attention to bring some warm clothes because it would be a little bit cold.
Answered by Mohd Faizal from MALAYSIA | Jun. 16, 2016 00:46

1

0

Reply
Thanks Linda for the info.
Asked by Sue from AUSTRALIA | Apr. 24, 2016 09:13

Reply
Hi, I have high blood presssure but it is under control. Can I go to Jiuzhaigou ?
Answers (1)
Answered by Mindy from USA | Apr. 24, 2016 21:57

1

0

Reply
Oh, just take along your regular medicine and it is fine to visit the valley. And don't go to Huanglong which has higher elevation.