Jiuzhaigou National Park Pictures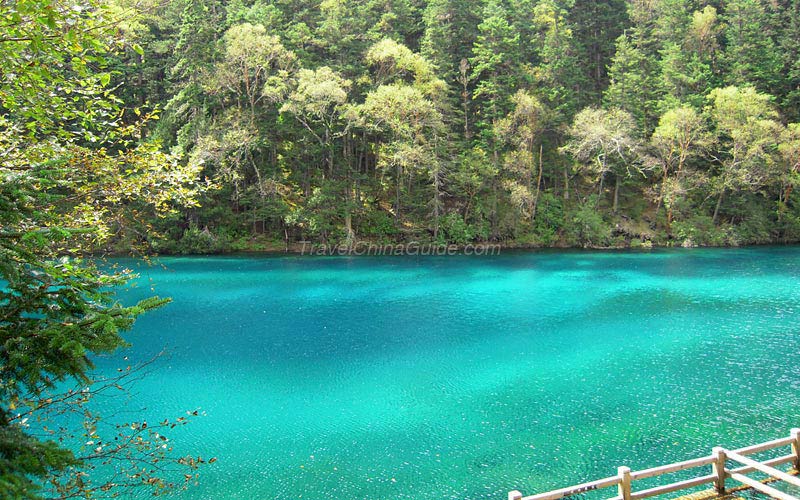 Jiuzhaigou National Park is a 40-kilometer-long valley that is located in Nanping County, over 400 kilometers to the north of Chengdu City. It got its name for the existence of nine Tibetan villages. The scenic area is famous for its stunning natural scenery, a combination of spectacular waterfalls, verdant virgin forests, blue lakes and snow-capped mountains as well as the Tibetan folk customs.
Attraction Intro:
Jiuzhaigou National Park
- Last modified on Nov. 28, 2019 -
Questions & Answers on Jiuzhaigou National Park Pictures
Asked by Ahmed from EGYPT | Nov. 26, 2019 23:00

Reply
From Chengdu to Jiuzhaigou National Park during the weekend (one person)
i'm staying in Holiday IN high Tech Hotel in Chengdu, i want visit Jiuzhaigou National Park on the weekend
is it possible?
and if any one can advice how can do this please?
Answers (1)
Answered by Adrian from UNITED KINGDOM | Nov. 28, 2019 18:35

0

0

Reply
Yes, it will be ok for you to tour around Jiuzhigou National Park on weekends.
It is suggested to take bus from Chadianzi Coach Station to the scenic area. The bus schedules are 09:00 with the fare of CNY157 per person.
Asked by Veronica from SINGAPORE | Oct. 05, 2016 08:44

Reply
Anybody has any pictures of jiuzhaigou in early to mid Nov?
I can only go from 8 to 12 Nov. any ideas what will be like during this period?
Anymore colourful leaves or only left with branches?
Answers (1)
Answered by Walpole from AUSTRALIA | Oct. 07, 2016 19:41

0

0

Reply
At that time, the colorful leaves should be gone. But the scenery of tree branches along with the blue water is surely gonna take your breathe away as well. Besides, it may snow sometimes and the snowscape is also worth taking in.
Hope you have a nice trip!
Asked by Verne | Jan. 10, 2015 04:38

Reply
Do the buses run in Jan/Feb?
I refer to the buses that go up from the base area. Can I access all the same pathways in winter as I can in the warmer months? I ask because I want to return to take pix of the waterfalls when frozen.
Answers (1)
Answered by Vera from HUNGARY | Jan. 12, 2015 01:36

1

0

Reply
Verne, the buses still run in January and February. However, the frequency should decrease compared with the high seasons. Yes, you can access to the pathways.
Asked by Roger from MALAYSIA | May. 22, 2014 00:46

Reply
I am planning to go Jiuzhaigou early Dec , will it be winter this period
Answers (1)
Answered by Lina from CANADA | May. 22, 2014 20:09

1

0

Reply
That's correct. It will be winter then.
Asked by Francine from AUSTRALIA | Feb. 26, 2014 23:36

Reply
Dujiangyan to Jiuzhaigou Bus Service
Could you please supply details of the bus service from Dujiangyan to JZG? Bilingual bus Station name and address Transit time Road safety?

Secondly is it worth visiting JZG in late March? Why is it best to take the bus from Chengdu?
Answers (2)
Answered by Dick from FINLAND | Feb. 27, 2014 00:50

2

0

Reply
Francine, I searched on the internet and found there are two buses from Dujiangyan Passenger Transport Center to JZG. It leaves at 08:00 and 10:20. The transport center is located at No.76, Ying Road. This information is provided by a netizen. I don't know if it is reliable.

If there is no direct bus from Dujiangyan to JZG, you can take D trains or buses to Chengdu. Then take a public bus to Xinnanmen Bus Station. There you can take bus to JZG. Please remember to buy the tickets in advance. It's very difficult to buy on the same day when you arrive. Forget to say, the buses depart before 08:00. It takes around 9 to 11 hours. The fare is around CNY 141.

Usually there are two ways from Chengdu to JZG, West line and East line. The road conditions for the West line (Chengdu, Dujiangyan, Wenchuan, Maoxian, Songpan and JZG) are not as good as those for East line (Chengdu, Mianyang, Pingwu and JZG).

Honestly, you might be a little disappointed if you go to JZG in March. It's low season. If you want to view the best scenery, you should go in mid October or the beginning of November. It's peak season and there will be too many tourists.
Answered by Francine from AUSTRALIA | Feb. 28, 2014 11:22

1

0

Reply
Thank you very much Dick. You have really helped me to make a big decision. I think going to JZG in March is a bad idea.

Cheers,
Francine