Jiuzhai Valley - Shuzheng Valley
Shuzheng Valley is a main tourist route of Jiuzhai Valley. It is about 14 kilometers (about nine miles) in length with over 40 lakes, representing 40% of all the lakes in Jiuzhaigou. The major scenic spots here are Double-Dragon Lake, Bonsai Beach, Reed Lake, Spark Lake, Tiger Lake, Shuzheng Waterfall, Rhinoceros Lake, and Nuorilang Waterfall, etc.

Double-Dragon Lake (Shuanglong Lake)
Double-Dragon Lake lies below Spark Lake Waterfall, and it got its name from the two zonary calc-sinter reefs hidden in the bottom of the lake, which are just like two dragons. It is said that in ancient times, two evil dragons always brought disasters by making hailstones or rainstorms to the Tibetan people in Jiuzhaigou. Afterwards, they were faced down by King Gesar (a figure in a Tibetan hero epic) and were locked with chains in the lake. From then on, the lake was peaceful and tranquil. Now there are many beautiful swans and mandarin ducks inhabiting the lake. Sometimes, you can appreciate the sight of wild duck groups roaming in the lake and swans flying in the sky above, and this really adds more pleasure to your visits.

Reed Lake (Luwei Lake)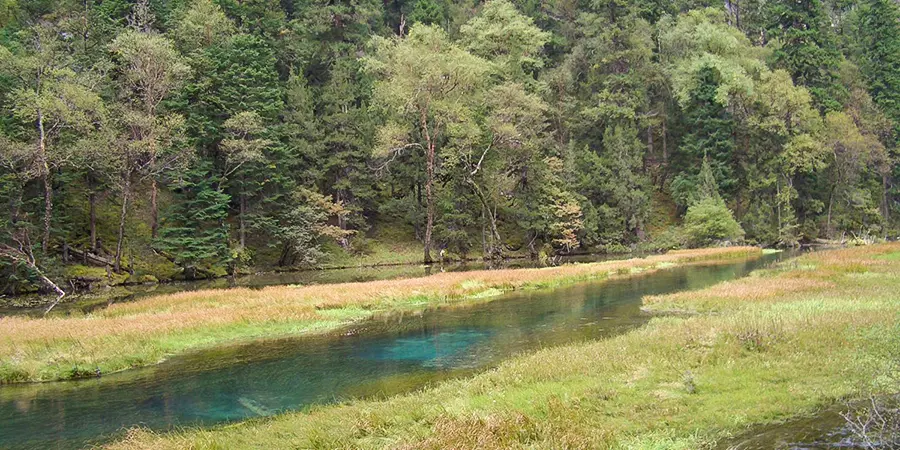 Reed Lake
Reed Lake is 2,140 meters (about 7,021 feet) above the sea level and is 22 kilometers (about 14 miles) in length. There are reeds grow thickly in the lake. Clear streams wind through the reeds and aquatic birds fly above the lake. In spring and summer, the water is as verdurous as flourishing reeds, overflowing with vigor. In autumn and winter, golden reeds greet the eye everywhere. While during the florescence season, downy reed catkins joggle tenderly in the breeze, just like water waves. Egrets and widgeons sport in groups on the lake, presenting picturesque views.

Spark Lake (Huohua Lake)
Spark Lake is located between Double-Dragon Lake and Lying Dragon Lake. It is nine meters (about 30 feet) deep, and covers an area of 36,352 square meters (about 43,477 square yards). The azure and wide lake is hidden by surrounding luxuriant woods, like a glittering emerald plate or a jade mirror. When the first sunrays of dawn shine on the surface of the lake, the crystalline waters waves ripple, ring upon ring, resembling millions of burning and dancing sparks. In summer, bouquets of wild flowers with dewdrops glisten on the lakesides, making a phantasm with 'sparks' in the lake; and the whole vista is totally ablaze with color.

Rhinoceros Lake (Xiniu Lake)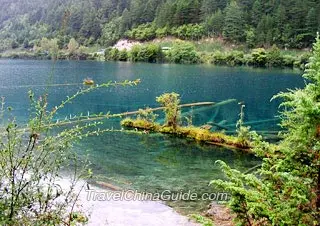 Rhinoceros Lake
Rhinoceros Lake is the largest lake in Shuzheng Valley. The story goes that in olden days, a lama came here on a rhinoceros. He was seriously ill and was on the verge of death. After he drank some water of the lake, he recovered unexpectedly! Then the lama drank the lake water day and night and was reluctant to leave. Therefore, he came into the lake riding on the rhinoceros and dwelled in the lake forever. That is why the lake is called Rhinoceros Lake. It is one of the most changeable lakes in Jiuzhaigou. Every morning the inverted images of clouds and mists are of enchanting beauty and people just cannot distinguish the sky from the lake. To the south of Rhinoceros Lake is a bridge where you can take in the beautiful scenery. To the north of the lake visitors can view Semo Mountain. Rhinoceros Lake is the only site that provides yachts for tourists to enjoy themselves, both for sport, sightseeing and life's simple pleasures.
---

Page: 1 2
---

Jiuzhai Valley
- Last updated on Nov. 20, 2019 -
Questions & Answers on Shuzheng Valley in Jiuzhaigou
Asked by charles from UNITED KINGDOM | Jan. 10, 2016 02:05

Reply
Does the bus from Guangyuan to Jiuzhaigou run daily?
I mean it will run during spring festival also. I will be there on 10 february in guangyuan and i am planning to catch 10.10 bus to the valley .... and of course i cant speak chinese ........ many thanks
Answers (1)
Answered by Lisa | Jan. 10, 2016 03:35

1

1

Reply
As I know, buses for the route are still in service during that time. To further confirm this, you can dial 86-400 660 8787 for a try! It is the hotline of Sichuan Bus Ticketing Center. Perhaps you can even book tickets from them. Oh, ask your Chinese friend for help, because they seem not have English on phone.
Asked by Julie Koh from SINGAPORE | Sep. 04, 2014 00:39

Reply
Plan to visit to Jiuzhaigou in first week of December.
how much much will be the day ticket and bus fare cost.
How's the weather?
Answers (1)
Answered by Jime from EGYPT | Sep. 04, 2014 00:58

2

0

Reply
At that time, the ticket fare is CNY 80, the bus fare is also CNY80.

It is cold and dry in the early Dec., the average temp is about 7℃. In the noon, it will be much warmer, and very cold in the morning and evening.