China's 7 Best Places to Visit in October
October is the best month to appreciate China's autumn scenery. The best places to visit include the Great Wall in Beijing, Huangshan Mountain, Jiuzhaigou and Populus Euphratica Forest in Ejina. It is also a month with pleasant weather, when one can travel comfortably.

You are advised, however, to avoid the Golden Week from October 1st to 7th as there are crowds of tourists travelling at that time.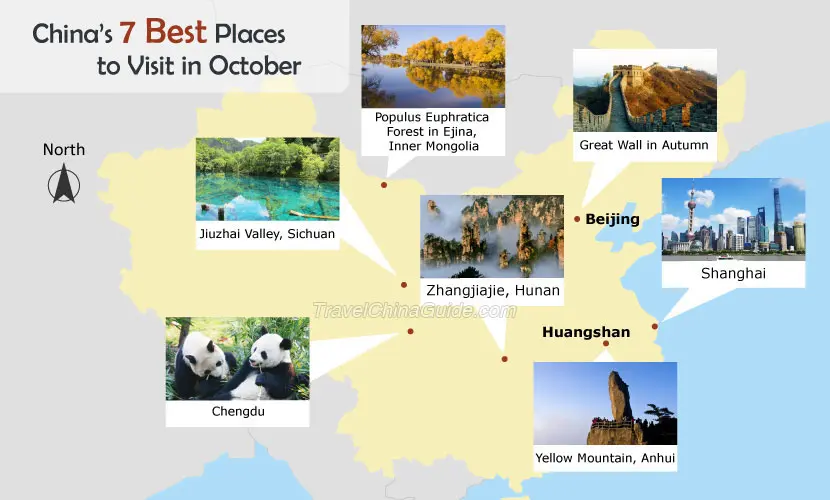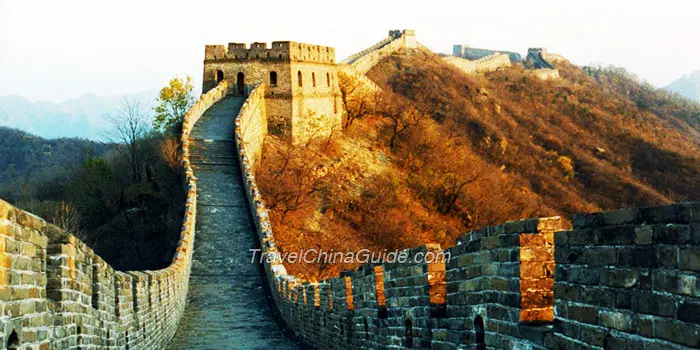 Location: Beijing, Northeast China
Great Wall Temperature in October
: 8°C ~ 19°C (46°F ~ 66°F)
Weather: cool, dry, big temperature variation between day and night
Must-sees:
Mutianyu
,
Badaling
,
Juyongguan
Things to Do:
October is one of the most beautiful times for the Great Wall. At that time, the colorful leaves of green, yellow, red, and brown decorate the mountain slopes and the Great Wall seems to traverse up and down on a giant colorful painting.

Recommended Tours:

Great Wall of China Tours
2
Shanghai: A Modern and Historical City
Location: East China
Shanghai Temperature in October
: 15°C ~ 22°C (59°F ~ 72°F)
Weather: Pleasant, cool
Highlights:
Oriental Pearl Tower
,
the Bund
,
Huangpu River
,
Shanghai Tower
,
Fomer French Concession
,
Nanjing Road
,
Yu Garden
,
Tianzifang
,
Disneyland Park
Things to Do:
Shanghai is a top place to travel in China in October. Standing on the Bund, you can admire the Oriental Pearl Tower and surrounding skyscrapers with different architectural styles across the Huangpu River. Around you is a cluster of western-style buildings. Visit Nanjing Road if you are interested in fashion and shopping. The Former French Concession is a great place to escape from the hustle and bustle of city life and enjoy a unique quietness and peace. It is also a great choice to visit Disneyland Park to make your fairytale dreams come true.

RRecommended Tour:

Shanghai 4 Days Tour with Tongli Water Town from

$299
Location: Huangshan City, Anhui Province, East China
Huangshan Temperature in October: 7°C ~ 13°C (44°F ~ 55°F)
Weather: Cool and pleasant in general, huge temperature variation between day and night, a few light rainy days
Highlights: grotesque rocks, strange pines, a sea of clouds, hot spring,
Hongcun Ancient Village
,
Xidi Ancient Village
Things to Do:
Huangshan Mountain (Yellow Mountain) is one of the best places to visit in China in October. The colorful autumn leaves and the peaks complement to each other, suitable for photography anywhere. Stand on the top of the mountain and watch the spectacular sea of clouds and magnificent sunrises. Visit Hongcun Ancient Village and Xidi Ancient Village at the foot of the mountain to appreciate elegant Hui-style buildings and enjoy the beautiful views and quietness.

Recommended Tour:

5-Day Yellow Mountain Tour with Xidi and Hongcun
Location: Hunan Province, Central China
Zhangjiajie Temperature in October
: 14°C ~ 23°C (57°F ~ 73°F)
Weather: Pleasant, neither too hot nor cold
Must-visits:
Zhangjiajie National Forest Park
,
Suoxi Valley Nature Reserve
,
Tianzi Mountain
,
Yangjiajie Scenic Area
,
Zhangjiajie Grand Canyon
,
Zhangjiajie Glass Bridge
Things to Do:
Tourists can enjoy the fantastic view of the mountains and peaks surrounded by cloud and mist. If you like hiking, Yangjiajie is undoubtedly a great place. Visit Zhangjiajie Grand Canyon and experience the world's highest glass bridge. In addition, do not miss nearby Phoenix Ancient Town to appreciate stilt houses by the river. Learn know more about Miao and Tujia culture and customs.

Recommended Tour:

Zhangjiajie 3 Days Tour Package
5
Chengdu: Enjoy Sichuan Cuisine & Play with Cute Pandas
Location: Sichuan Province, Central China
Chengdu Temperature in October
: 15°C ~ 21°C (59°F ~ 70°F)
Weather: Comfortable, humid
Highlights:
Panda Base
,
Wuhou Temple
,
Jinli Street
,
Chunxi Road
,
Wide and Narrow Alley
, Hot Pot, Sichuan Cuisine
Things to Do:
There is no doubt that visiting Panda Base and watching the cute pandas at close range is the top thing to do in Chengdu. Other things worth doing include tasting hot pot or Sichuan Cuisine, enjoying a leisure moment at a teahouse, and watching the magical face changing at the Sichuan Opera.

Recommended Tour:

Chengdu 3 Days Tour Itinerary from

$309
Location: West Sichuan Province, Central China
Jiuzhaigou Temperature in October: 9°C ~ 18°C (48°F ~ 64°F)
Weather: Cool in the day and a little cold at night, rain occasionally
Features: Forests, lakes, valleys, clear sky, fresh air
Things to Do:
October is the most colorful time to take beautiful photos in Jiuzhaigou. At that time, the leaves start to change color: some are golden yellow, some are dazzling red, and some are still green. Reflected in the blue and clear lakes, they show different characteristics at different times of the day and at different angles. Jiuzhaigou has become a palette of God.

Recommended Tour:

5 Days Jiuzhaigou Tour from Chengdu from

$1199
Location: Inner Mongolia, North China

Temperature in October: 0°C ~ 12°C (32°F ~ 53°F)

Weather: A little cold, large temperature difference between day and night

Highlights: Taolai Woods, Paddle Populus Euphratica, Welcoming Populus Euphratica, Hero Woods

Travel Tips:
Late September to early October is the best time to visit Populus Euphratica Forest and take photos, when the whole world is golden, too beautiful to be real. Over the Ejina River, there are eight bridges, with one every two or three kilometers. The bridge-side poplars grow densely, and the breeze blows the golden reflection, which is beautiful and charming. Try to avoid the Golden Week, when the scenic area is overcrowded.
- Last updated on Mar. 10, 2021 -