Former French Concession, Shanghai
The Former French Concession Shanghai, totally different from what you have imagined about this modern, crowded and busy metropolis with skyscraper jungles, is quiet and idle with lots of European style villas and buildings from the early 20th century. It is a great place to learn the history and unique beauty of the city and to escape from the bustling city for a while.
The history of this French quarter in Shanghai can be traced back to 1849. It was the earliest, and gradually developed into the largest and most propersous, French concession in China. In the 1920s, it was the best and richest residential area in Shanghai. In 1943, the Chinese government took it over and after nearly 100 years ended its history as a French concession. As time passed by, there is no exact boundary for this area. But generally, Former French Concession Shanghai is to the south of Yan'an Road, to the north of Zhaojiabang Road Xujiahui Road, to the east of Huashan Road, and to the west of
Huangpu River
.
Recommended Walking Tour Itinerary in Former French Concession Area, Shanghai
This very large area is located almost in the center of Shanghai. A thorough tour to cover every corner of it is impossible so we have developed a walking tour itinerary for you. It takes about a whole day. If you want a break, have a cup of coffee or enjoy several dishes at a roadside café or restaurant. If you want to make it shorter, start or end it wherever you like.
Xintiandi
-
Fuxing Park
- Sinan Road -
Former Residence of Dr. Sun Yat-sen
- Sinan Mansions -
Former Residence of Zhou Enlai
- Taikang Road – Tianzifang - Jianguo Middle Road - Ruijin Second Road - Shaoxin Road - Shaanxi Road - Yongjia Road - Cultrural Square - South Maoming Road - Rui Jin Guesthouse -
Wukang Road
- Middle Huaihai Road - Jinjiang Hotel - Garden Hotel - Changle Road - Julu Road - Moller Villa - North Xiangyang Road - Orthodox Cathedral - Xinle Road - Fenyang Road - Conservatory of Music - Arts and Crafts Museum - Dongping Road -
Hengshan Road
- Christian Church - Xujiahui
Highlights of the Former French Quarter, Shanghai
Sinan Road is a famous French-style road in Former French Concession Shanghai. There are about twenty garden houses on both sides of the street that are representative of almost all the residential styles of Shanghai in the early 20th century. Stroll down this clean and romantic one-way street and enjoy the shade of the plane trees on both sides of the road. You can feel the peace in the middle of the crowded Shanghai.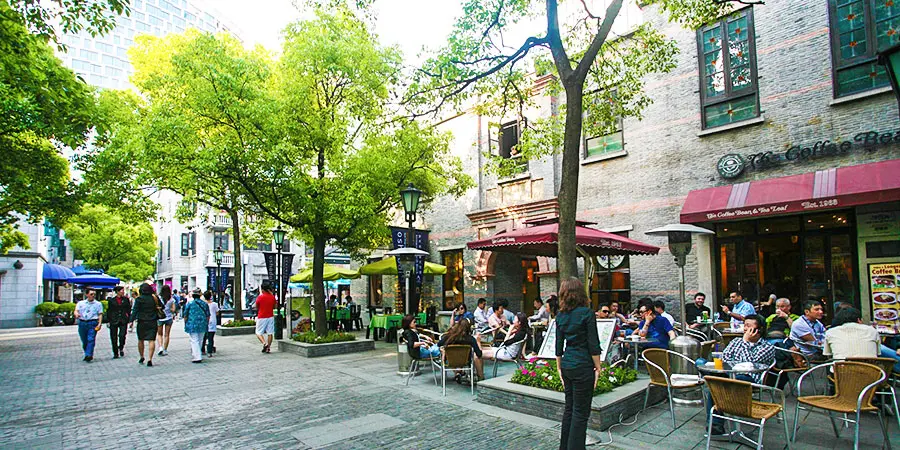 Tianzifang, which used to be industrial area, is now a fashion landmark with many lanes. You can walk through the old alleys to see what the folk houses looked like in early 20th century Shanghai with dormer windows, red tiles, green moss on the walls, and so on. Moreover, losts of restaurants and fashion boutiques can be found here, making it a nice place to enjoy delicious food and shopping.

Moller Villa
Moller Villa, located at the corner of South Shaanxi Road Yan'an Middle Road, is a Nordic-style garden villa. It was built by an Englishman Moller, an Englishman living in Shanghai, based on his daughter's dream.

The villa's gate is very small. When you walk in, you will see this colorful villa with fairytale colors, Gothic spires, Chinese-style glazed tiles, dormer windows, colorful tiles, and buddha statues everywhere. You may feel like you are in a mysterious village in northern Europe. The interior is really worth visiting. Moller decorated the interior of this dream villa like a luxurious cruise ship. The floors were paved with fine wooden strips to form the pattern of seaweed and kelp.

Located in the center of Shanghai, Middle Huaihai Road is one of the busiest commercial streets in the former French Concession. There are many fashion shops which follow world trends and plenty of top rated restaurants . If you are planning to go shopping and eating, Huaihai Middle Road must should be your first choice.

How to Get to the Former French Concession Shanghai

Read more:

9 Interesting Places in Shanghai You Should Not Miss

Shanghai off the Beaten Path: 8 Lesser-Known Places to Visit

6 Shanghai Famous Places to Visit in October
- Last updated on Jul. 04, 2022 -