Former Residence of Sun Yat-sen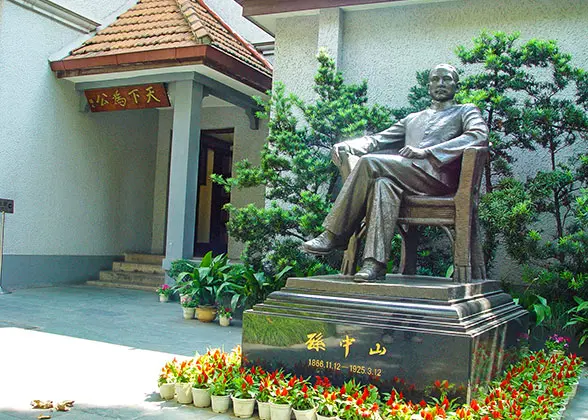 The Statue of Sun Yat-sen
The Former Residence of Sun Yat-sen, located at No. 7 Xiangshan Road, Shanghai, is a two-storey European-style building. It may not be that noticeable among the nearby high buildings and mansions, but it has won deep reverence and admiration from visitors since it was opened to the public in 1988. Sun Yat-sen, also named Sun Wen, is the great forerunner of the Chinese democratic revolution, the founder of the Republic of China and the respected contributor to Chinese modern history.

From 1918 to 1925, Mr. Sun Yat-sen and his wife, Mrs. Soong Ching Ling lived in the Former Residence, which was donated by some patriotic overseas Canadian Chinese, in support of the Chinese revolution. It was at the Former Residence of Sun Yat-sen that he accomplished the renowned masterpieces such as Doctrines of Sun Wen, Plans of China's Development, etc., made the plan of reforming the Three Principles of the People (Nationalism, Democracy and the People's Livelihood) and put forward the three cardinal policies (alliance with Soviet Russia, cooperation with the Communists and assistance to the workers' and peasants' movements). It was also here that he received the representatives of the Communist Party of China and promoted the first cooperation between the two major parties in Chinese modern history (the Nationalist Party and the Communist Party).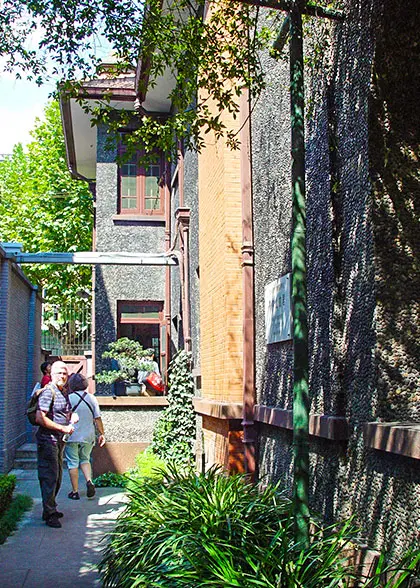 The residence witnessed his enthusiasm and his contributions to the Chinese revolution during the last years of this great man. After his death in 1925, Mrs. Soong continued to live here until 1937 when the Japanese army occupied Shanghai. Eight years later, upon China winning the war, Mrs. Soong offered to provide her home as the permanent site to Mr. Sun's memory. In 1961, the Former Residence of Sun Yat-sen was listed as being one of the Key State-preserved Cultural Relic Units.

According to Mrs. Soong's memories, the furnishings, most of which were those used by the couple, are displayed where they were. While walking through the house, one can recreate the life of the owners through every exhibited article, either the knives hanging over the fireplace, or the photos on the wall of the living-room, or the books lining the bookcases, or even a pair of glasses once used. The activities of Mr. Sun Yat-sen, especially those of the days when he lived in Shanghai, are also displayed in historical materials and pictures. On the anniversaries of Mr. Sun Yat-sen's birth (Nov. 12) and his death (Mar. 12), flowers are presented this great man with respect from the municipal government of Shanghai, the relatives of Mr. Sun, and people from all walks of life.

How to get to the Former Residence of Sun Yat-sen, Shanghai

By Metro:
1. Take
line 13
and get off at Middle Huaihai Road Station. Get out from exit 1 and walk south along Sinan Road for about five minutes. Then you can see the site on your left.
2. Take
line 10
and get off at
Xintiandi
Station. Get out from Exit 6 and walk westward 10 minutes to the south gate of Fuxing Park. The Former Residence of Sun Yat-sen is next to the west gate of the park.

By Bus:
1. Take bus 24, 41, 301, or 986 and get off at Ruijinerlu Fuxingzhonglu Station. Walk east along Xiangshan Road for about three minutes to the residence.
2. Take bus 36, 780, 781, 786, 869, 932, 933, 974, or 986 and get off at Chongqingnanlu Fuxingzhonglu Station.
Shanghai Bus / Metro Search
Admission Fee
CNY 20

Children under 1.3 meters (4.3 feet) enjoy free entry.
Audio Guide Service (English/Japanese )
CNY 20 (deposit: CNY 200 with passport or CNY 400 without passport)
Opening Hours
09:00-17:00 (Ticket sale stops at 16:30)
Related Attraction in Nanjing:
Mausoleum of Dr. Sun Yat-Sen

Nearby Attractions:
Sinan Road
Former French Concession
Former Residence of Zhou Enlai

Read more:
Places of Interest in Shanghai: 12 Historical Sites to Explore
Print
- Last updated on Apr. 18, 2022 -
Questions & Answers on Former Residence of Sun Yat-sen
Asked by Ms.Sofia | Dec. 12, 2010 00:24

Reply
Hi!
What's the most direct way to go to Former Residence of Sun Yat-sen that involves the least amount of walking from people's square? Metro or bus?
If we're taking a taxi, how much would it cost?

Also, how do we go from here to zhou en lai's former residence and the CPC first congress site?

Thank you!
Answers (2)
Answered by Ms.Cindy | Dec. 13, 2010 03:23

0

2

Reply
Less walking involved by bus. It is only about two stops away by subway, plus a few minutes walking. So, I think it is better to take taxi, about 3 km. The taxi fare should be about 15RMB. From here, you can walk along Sinan Road behinde Sun Yat Sen's residence to the south. Zhou Enlai's residence can find seen in a few minutes on your left side. Then you can walk toward to Xintiandi, about 20-30 minutes. You will find the CPC first congress site.
Answered by Ms.Sofia | Dec. 13, 2010 05:24

2

2

Reply
Thanks for the reply Ms. Cindy!

So I guess we'll just take a taxi from people's square since we're not really big fans of long walks.

And the best order of visiting these 4 sites: sun yat sen, zhou en lai, cpc congress site and xin tian di from people square is this:

people's square - taxi - zhou en lai
zhou en lai - walk - sun yat sen
sun yat sen - taxi? (no long walks pls.) - CPC
CPC - walk - Xin Tian Di

Thank you!
Asked by Mr.yixiang from SINGAPORE | Jun. 22, 2009 01:15

Reply
What's the Chinese name for Former Residence of Sun Yat-sen? and how to go from shanghai?
Answers (3)
Answered by Mr.yina from CN | Jun. 23, 2009 04:39

2

1

Reply
Hi, where are you in shanghai?? The chinese name is Sunyishan or sunzhongshan in pinyin.
Answered by Mr.yixiang from SINGAPORE | Jun. 23, 2009 21:39

1

1

Reply
I am now staying near Jing An Temple
Answered by Mr.James | Jun. 24, 2009 03:50

1

0

Reply
It shoud be Sun Zhongshan/Sun Yixian Gu Ju.
Bus Transfer route: Take bus 327 at Wanhangdu Rd Jingansi to Zhongshan Nan Yi Lu to change Bus 96 and arrive at Fuxing Middle Rd Ruijin Er Lu.
Hope it helps.