Xintiandi
Located in the center of Shanghai City and south of Middle Huaihai Road, Xintiandi is a fashionable pedestrian street composed of old-style
Shikumen residences
and modern architecture.
It retains the antique walls, tiles and exterior of the Shikumen residences of old Shanghai while embodies a totally modern world in its interior. Roaming here, you will get the taste of both Shanghai in the 1920s and the modern lifestyle of urbanites of the 21st century.
What to Do in Xintiandi?
Admiring Shikumen Residences
Xintiandi is divided into two parts: the South Block and the North Block. The South Block mainly consists of modern architecture while the North Block keeps the old Shikumen architecture style. The typical Shikumen residences of old Shanghai seem to tell people beautiful stories about the history and culture of the city. They originally appeared in the mid of the 19th century as a product of combining Chinese and Western architecture styles, usually having a vaulted stone door frame with Chinese style carvings and a wooden door. Passing through the narrow lanes, you can see various of them as good settings for photographing.

Shopping in Modern Plazas
In the South Block of Xintiandi, there is the Xintiandi Style Shopping Mall, having all conveniences such as automatic elevators, central air-conditioner and broadband network. Its boutiques keep in pace with international fashion. This glass wall building has a very modern atmosphere. Outside, stores selling food, clothes, artistic crafts, handbags, and accessories are dotted here and there.

Eating in Upscale Restaurants
There are upscale restaurants offering cuisine from different countries such as France, Brazil, America, Japan, Germany and Italy, fully revealing the international level of Xintiandi. Famous stars open their restaurants here, which become good places for fans to come across their idols. Except that, the fascinating cabaret and cellar dinning room of the French restaurant, the inspiring rock music played by the Japanese music restaurant and the folk performance of South America in the Brazilian restaurant leave people with great impressions.


Enjoying Night Life at Bars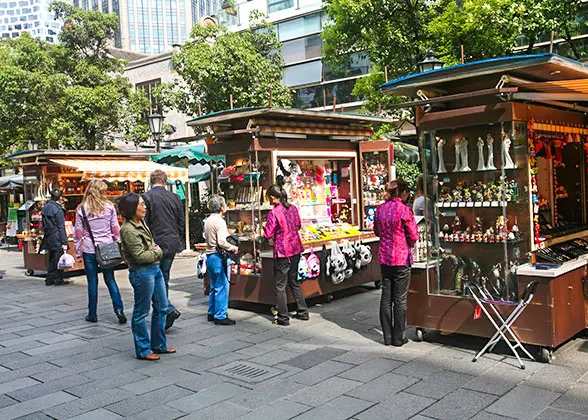 Xintiandi is one of the bar clusters in Shanghai, particularly popular among young guys and foreign visitors. The romantic open-air bars with European decoration style give you a chance to immerse in the loud music, cheerful atmosphere, and splendid lights.

Note: Two kilometers away, there is a welcoming art street also with Shikumen residences, called Tianzifang. Time permitting, you can go and have a visit.
How to get to Xintiandi Shanghai
Take Metro Line 10/ Line 13 to Xintiandi Station. Get out from Exit 6 to Madang Road, then walk a bit to the north.
2. Take Metro Line 1 and get off at South Huangpi Rd. Station. Get out from Exit 3 and walk southwards along South Huangpi Road.
3. Take City Sightseeing Bus Line 1 to Yida Huizhi Xintiandi.
4. Take bus 146 or 805 to Madang Rd, Xingye Rd.
Shanghai Bus / Metro Search



Nearby Attractions
Fuxing Park
Sinan Road
Huaihai Road
Former Residence of Zhou Enlai



Recommended tour Itinerary including this site:
11 Days Escorted China Tours from $1799
More Shanghai Tours



See also:


15 Free Things to do in Shanghai


12 Popular Shanghai Activities to Survive Summer


What to Do in Shanghai in December: 6 Places to Go
Print
- Last updated on Nov. 19, 2021 -
Questions & Answers on Xintiandi
Asked by Adit from INDONESIA | Oct. 26, 2019 20:09

Reply
Shanghai Xintiandi to Fuxing Park
Is Xitiandi closed to Fuxing Park?
Any breakfast recommendation in Xitiandi?
Answers (1)
Answered by Jeferry from SINGAPORE | Oct. 28, 2019 20:28

0

0

Reply
Yes, the distance is around 1km. There are many western food restaurants in Xintiandi, you can go around and find your favorite.
Asked by Nathania from INDONESIA | May. 11, 2019 21:59

Reply
Shanghai Xintiandi Shake Shack and Heytea
Hi.

1. May i know how does xintiandi look like? Is it like a shopping mall with the surrounding outside are restaurants, bar and cafes? What to see in Xintiandi at night?

2. Where is Shake Shack location there?

3. And where is the place to get Hey Tea in Shanghai?

4. What is the food to try in Shanghai? And any restaurant recommendation?

5. I am staying at Weiting hotel nearby ma dang road station, may i know how to go to Xintiandi? Can i just walk by foot?

6. Where is the best location to go Haidilao? And wai po jia?
Answers (3)
Answered by Sarah from CANADA | May. 13, 2019 01:47

0

0

Reply
1. Yes, it is a prosperous shopping mall with a lot of high end restaurants. At night, you can also enjoy night life in nice bars.

2. It is located at No.10, Lane 181, Taicang Road, Huangpu District.

3.There is one at Room 32, Ground Floor, Xintiandi Plaza, No. 333, Huaihai Middle Road.

4. Snacks such as Steamed Stuffed Bun, Steamed Stuffed Bun, Fried Stuffed Bun are worth a try.
Shanghai Classical Restaurant and Lv Bo Lang Restaurant are good options.

5. It takes about 20 minutes on foot. You can also take Metro Line 13 for one stop.

6. There is one Haidilao at Floor L8, Baisheng, No. 918, Huaihai Middle Road, Huangpu District.
Waipojia at Floor 7, Joy City, 166 North Tibet Road, Jing 'an District is recommended.
Answered by Nathania from INDONESIA | May. 13, 2019 08:36

0

0

Reply
Thanks for your reply.

1. Btw, where is the best dimsum to try when in Shanghai or maybe Hangzhou or Suzhou?

2. Is it do able to cover M50 historical district, tianzifang, west nanjing rd, museum of contemporary art Shanghai, people's square, east nanjing rd area, the bund, yuyuan garden, and Lujiazhui area for one day trip?

3. Does the largest starbucks, LINE Shanghai, M&M, are located nearby? Is it nearby Nanjing west road station? Or nanjing east road station? Or somewhere else?

4. Which store or shopping mall in Shanghai does people (age around 20-30yo) normally visit?
Answered by Sarah from CANADA | May. 13, 2019 20:07

0

0

Reply
1. There are some dim sum stores in East Nanjing Road.

2. No, you can cover at most 3-4 spots in one day.

3. I'm not sure and you can check that by Google Map or Bing map.

4. Huaihai Road, Nanjing Road, Xujiahui.
Asked by Henri from USA | Jun. 02, 2018 06:07

Reply
Directions to walk from Intercontinental Ruijin Hotel to Xintiandi
Answers (1)
Answered by Jennifer from ITALY | Jun. 04, 2018 03:24

0

0

Reply
Don't worry. Walk east along Middle Fuxing Road around 1.1km, you will find Xintiandi directly.
Asked by Ngo from VIETNAM | Apr. 11, 2018 23:13

Reply
My family stay at the New Harbour Service Apartment at No.88, Yongshou Road, Shanghai.
Please, advise what is the best way or the most convenience to get to Xin Tian Di and also what is the most interesting time to be here?

Thank you so much for suggestion and regards
Answers (1)
Answered by Eglise from SWEDEN | Apr. 12, 2018 21:44

1

0

Reply
It's not far, and you can take a taxi there within 5mins.
I think afternoon and night may be the most interesting time to wander around there.