The Bund Shanghai
The Bund, also called Waitan, is a famous waterfront on the west bank of Huangpu River and regarded as the symbol of Shanghai. Here, the charm of Shanghai as a bustling metropolis combining the century-old history and flourishing future is fully presented, making the Bund Shanghai a must-see attraction.

Location: on the west bank of Huangpu River, in Huangpu District, Shanghai
Length: 1,500 meters (0.93 miles) stretching from the Waibaidu Bridge to East Jinling Road
Highlights: best night view in Shanghai, sightseeing waterfront, western style building clusters
Light Opening Hours: 19:00-23:00 from May to October, 18:00-21:00 from November to April
Time Needed for a Visit: 1 - 2 hours

Top Things to Do in the Bund Shanghai
Watch locals taking morning exercise
Local people often start a day by doing exercise at the Bund. Here you can see them walking, jogging, practicing Tai Chi or flying kites. Getting up early and joining them is a pleasant thing to take in the real lifestyle of locals.

Stroll along the waterfront avenue
The most classic route to explore the Bund is either to wander from the north end to the south or the contrary way. Along the way, you will see the most famous and attractive sight in the Bund, namely 26 colonial-era buildings of different western architectural styles, which give the Bund Shanghai China the fame as a 'museum of international architecture'.


Map of the Bund

Buildings No. 1 - No. 9

Buildings No. 12 - No. 18

Buildings No. 19 - No. 29

Pictures of the Bund Buildings

Appreciate high rises across the Huangpu River
Looking across the Huangpu River, dense high rises in Pudong New Area on the opposite bank come into your review, represented by the Oriental Pearl Tower, World Financial Center, Jin Mao Tower, and Shanghai Tower, top four highest skyscrapers in the city. They dominate the skyline and form a nice backdrop for taking pictures.
| | |
| --- | --- |
| Pudong seen from the Bund | Post-Coronavirus Scene on the Bund |
Watch the sunset on Waibaidu Bridge
Waibaidu Bridge is always a romantic place for lovers. As a shooting place for many TV series and films, it has a special appeal for those who have an old-Shanghai complex. When the sun is setting, the bridge is shrouded in golden glows, creating a romantic atmosphere. A snapshot at this moment can record the beautiful memories of lovers.

Take a Huangpu River cruise at night
At night, when the lights of buildings on both banks of the Huangpu River are illuminated, the Bund displays its most fantastic side. It is worth appreciating the florid Bund night view from a Huangpu River cruise. The dazzling lights fully exhibit the magnificence of the various buildings and make up the best night scene of Shanghai together with the colorful light shadows floating in the river and the flashing lights on the far side of the river.
| | |
| --- | --- |
| Western-style architectures along the Bund | Sightseeing Maglev in the Sightseeing Tunnel |
Visitors can take a 3-5 minute ride on the speed train through the tunnel with colorful radiating lights around. This is a short but unique experience.



Facts on the Bund Sightseeing Tunnel:
Length: 646.7 meters (707.2 yards)
Shuttle between: the Bund in Puxi and the Oriental Pearl Tower in Pudong
Duration: 3-5 minutes
Tickets Fare: single trip: CNY 50; round trip: CNY 70
Opening Hours: May to Oct.: 8:00 to 22:30; Nov. to Apr.: 8:00 to 22:00

At the Bund side, the Entrance/Exit is to the north of Chenyi Square, which can be easily found on East Nanjing Road. The Pudong Entrance/Exit is in the south of Shanghai International Convention Center, near the south entrance of the Oriental Pearl Tower.

Best Time for Visit
The most ideal visit time is around 8:00 pm in early spring and early summer when the lights are on and there is cool riverside breeze. Bund at night is amazing.

Photography Tips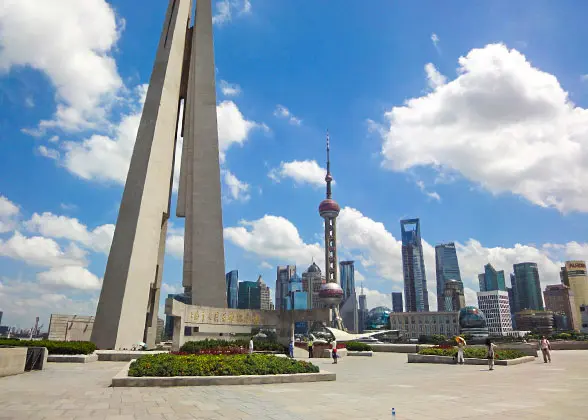 Monument to the People's Heroes
The best locations for taking a panoramic Bund view are the promenade, the Monument to the People's Heroes in Huangpu Park, Waibaidu Bridge, and the Oriental Pearl Tower.

There is an eco-friendly mobile charging system with solar photovoltaic power generation at the photography point of the scenic area. It can provide the power of the computer for photographers to print the photos, as well as mobile phone emergency charging service for visitors.


How to get to the Bund
By Metro
Take Line 2 or Line 10 to East Nanjing Road Station. Then walk along East Nanjing Road for about 10 minutes.

By Bus
1. Take City Sightseeing Bus Line 1, 3 or 5 to Waitan Haiguan Dalou.
2. Take bus 33, 55, 65, 123, 135, 145, 305, 317, 576, or 934 to Zhongshan Dongyilu Hankoulu.
3. Take bus 37, 307, or 330 to Zhongshan Dongyilu Nanjing Donglu.

See more How to Get from Shanghai Hongqiao Railway Station to the Bund

How to travel between the Bund and Pudong across the Huangpu River
By Bund Sightseeing Tunnel
Visitors can travel by the speed train, which is fast and comfortable.

By Ferry
There are scheduled ferryboats between East Jinling Road Ferry Dock at the Bund and Dongchang Road Ferry Dock in Pudong. The ferry ticket costs CNY 2 and a single trip takes around 10 minutes. The ferry from East Jinling Rd operates from 7:15 to 22:00; and 7:00 to 22:00 from Dongchang Rd.



Read more:

15 Free Things to Do in Shanghai

12 Popular Shanghai Activities to Survive Summer

9 Interesting Places in Shanghai You Should Not Miss

Where to Go in Shanghai in Autumn - 11 Best Destinations

8 Unique Things to Do in Shanghai Only

Top 10 Shanghai Tourist Spots for Solo Travelers
Print
- Last updated on Apr. 24, 2023 by Catherine He -
Questions & Answers on The Bund Shanghai
Asked by Ishfaq from PAKISTAN | Jan. 28, 2020 22:14

Reply
I wanna ask that these days Shanghai tower and bund river is open or not? Because am in Xiamen now
Waiting for you people's kind reply
Answers (1)
Answered by Audrey from FINLAND | Jan. 31, 2020 18:58

0

0

Reply
As I know, the tower is closed now. But the Bund River opens throughout the day.
Asked by Grace from HK | Jan. 01, 2020 20:58

Reply
Transportation for Shanghai The Bund
I'll disembark from the Baoshan Cruise Terminal. How much does it cost to take taxi from the terminal to hotel near the Bund and how long does it take? After I drop off the baggage, I will take taxi to Disneyland. Again, how much and how long is the trip?

I'm thinking about take the baggage with me to Disneyland and keep it there. Then collect the baggage after the fireworks and return to the hotel.

I will arrive Shanghai on 18/1 which is Sat. How will be the traffic on Sat. Any advise for me?

Many thanks.
Answers (1)
Answered by Ada from CANADA | Jan. 05, 2020 18:27

0

0

Reply
It costs around CNY80-CNY100 with 50 mins from Cruise Terminal to the Bund. To Disneyland, the taxi fare could be CNY110 with around 1 hour.

If you avoid the peak traffic hour, then it won't be influenced a lot. Don't worry. Have a nice trip!
Asked by Anna from USA | Nov. 23, 2019 16:40

Reply
20 hour stop over - where to stay, what to do?
I arrive PVG airport Dec 24 6pm and depart Dec. 25 1pm - i.e. 20 hour stop over. I have 3 boys ages 13, 17, 21 - first time in Shanghai - where would be the best place to stay and what can we explore in the short amount of time in Shanghai?
Answers (1)
Answered by Molly from AUSTRALIA | Nov. 25, 2019 19:50

0

0

Reply
You can stay in the Bund area and visit the nearby attractions like Nanjing Road, Yu Garden, Oriental Pearl and taste local cuisine.
Asked by Ranju from INDIA | Nov. 12, 2019 08:44

Reply
I am in shanghai. Which is the best shopping place?
Answers (1)
Answered by Andrea from USA | Nov. 14, 2019 19:22

0

0

Reply
You can go to Nanjing Road walking street to go shopping.
Asked by Anna from VIETNAM | Nov. 08, 2019 19:54

Reply
I stay at Shun Di San He Yuan Hotel Lane 2599, Chengshan Road, Shanghai.
which is nice place for visiting near this hotel?
Answers (3)
Answered by Ada from CANADA | Nov. 11, 2019 18:05

0

0

Reply
It is convenient to visit New International Expo Centre and World Expo Exhibition&Convention Centre.
Answered by Anna from VIETNAM | Nov. 15, 2019 20:13

0

0

Reply
yes, I go to Shanghai for attending New International Expo Center.
But may I know some beauty and delicious restaurant here?
Answered by Ada from CANADA | Nov. 18, 2019 00:31

0

0

Reply
You can try Laofangzi Restaurant, which is located at No.126, Shanggang Yicun, 1200, Shangnan Road. Or Jiudingxuan Restaurant, No.1158-2. Shangnan Road.