FAQ on the Bund, Shanghai
As a must-see scenic spot in Shanghai, the Bund attracts many tourists every day with delightful scenery and the buildings in this area! This is a good place not only for sightseeing, but also for relaxing and exercising. At night, the buildings of Gothic, Romanesque and baroque styles on the Bund are like crystal palaces to provide an ideal place for lovers' dating. Apart from that, the historic facts of the buildings are the purpose of some visitors.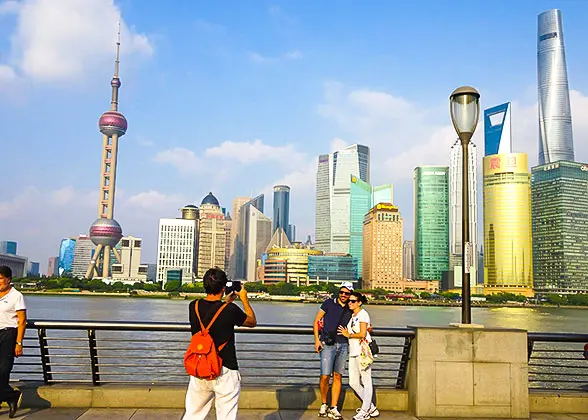 Pudong Seen from the Bund

Where is the Bund?


It lies along the west bank (Puxi) of Huangpu River, Huangpu District of Shanghai. Starting from East Yan'an Road and ending at Garden Bridge on the Suzhou River, the Bund is around 1,500 m (4,921 ft) long.
---

What's the fact of the Bund to endow it with very outstanding charm?

The fascinating scenery makes it a must-go destination for all visitors. It presents many distinctive western-style buildings and such is honored as the "World Expo of Architecture". Around fifty buildings of western styles stand on the west side and the Huangpu River is on the east. Visitors usually prefer to view the nice landscape of the Huangpu River from the Bund. The panoramic view of skyscrapers in Pudong seen from here is also fascinating.
---

Is there an admission fee to visit the Bund? How long do you think I should spend there?

No, it is free. Generally, 1.5-2 hours is enough with the purpose of sightseeing.
---

What are the opening hours and what is the best time to visit?

It is open all day and is an all-year-round attraction. The scenery during the daytime and nighttime is so different. The regular buildings and surroundings of the daytime seem to turn into pearl crystal palaces at night under lights. The night cruise on the Huangpu River is also worth a try.
---

What are the buildings on the Bund to bring it the honor of World Expo of Architecture?

They were first built for financial and international trade purposes. Now they are used as the banks, hotels, exclusive clubs, press organizations and headquarters of international concerns. For a detailed introduction of each building, see
Buildings on the Bund
.
---

Am I allowed to visit the building complex? Are they all free or not?

Yes, you are, but not for all. Some of them are for public use like banks and hotels and some are used as government offices. You are allowed to visit the public ones for free.
| | |
| --- | --- |
| The Bund, Shanghai | Huangpu River |
---

Are there other worthy attractions around the area?

Nanjing Road comes first, which is the most famous pedestrian in Shanghai. On the opposite bank of the Huangpu River, you can enjoy Shanghai's landmarks: Oriental Pearl TV Tower, Shanghai Tower, World Financial Center and Jinmao Tower. In addition, the nearby Huangpu Park and Lover Wall are also interesting.
---

Is cruise a good way to view the scenery? If yes, where can I take it?

Yes, it is.
Huangpu River Cruise
is recommended. Buy a cruise ticket on the spot at New Shiliupu Port. The exact boarding addresses are Shiliupu Port at Area A, No. 501, East Zhongshan 2nd Road (near Longhuang Hotel and Dongmen Road), Qinhuangdao Port at No. 32, Qinhangdao Road (near Yangshupu Road) and No. 307, Waimalu (near East Fuxing Road).
---

What can I see on the cruise? How much does it cost and what is the duration please?

You will see many great things on board. It costs CNY128-188 per person and takes around 90min for sightseeing. The viewing route is as follows:
The Bund – Yangpu Bridge direction - World Financial Center – Jinmao Tower – Shangri-la Hotel – Shanghai International Convention Center – Nanpu Bridge – Oriental Pearl TV Tower – Shanghai Bay International Passenger Transport Center –Garden Bridge – Monument to People's Heroes – Peace Hotel – Customs House – Shanghai Pudong Development Bank (SPD Bank) – Bund Observatory - …… - the Bund
---

How can I reach Pudong on the opposite side of the Huangpu River? How about directions to the Oriental Pearl TV Tower?

Two ways are recommended:
1. There are ferryboats in operation between East Jinling Road Ferry Dock along the Bund in Puxi and Dongchang Road Ferry Dock in Pudong, costing only CNY2/person. After getting to Dongchang Road, walk 10-15 minutes to the Oriental Pearl TV Tower.
2. Take the Sightseeing Tunnel at Chen Yi Square on the Bund in Puxi. After 3-5 minutes, you will get to Pudong. Then the Oriental Pearl TV Tower is right in front of you. It costs CNY45/person for a single journey and CNY55/person for a round trip in this way.
---

How to travel there from the airport or the railway station?

You are advised to take local subway line 2 to travel from Pudong International Airport (PVG) to East Nanjing Road first. It takes around 80 minutes and costs CNY7/person. Upon arrival at East Nanjing Road Station, leave from exit 7 and you will easily walk to the Bund. If you have limited time, take maglev from the airport to Longyang Road Station in around 8 minutes (Maglev fare is CNY50/person for a single journey). Afterwards transfer to subway line 2 to East Nanjing Road and walk to the Bund.
From Hongqiao Airport and Hongqiao Railway Station, use subway line 2 to get there.
From Shanghai Railway Station, take local subway line 1 to People's Square Station. Then transfer to line 2 to East Nanjing Road to proceed as above.

Shanghai Bus / Subway Search